Top 5 Home Saunas in Canada: Reviews & Buying Guide
Posted on 22 November 2019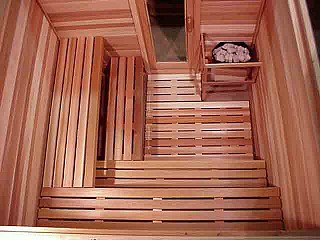 Picture this: you've just returned home from a long day at the office or a full day at the ski slopes. You are exhausted and want to escape for a moment to relax and unwind. Many people turn to a long, hot shower to wash away their worries. Imagine if instead you could escape to your own personal oasis, an at-home sauna! Surprisingly affordable and available in a wide range of sizes and styles, a home sauna can create the at-home spa experience you've been missing in your life. In this blog post, we will outline a buyers' guide and reviews for the top five home saunas now available in Canada.
Shopping for your own home sauna
In order to reap the full benefits of a sauna, regular use is essential. Whether you need to relax or recover from workouts, regular trips to the spa and extravagant treatment packages can quickly add-up. A home sauna is a great investment to save you money in the long term, allowing you to utilize a sauna at your leisure. In general, home saunas range in price from $1000-$10 000 depending on the size and model. When shopping for you own at-home sauna, it is important to consider the style, function, size and model in terms of what will fit best with your home. Maybe you are looking for a small, two-person sauna to be installed in your master bathroom? Maybe you want a large eight-person sauna with panoramic views to overlook your backyard? Whatever your personal preferences, there is a sauna model available for every size and budget. Take your time exploring the available options and reading through our buyers' guide. As always, before ordering your model, ensure you've measured the space to make sure it will fit when it arrives.
Top 5 saunas for your home
Cabin Prefab Indoor Sauna
Imagine being able to relax and unwind in a sauna inside of your own home. The cabin prefab indoor sauna is the perfect addition to your master bathroom, home gym or basement. Available in eight sizes ranging from cozy two-seaters to spacious four-seaters, you can easily find a size that fits your home. This is our most popular indoor model and we highly recommend the cabin prefab for anyone looking for a classic indoor sauna experience. The actual sauna is made in Canada from Western red cedar, creating a beautiful and strong finished product. Assembly is simple and fast with the "Lincoln log"-style design. The entire sauna takes only 2-3 hours to build! The kit comes with a standard heater, assembled benches and a door with a full-length tempered glass window. With prices starting at just under $5000, these popular indoor saunas can truly fit any budget. We recommend this as an introductory level sauna for anyone looking to add a spa-quality relaxation experience to their home.
Outdoor Cabin Sauna
These beautiful outdoor saunas are designed to look like a cabin, creating a cozy oasis to escape to in the backyard of your home or cottage. We recommend these introductory level saunas to any first-time sauna buyer. The easy and fast assembly is perfect for any level of building experience and the entire sauna can be built in a single day. Made in Canada from Western red cedar, the cabin design features a peaked cedar roof, a cedar floor and a door with a large, tempered glass window. Easily customize your design with extra windows or an upgraded heater system. Currently, there are seven available sizes starting at just over $5000. Select a size that seats two for an intimate sauna experience or upgrade to a larger model to seat your entire family or group of friends. The cabin design compliments any backyard or cottage and is a great entry-level outdoor sauna for first-time buyers.
Barrel Sauna
A truly traditional sauna design, these stunning models can elevate you home or cottage backyard. Whether this is your first at-home sauna or you are a veteran sauna owner, the barrel design is a popular model for its spacious and unique design. It features knotty or clear Western red cedar and thick walls that provide natural insulation even through the coldest months of winter. The barrel design provides a smaller heating space to save on energy, while still providing plenty of space for bathers to relax and unwind. Twelve available sizes provide ample flexibility for seating anywhere from 2-10 individuals both inside the sauna and on cooling benches just outside the door. Prices start just below $5000 for an affordable and quality barrel sauna in your backyard.
Panoramic View Barrel Sauna
If you are looking to wow visitors with a stunning architectural addition to your backyard or cottage, look no further than the panoramic view barrel sauna. It features the traditional, simple barrel design with the addition of an acrylic bubble back to provide panoramic views of the lake, city or mountains. Sit back and relax while you take in the stunning views of nature around you, all from the comfort of this popular outdoor sauna. A truly one of a kind sauna experience can be enjoyed from inside this sturdy, high-quality model. Six available sizes start at just over $8000 to provide a little piece of luxury in your home or backyard. Made from Western red cedar, most sizes can comfortably seat up to eight individuals while providing stunning views. Easily upgrade your design with the premium package, which includes back rests and an arch seat for an even more comfortable sauna experience.
Luna Sauna
The ultra-modern Luna sauna design features rounded corners on a rectangular build. This unique design creates a spacious interior to comfortably seat even your tallest family members and friends. Made in Canada from Western red cedar, the interior features tiered bench seating to allow bathers to take advantage of the natural stratification of heat within the sauna. A contoured back rest, L-shaped bench and options for lighting allow you customize the luxury of your new at-home sauna. Starting at just over $7000, six available sizes allow you to choose the model that best fits your backyard or cottage. We recommend this sauna for anyone looking for a one-of-a-kind sauna design.
Why get a home sauna?
There are so many reasons to get an at-home sauna, it's hard to summarize them all in one place! A sauna creates a warm, spa-like environment to help you relax and unwind. Whether you are looking to reduce stress, soothe muscle and joint pain, boost your mood or kick start your skin care, a regular sauna schedule is a great addition to any wellness routine. Instead of constantly splurging on expensive spa-visits, an at-home sauna lets you save money in the long-term and enjoy a sauna experience any time of day. Unlike swimming pools and hot tubs, saunas also require little to no maintenance, allowing you to relax without worrying about a daily chore routine. With a wide variety of available sizes and styles, there really is a sauna model to fit every lifestyle and budget.
Take the time to invest in your wellness routine with an at-home sauna. Being able to escape the hustle and bustle of everyday life in your new sauna oasis will help to eliminate your daily stresses. At SaunaFin, we are experts in at-home saunas for both indoor and outdoor use. We provide everything you need to build your new sauna and enjoy it for years to come. Contact our friendly team at 905-738-4017 or visit us in Concord, Ontario to get started today.