Why Add an Outdoor Porch to Your Home Sauna
Stress and exhaustion lurk around every corner of the fast-paced modern world, with everyone searching for moments of solace and relaxation. Thankfully, saunas offer a gateway to tranquillity and peace amidst the daily grind. SaunaFin, the premier retailer of indoor & outdoor saunas across Canada and North America, provides exquisite designs and innovative customizations. Adding an outdoor porch to your barrel sauna is one such customization that can complement your sauna experience. Here's how to rejuvenate your sauna routine with an outdoor porch.
What is a Sauna Porch?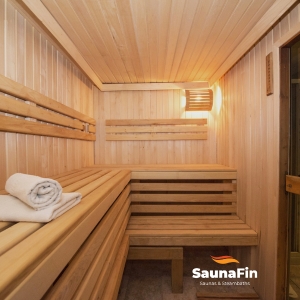 A Sauna Porch is a seamless extension of your barrel sauna or other outdoor prefab sauna which is thoughtfully designed to incorporate built-in benches to soak in the soothing essence of nature. While the radiant heat works magic inside the sauna, use the elegant front porch to cool off and unwind between your sauna sessions. An outdoor sauna porch combines the luxury of a sauna with the healing touch of nature. A customized sauna with a porch can be a gorgeous upgrade for your pool, backyard, or cabin.
A sauna porch can enhance the aesthetic appeal of your sauna and provide a serene space for moments of reflection and connection with nature. Picture yourself stepping out of a rejuvenating barrel sauna session into the porch, greeted by a gentle breeze. Whether you meditate, sip herbal tea, or simply bask in the great outdoors, a sauna porch allows you to savour each moment of your sauna journey. A SaunaFIn barrel sauna with a porch is one of the best upgrades for your outdoor space!
The Bountiful Benefits of a Sauna Porch
Nature's embrace: A sauna porch offers an enchanting opportunity to connect with nature. Surrounded by the lush landscapes of your outdoor sauna, take a moment to commune with natural surroundings and foster a sense of well-being. Step into the sauna warmth, step out into nature and amplify the therapeutic effects of the sauna experience.
Practicality & Sophistication: A sauna porch is a practical and aesthetic addition to your wellness sanctuary. It gives a private sheltered space to cool down after a heated session and protects you from rain or snow.
Sauna Rituals: Prepare yourself for the sauna session as a pre-sauna ritual–sit on the porch to set your intentions for soul-deep rejuvenation. Return outside to cool down, gradually allowing your body to adjust and savour the afterglow of healing sauna therapy. This ritualistic approach to sauna sessions amplifies the holistic benefits.
Sauna Get-together: A sauna porch can be a delightful way to unwind after an invigorating sauna session. Sit down with a cup of camomile tea or a glass of mulled wine, exchanging warm conversations with friends or family.
Pre-Fab Sauna Options from SaunaFin
In a world that incessantly tugs at our senses, cherish moments of tranquillity and self-discovery in a SaunaFin home sauna. Experience blissful relaxation and embrace the soothing warmth of our premium home saunas. We understand that all individuals have their unique styles and preferences. SaunaFin's pre-fab sauna options encompass a diverse range of designs and sizes–we guarantee a perfect fit for your needs! From exquisite barrel and pod saunas with dainty outdoor porches to sleek cabins and pure cube saunas, we offer an unparalleled range to create your personal haven of relaxation. Time to revitalize your wellness routine with SaunaFin's luxurious home saunas! Order now!