Why Choose Canadian Timber Saunas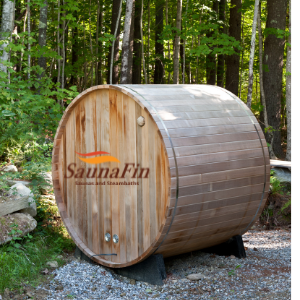 Home saunas are gaining popularity worldwide, helping homeowners achieve all the benefits of regular sauna use from the comfort of their own home and backyard. To create an affordable version of top-selling home saunas, Dundalk Leisure Craft manufactured The Canadian Timber Collection. Canadian Timber Saunas are available for Brick & Mortar stores and online retailers globally, including SaunaFin. Each easy-to-assemble kit includes Eastern White Cedar parts and simple instructions for even beginner DIYers. Canadian Timber Sauna Kits make it easier than ever to build a custom home sauna at an affordable price.
Why Choose Us
Saunafin one of the biggest sauna companies in North America, specializes in factory direct sales of high quality indoor & outdoor saunas in Canada, sauna material kits, sauna heaters, sauna accessories and steambath generators. While there are many different types of saunas available on the market, there are a few primary types that people recognize. Knowing what each type offers and the benefits associated with them can help you determine which type is best for you.
Why Choose The Canadian Timber Collection
The Canadian Timber Collection is a line of premium home saunas that are designed for both indoor and outdoor use. These home saunas are made with high quality materials and craftsmanship, and they offer a number of features that make them ideal for people who want the best possible sauna experience. The Canadian Timber Sauna Collection is available in a variety of sizes and styles, so you can find the perfect one to fit your needs.
Canadian Timber Sauna Kits makes an excellent choice for their quality craftsmanship and comprehensive 3-year warranty when selecting a custom home sauna. The kit includes genuine Canadian wood parts to ensure your final product is durable and resistant to harsh Canadian weather. With a wide range of products and designs, Canadian Timber Saunas includes a model to fit in any backyard or budget.
Canadian Timber Saunas to Choose From:
Canadian Timber Harmony
One of the smaller and more affordable options in the Canadian Timber Saunas collection, the Canadian Timber Harmony sauna is an excellent choice for first-time sauna buyers. This compact model includes two sauna benches and a convenient outdoor hook for towels or bathrobes. Easily seat four individuals in this traditional barrel sauna.
Canadian Timber Serenity
The Canadian Timber Serenity sauna includes two porch seats for cooling off between sauna sessions. An affordable option for anyone looking for a mid-size barrel sauna made with Eastern White Cedar wood.
Canadian Timber Tranquility
The largest barrel sauna in the collection of Canadian Timber Sauna Kits, the Canadian Timber Tranquility includes a spacious porch with outdoor seating, a large window in the sauna door, and two sauna windows, as well as ample interior seating for multiple bathers.
Canadian Timber Luna
The ultra-modern Luna sauna is a popular design for a beautiful and one-of-a-kind architectural addition to any backyard. With a large window in the door and front-facing wall, this unique design lets in plenty of natural light for sauna users. Inside the sauna, there are two tiers of seating to create stratified seating for a custom heat experience.
Dundalk Leisure Craft created the Canadian Timber Saunas collection to make custom saunas an affordable option for any homeowner. Canadian Timber Sauna Kits include everything you need to build a custom home sauna, including all parts constructed with Eastern White Cedar wood. Beyond the barrel and Luna sauna models, the Canadian Timber collection also includes two different outdoor showers, perfect for poolside or lakeside bathers. If you are interested in purchasing a Dundalk Leisure Craft Canadian Timber Sauna, you can buy your custom kit through SaunaFin. The leading retailer of saunas in Canada, SaunaFin provides custom sauna kits to homeowners across North America. To get started customizing Canadian Timber Sauna Kits, contact SaunaFin at 905-738-4017.