Your How To Guide To Building An Outdoor Sauna
Spending time in nature is an excellent investment in your health and wellbeing. Many people find that escaping into nature can boost their mood and help them to relax and recentre. The easiest way to get out in nature is in your own backyard. With a backyard pool or hot tub, many homeowners can use their outdoor space during the summer. Unlike a pool, outdoor saunas extend the use of your backyard for year-round enjoyment. An outdoor sauna provides the perfect place to escape the hustle and bustle of everyday life. You can enjoy the views of your backyard from the warmth and comfort of your own custom home sauna. Outdoor saunas are transforming backyards across Canada and the US, helping homeowners achieve affordable luxury from the comfort of their own homes. Sauna Companies, like SaunaFin, offer a wide range of sauna material kits to help you build a custom outdoor sauna in as little as one day. Here is your comprehensive guide to building an outdoor sauna.
Choose A Location For Your New Sauna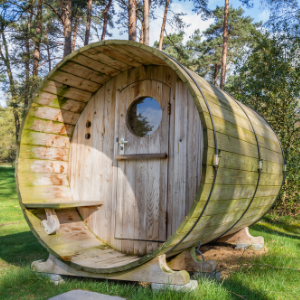 Outdoor saunas make a fantastic addition to any home or cottage backyard. Not only do they allow you to access spa-quality sauna sessions any time of day or night, but you will also be able to add an architectural feature to your backyard. With many available designs and sizes, there are endless options to customize your new home sauna. Before picking your sauna kit and beginning the building process, you will want to find the perfect spot in your backyard for your new sauna.
If you have a backyard pool or hot tub, many homeowners choose to build their sauna close-by to make it easy to hop into the sauna before or after a dip in the pool. You can even create a sauna directly into a pool house or shed that already exists in your backyard. Ultimately, the location of your new sauna will depend on the size of your backyard and the size of your new sauna. You will want to make sure you have plenty of space for the sauna and that it is easily accessible to your door or patio for easy use during the winter. If your sauna requires an electrical source for the heater or lighting, you will also want to make sure the location you choose can suit a power hook-up. Once you've picked your location, you're ready to select your sauna material kit.
Find Your Perfect Sauna Kit
Sauna companies sell a variety of sauna material kits to make it easy to build a custom home sauna. Outdoor saunas are available in traditional designs such as cabin saunas and barrel saunas and ultra-modern designs like the Pod sauna or Luna sauna. If you are looking for a traditional sauna experience, consider a cedar barrel sauna commonly used in Scandinavian culture. Alternatively, pick a modern design for a unique touch to your outdoor living space.
All sauna material kits available through SaunaFin are constructed with premium Western red cedar and feature all the pieces you need to build an outdoor sauna. Once you have selected the design and size of the sauna you want to purchase for your backyard, you can customize the accessories and sauna heater included with your kit. Sauna companies make it easy to customize your sauna material kit to meet your family's specific needs.
Build Your Foundation
Your custom sauna kit will include everything you need to build the inside of your new outdoor sauna. In preparation for the arrival of your kit, you will want to make the foundation for your new sauna. This could be an existing foundation as part of an inground pool, or it could involve pouring a new foundation for your sauna. This will help protect your backyard space's integrity and ensure your sauna is built on a firm foundation. Depending on the size of your new sauna, you could consider consulting with a licensed contractor for assistance with your foundation. You may also need to consult an electrician for any electrical connections and wiring.
Install Your Sauna Kit
Once your foundation is set, you are ready to install your new sauna material kit. Sauna companies include detailed instructions with their sauna material kits to make the entire installation process as easy as possible. Many outdoor saunas can be built in as little as one day! By following the instructions in your sauna material kit, you will be able to build your custom sauna with confidence.
Customize Your Experience
One of the best parts of a home sauna is the ability to customize your experience. Sauna companies make it easy to customize every element of your home sauna, including the heater, controls, lighting, windows, and seating. When you select your sauna kit, you can choose between an electric or wood-burning sauna heater, the type and amount of available seating, and you can even choose to add accessories like a sauna bucket or brush.
Enjoy Your New Sauna
Once your new sauna is built, you and your family can enjoy spending quality time in the comfort of your backyard sauna. Easily incorporate your new sauna in your wellness and workout routine to gain all the benefits of regular sauna use.
At SaunaFin, we sell a variety of sauna material kits to suit every budget and backyard. We sell a sauna to suit every design style, from traditional barrel saunas to ultra-modern, raindrop-shaped Pod saunas. Outdoor saunas are a great option for homes and cottages in Canada and the US to help homeowners make the most of their backyard space all year long. Escape the cold and relax and unwind in a new outdoor sauna, courtesy of SaunaFin. Contact the SaunaFin team at 905-738-4017 to learn more about outdoor saunas and begin the process of purchasing your sauna material kit just in time for the summer.