6 Reasons to Get an Outdoor Sauna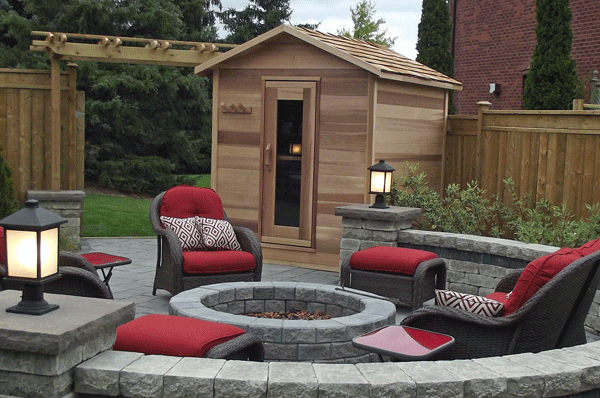 As we near the end of summer, you might be trying to make the most of these final warm months before the wintertime. Whether in your backyard pool or by your cottage lake, you have likely been spending lots of time swimming, sunbathing and relaxing. Why not extend this relaxation year-round with a new outdoor sauna?
An at-home sauna can provide a spa-quality experience from the comfort of your own backyard. The two main types of saunas are indoor saunas and outdoor saunas. When browsing at-home sauna models it is important to consider the benefits of both types of saunas before purchasing. Here, we have helped outline all the many reasons to purchase an outdoor sauna. There is no better time than now to install a new outdoor sauna and enjoy sauna sessions year-round. With the ongoing pandemic, it is important to have a dedicated space in your home to help you relax and unwind and escape the stress of everyday life.
Fewer Space Constraints
Compared to an indoor sauna, outdoor saunas can easily be installed into any home or cottage backyard. Without the physical constraints of the inside of your home, you will be able to be much more creative when it comes to the size and style of your outdoor sauna. Although indoor sauna models are popular, an outdoor sauna will allow you to select from a variety of window options, types of outdoor seating, complimentary landscaping, and décor. All these options will help you to make a one-of-a-kind sauna that you and your family can enjoy year-round.
For small homes or large families, an outdoor sauna is a perfect solution to your space issues. Without needing to find or install a dedicated sauna room, you can build a beautiful sauna that will be easily accessible anytime. You also will not need to deal with the hassle of proper ventilation or access to cooling seats.
Double-Up Your Sauna and Pool House
An outdoor sauna can serve a dual purpose when combined with a pool house. With a larger space, you can combine your pool house with an outdoor sauna, potentially even including an interior entryway to protect from rain, snow, and other elements. You then are able to extend pool season thanks to a refreshing dip in the pool in between sauna sessions even during cooler months.
Peaceful and Private Oasis
Compared to a spa or gym, an at-home sauna provides some much-needed privacy for you to escape from the hustle and bustle of everyday life. However, even an at-home sauna inside your home can quickly be invaded by children or pets. With an outdoor sauna, you can truly escape to your own private oasis.
An outdoor sauna can be especially great for anyone who works from home. Being able to separate your "work" space from your "relaxation" space is essential to mental wellbeing. An easily accessible outdoor sauna will let you escape from your work and take a moment for yourself during the day.
Improve Your Home
Outdoor saunas can improve the overall value of your home by creating a unique feature that adds appeal to prospective buyers. With an outdoor sauna, you also will not need to worry about indoor renovations or special ventilation. Your outdoor sauna will be able to be easily installed, with only minor considerations to your backyard layout and design. By integrating your new sauna into the surrounding landscaping, you will create a final product that is a visually stunning addition to your home.
Easily Access Health Benefits
Many people are unaware of the range of health benefits that can be gained from regular sauna use. The hot temperatures of a sauna help to naturally increase sweating and elevate the heart rate. This helps increase circulation to relieve muscle pain and fatigue and reduce inflammation. Sweating in a sauna can also do wonders for the skin and complexion. The high heat can deep clean the skin, help to remove dead skin cells, and leave you looking flushed, fresh, and hydrated.
In addition to the physical benefits of a sauna, regular sauna use is also known to reduce stress and anxiety. Many people find that incorporating sauna use into their wellness routine can improve both their mental and physical wellbeing. This can also translate into improved sleep and overall improvements to your everyday life.
Athletes in particular can gain a lot of value from an at-home sauna. Using a sauna both before and after a workout can drastically improve your performance and recovery. The high temperatures of a sauna naturally increase circulation after a workout. With gentle stretching and careful consideration to hydration, sauna use post-workout can improve your recovery and help sore and tired muscles. Many runners and triathletes even find that regular post-workout sauna sessions can help improve their endurance.
SaunfaFin's Outdoor Saunas
At SaunaFin, we sell a range of outdoor saunas to fit any backyard or budget. Our sauna models can fit anywhere from 2-12 individuals, allowing you to enjoy your new sauna with the entire family. Our classic models include a cabin sauna made of Western red cedar or a traditional Scandinavian barrel sauna. For a more unique outdoor sauna, you can add an acrylic bubble back to a barrel sauna or choose a raindrop-shaped Pod sauna or a gently rounded Luna sauna. No matter what your personal design choice, SaunaFin can help you find the perfect outdoor sauna for your home or cottage.
Our Sauna Kits conveniently package all the materials you will need to install your new outdoor sauna. If you want to learn more about any of our outdoor sauna models, you can now visit our showroom by appointment. We encourage all our customers to browse our available models and then contact our team to discuss details related to purchasing, ordering and/or picking-up your new Sauna Kit. For more information, or to chat with a member of the SaunaFin team, contact us today at 905-738-4017.