A Complete Guide to Buying a Barrel Sauna
Posted on 09 September 2022
In the stressful modern world, nothing can be more enticing than the delightful warmth and pure relaxation of your home sauna. The host of wellness benefits, easy installation, and maintenance make barrel saunas a great addition to your home. There are many materials and style variations for barrel saunas in Canada, along with endless customizable options to perfectly cater to your needs. However, it can be challenging to select the ideal barrel sauna for your home. Let the experts at SaunaFin make it easy for you with this ultimate barrel sauna buying guide!
Selecting the Ideal Sauna Size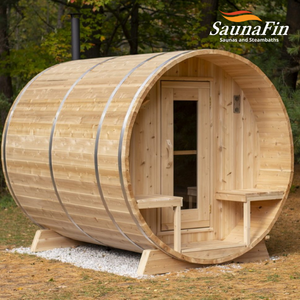 'What's the perfect sauna size for me?' is probably the first question for every home sauna buyer. Well, it depends on two factors—the space you have and how many people will use the sauna. Measure the available space for placing your sauna and consider the number of persons who will use the sauna. A large area can easily house a 4-6 person barrel sauna, while a 2-4 person sauna can be fitted in a small or medium sized-space.
Selecting the Best Sauna Heater
Sauna heater choice usually depends on personal taste, but the functionality can also affect your decision. The most commonly used barrel sauna heaters are:
Electric: These heaters are the most popular choice for sauna lovers as they are energy efficient and can be used in indoor and outdoor barrel saunas. They come in different sizes with varying KW power to be used according to the sauna size. They offer ease of use, maintenance, and stress-free temperature control. SaunaFin has a wide range of electric saunas from Tylo, Saaku, and Sauna craft.
Wood-burning: If you love a traditional sauna's authentic feel and ambiance, you can install a wood-burning stove for your barrel sauna. Though they are easy to install, they require more maintenance and can only be used in outdoor barrel saunas. Sauna wood-burning stoves need an additional chimney kit. These stoves are recommended for large-sized saunas as they can produce incredible heat.
Material and Colour Considerations
Next, choose the type of wood and colour for your barrel sauna. Most quality saunas offer cedar, pine, hemlock, or nordic spruce. Cedar wood is preferred for its ethereal aroma, durability, decay resistance, and insect-repellent qualities. It's an ideal choice for outdoor barrel saunas as it is resilient to extreme weather and decay. SaunaFin saunas are available in stunning red western cedar wood, fresh white cedar, and hemlock in clear or knotty textures. Red cedar may be expensive upfront, but it's durable and requires minimal maintenance. Pine is often used as cost-saving lumber. It also has a sweet aroma, but its colour options are limited to reddish-white or reddish-yellow.
Customizations
Your perfect barrel sauna is incomplete without customizations. Add personalizations like a change room, a porch or overhang, a scenic window/glass door, or opt for our stunning panoramic barrel sauna. Led lights, Himalayan salt lamps, wood backrests, and other bells and whistles can transform your barrel sauna into the ultimate spa zone!
Stunning Saunas from SaunaFin
Whether you're looking for the perfect barrel sauna for your backyard or an indoor sauna for your home, SaunaFin has you covered! As the frontrunners in the sauna industry with 40 years in the business, you know you can trust the SaunaFin Experts!
We promise quality craftsmanship, fair prices, professional installation, and excellent service. Connect with our home sauna professionals today!