How to Upgrade Your Backyard with a Sauna
A personal sauna retreat is the perfect upgrade for a boring backyard. Elevate your outdoor space with an aesthetic barrel sauna–an exquisite fusion of self-care & wellness. Discover a treasure trove of pure serenity in your backyard with SaunaFin's exclusive array of barrel and cabin saunas. Join the SaunaFin experts as we unveil the secrets to upgrading your backyard into a tranquil escape with the gentle heat of a home sauna!
Exploring Sauna Varieties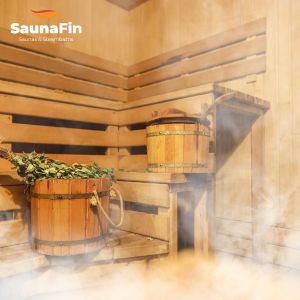 Choosing between prefab units and sauna kits warrants thoughtful contemplation when considering an outdoor home sauna. SaunaFin presents a palette of sauna types that invite you to explore the aesthetic dimensions of relaxation with stunning prefab saunas and sauna kits.
Prefab vs. Sauna Kits
Prefab cabin saunas bring instant allure and elegance to your space with their sleek designs and easy set-up. They come as convenient pre-assembled structures ready for installation. The streamlined design and sturdy construction of Prefab saunas are a boon for those seeking a hassle-free experience.
On the other hand, the sauna kit experience presents an engaging DIY opportunity of assembling a barrel sauna. These kits provide the satisfaction of constructing your sauna, tailoring its elements to your preferences. You can personalize every nuance–from the sauna wood to recessed lighting to indulge your creative sensibilities.
While prefab saunas prioritize efficiency and aesthetics, sauna kits offer a hands-on, customizable approach. The decision ultimately rests on your preference for immediate indulgence or a desire to handcraft your relaxation oasis.
Building Your Sauna Routine
An effective sauna routine is critical to enjoy the myriad benefits of your sauna spa.
Begin with a gentle warm setting to let your body unwind and relax. Purge toxins and stress while the soothing heat envelops you in a symphony of calmness and tranquillity.
Alternate between the cabin sauna's therapeutic warmth and invigorating cool-downs in the shower/pool to stimulate circulation and awaken the senses.
You can curate a serene ambiance within the sauna chamber with mood lighting and aroma oils for meditation & introspection.
Don't neglect hydration—sip cool water to hydrate and replenish.
Tailor the duration of your sauna sessions to your body's tempo, gradually extending the time per your endurance.
Take a moment to cool down and revel in the rejuvenation & relaxation of your sauna haven.
Customizing Your Sauna
Customization is the cornerstone of individual expression, and you can craft your idyllic cabin or barrel sauna with creative personalization. Transform your backyard into a calming sanctuary with SaunaFin's aesthetic yet practical saunas and accessories. Select sauna woods that resonate with your aesthetic ethos to create an ambiance that whispers your individuality. Aspen, hemlock and beautiful cedar wood offer superior heat retention and a distinct aroma. Tailor seating and layout to embrace intimacy or sociability, sculpting a dreamy backyard sauna retreat. Lighting can make or mar your barrel sauna moments. Choose between a gleaming glow, gentle luminosity, or a coloured spectrum for some therapeutic chromotherapy. Incorporate technological harmonies like digital controls and audio systems for a seamless outdoor sauna experience. Ultimately, creating your sauna sanctuary is all about creating an ambiance that aligns with your wellness and relaxation goals.
Outdoor Sauna Sanctuaries From SaunaFin
Embrace well-being and relaxation with aesthetic sauna sanctuaries from SaunaFin. A trusted sauna brand for over six decades–SaunaFin's proud to present bespoke saunas with exceptional customer focus and competitive prices. Unwind and revitalize your spirits with a tranquil barrel sauna retreat in your backyard. Your sauna journey toward holistic rejuvenation begins today.