Types of Outdoor Saunas: Barrel, Pod, and Cabin
Posted on 25 September 2018
Have you considered an outdoor sauna for your home and wonder which type of outdoor sauna might best suit your needs? Now is a great time to make your dream of owning a sauna a reality! Outdoor saunas are not only luxurious and relaxing; they also offer numerous health benefits. Having an outdoor sauna can be fun when entertaining family and friends. Imagine enjoying your very own outdoor sauna at your next party! People love outdoor saunas as they offer an opportunity to relax outdoors in the openness and beauty of nature, regardless of the season or outdoor temperature. With many different options on the market, it can be difficult to determine which type of outdoor sauna might be best for you.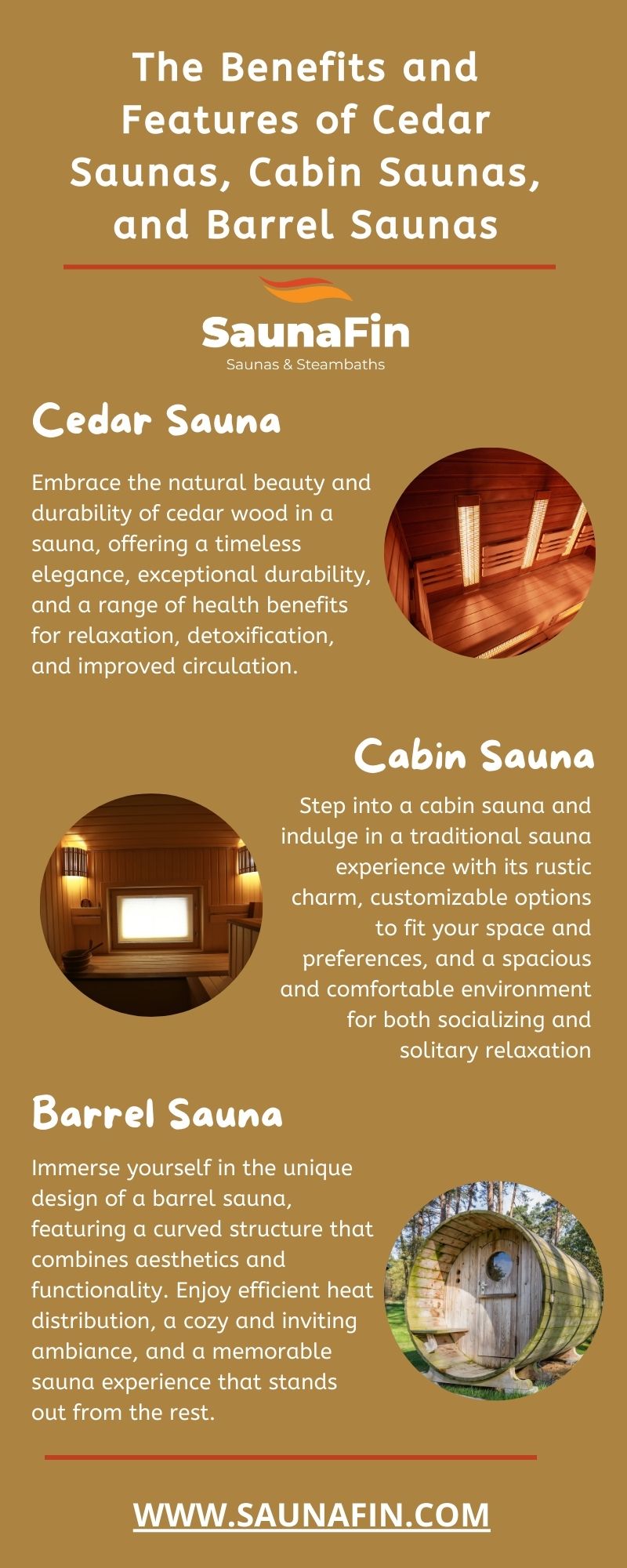 Steam saunas are made of wood and offer a relaxing environment by generating heat. The heater is inside the structure and functions by heating up a specially positioned stack of rocks. Saunas are available in a traditional structure and produce heat through wood burning or electricity, their warm temperatures can range between 80°C-90°C (175F-194F).
Type of Outdoor Sauna Health Benefits
The general benefits of a steam sauna include: healthy weight loss and increased metabolism when coupled with moderate exercise and a healthy diet; soothe sore, aching joints associated with arthritis and relief of sore muscles in general; detoxification through sweat; improved blood pressure and circulation; improved quality of sleep and much more.
Steam saunas help minimize muscle pain, even in athletes. According to Dr. Rhonda Perciavalle-Patrick, Ph. D., spending some time in the sauna can increase your core temperature for short bursts, which may offer improvements to an athlete's performance. She refers to this as "hyperthermic conditioning." Developing research suggests this can offer many benefits, including increased endurance to the growth of new brain cells. The warm temperatures and cooling off times in a sauna can help relax your muscles, blood vessels and nerves. Sauna use can help relieve sore muscles. It can also help to alleviate the pain and discomfort associated with arthritis, asthma, physical and mental fatigue.
Four Different Types of Outdoor Saunas
With improvements to the construction of saunas over the years, it's never been so easy to have your own sauna. These outdoor sauna options range from traditional to modern and fit everyone's unique needs and tastes. Regardless of the type of outdoor sauna you choose, you can rest assured that you will not only enjoy the relaxation your sauna provides, you will also reap the numerous health benefits that these saunas offer.
Barrel Saunas
This sauna literally looks like a wine barrel, offering a unique look. The barrel sauna is a type of outdoor sauna that is an ideal option for your home backyard, your pool, or your cottage. It's simple, practical and has a beautiful, clean and rustic appearance. You can choose from "Knotty" or "Clear Western Red Cedar". This type of sauna has 1-1/2" thick walls, which provides natural insulation. The barrel design will give you a smaller heating area compared to a rectangular sauna, along with lots of space for your guest bathers. This sauna will provide you with a space you can truly enjoy with family and friends for many years to come.
Pod Saunas
Pod saunas are rain drop-shaped outdoor saunas and they have become very popular. This sauna provides additional space for your bathers and also boast a beautiful design which comes in different sizes and options for customization.
You can choose from "Clear" or "Knotty Western Red Cedar". The POD sauna, is offered with an option bevel siding or shingles and a membrane to make your sauna watertight.
You can get your POD without the roof package, but we recommend you add asphalt shingles or similar to make sauna weather resistant.
Outdoor Cabin Saunas
Outdoor cabin saunas offer a more traditional look. They are made of 2x6 tongue, and groove cedar logs. Their threaded rod system provides secure assembly as well. This type of sauna comes in Clear Western Red Cedar. You can have this sauna assembled in just one day! The benches are already put together for your convenience. This type of sauna has a full cedar floor, a door with a peaked cedar shake roof.
Luna Saunas
Looking for something a little more modern? This type of outdoor sauna is a one of a kind looking sauna for your home or cottage. The Luna sauna has a full glass front and rounded corners, which offers a great look, as well as lots of interior space for your bathers. The stunning Western Red Cedar sauna lasts long and gives off a gorgeous aroma. Regardless of which outdoor sauna is your favourite, each type boasts style and long-lasting functionality you and your bathers will love.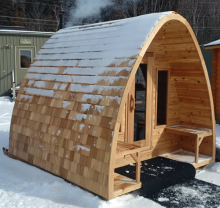 Health Benefits of Saunas Overall
Whether you are an athlete or not, the health benefits of steam saunas are widely reported and can't be stressed enough. Although they provide relaxation, that is certainly not their only benefit. From healthy weight loss and improved metabolism to soothing sore, aching joints and muscles, saunas offer a drug-free and non-invasive approach to help treat a wide range of ailments. Furthermore, you can also benefit from improved blood pressure and circulation, improved sleep quality, reduced stress and much more.

As you can see, there are many different types of outdoor saunas and the type of outdoor sauna you choose will depend on your style (modern, contemporary or traditional) and size preference, as well as several other factors. Established in 1962, Saunafin is a second-generation family run sauna manufacturer that offers all the different types of outdoor saunas previously discussed, and more.
At Saunafin, we are committed to the quality of our materials, customer service and our ability to provide highly competitive prices. What are you waiting for? Contact us today for more information and make your dream of owning an outdoor sauna a reality!