Steam Shower for Effortlessly Beautiful Hair
Posted on 27 December 2021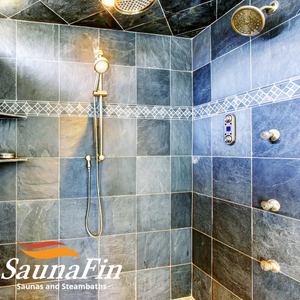 There is no denying that steam baths are great for the skin. The great news is that the beauty benefits of steam baths aren't limited to your skin. Steam is a natural hair treatment that can help moisturize, nourish, and rejuvenate your hair. With SaunaFin's premium steam shower kits in Canada, you can enjoy the luxury of spa-like wellness, beauty, and beautiful hair in the comfort of your home. Here's how adding a steam generator for your shower or sauna can also help you achieve the dream of beautiful, lustrous hair.
Natural Hair Therapy
Steam helps release the natural oils in the scalp and hair follicles. When these oils mix with hot water, they moisturize and soften the hair and scalp. Steaming also boosts the scalp's blood circulation, ensuring strong and healthy hair follicles. When the scalp is moisturized and healthy, your hair is less prone to breakage and styling damage. Moreover, a steam sauna does not damage your hair, likely with exposure to sunlight or chemicals found in hair products.
Soft & Manageable Hair
With Saunafin's advanced range of saunas & steam generators for showers, soft, smooth hair is at your fingertips! Get silky, straight hair in minutes with the help of steam. A steam bath is also a great way to remove all impurities from your hair without using any chemical-based products or shampoos. Say hello to softer and more manageable hair, free of contaminants & pollutants! The best part? Smooth, beautiful hair that shines with health!
Prevents Scalp Infections
Steam baths can also destroy harmful bacteria that often cause dandruff and other types of scalp infections, such as seborrheic dermatitis, ringworm, and scalp psoriasis. Steaming the scalp also removes dead skin cells from scalp and improves blood flow. However, anyone with severe scalp conditions like scalp psoriasis, eczema should steam under the supervision of a dermatologist or scalp care professional.
Deep Conditioning
We all know how deep conditioning is essential for happy, healthy tresses. Now, add the power steaming to your deep conditioning session for incredible results! The moist heat of a steam bath opens the hair cuticles. This allows hair masks, treatments, and oils to penetrate deep within the hair cuticle for potent moisturization benefits.
Proper Hydration
Your hair is under constant assault from the elements, pollution, and dust every day. Harsh chemical hair treatments, heating tools, and styling products can fry your hair and strip its moisture content. The result is limp, lack-lustre & frizzy hair which is prone to breakage and split-ends. Thankfully, a beneficial steam shower can help rehydrate and moisturize your hair to its former glory.
The Final Word
The benefits of a steam bath aren't just skin deep—add beautiful hair and wellness to it. So steam your way to healthy hair, improved texture, shine, and softness with SaunaFin's steam baths and steam generators for showers! Upgrade your existing bathroom and transform your hair, health, and everyday experience with SaunaFin.
Our Easy Steam and Steamist Total Sense Series are a clever blend of cutting-edge technology and wellness with options of aromatherapy infusion, Chromatherapy, Bluetooth enabled sound systems, and in-shower controls. Build the ultimate home spa with our exclusive saunas and steam shower kits in Canada. Connect with a SaunaFin expert today and discover the magical benefits of a steam shower!