Building a Sauna from scratch?
GET A CUSTOMIZED MATERIAL KIT QUOTE?
Call Us Today!
1-800-387-7029
or local: 905-738-4017
We accept: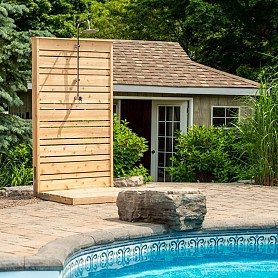 Savannah Outdoor Shower
---
The Savannah Standing Shower crafted from Eastern Canadian White Cedar is esy to assemble, hook up and move around if needed. This shower is the perfect choice by your pool or spa to rinse off, or for a quick cool down lakeside at the cottage.
---