Building a Sauna from scratch?
GET A CUSTOMIZED MATERIAL KIT QUOTE?
Call Us Today!
1-800-387-7029
or local: 905-738-4017
We accept:

SMP Series
STEAM SHOWER OVERVIEW
Envision your custom steam shower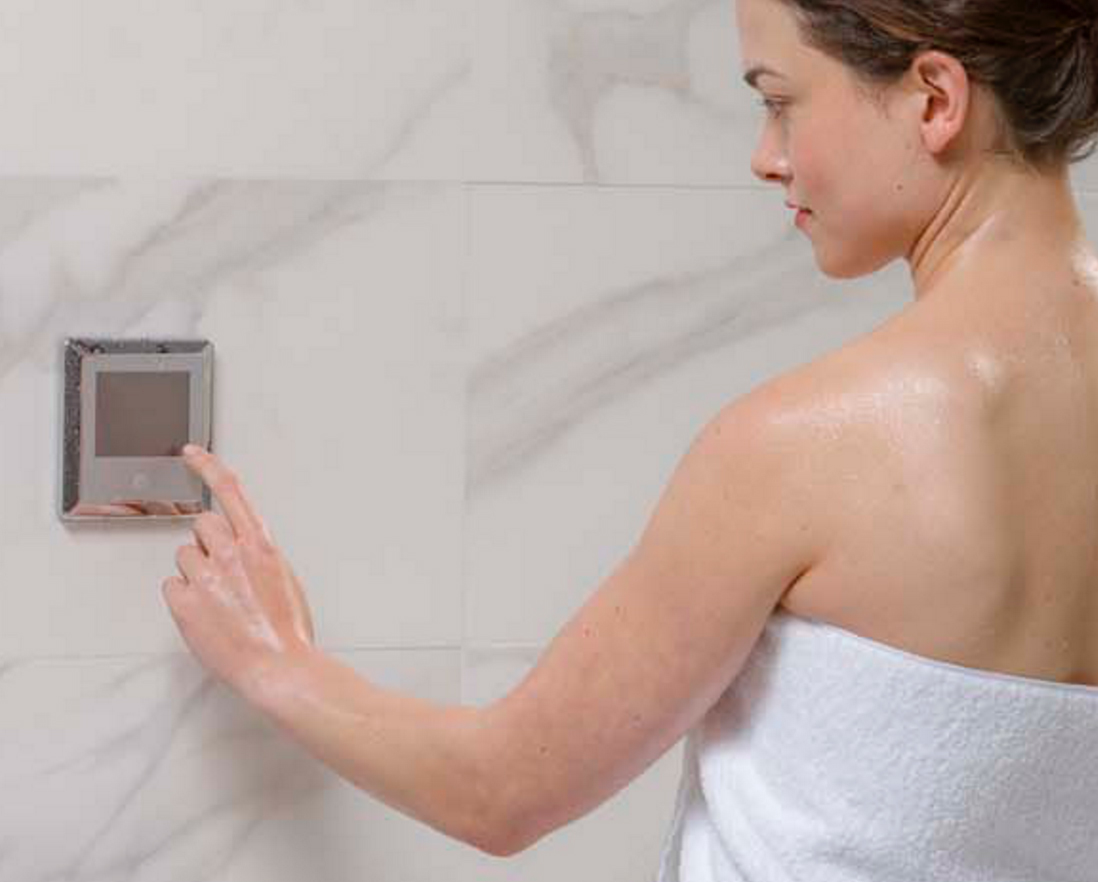 A steam shower system has three basic components: the Generator, a Digital Steam Shower Control and a Steamhead. Four Total Sense™ Spa Options are also available to enhance the experience. The Control and Steamhead are installed inside the steam shower enclosure. Other components can be installed in a closet or other small space near the enclosure.
Just want Steam:
All you need to get is a suitably sized steamer (SMP) and the standard control (TSC250).

Total Sense Features:
Upgrade to one of the TSC550 WiFi controls and then you can add any or all of the Total Sense "Spa" features; including:
ChromaSense mood light
AudioSense bluetooth music system
AromaSense built in scent dispenser
ShowerSense sleek, clutter-free shower system
Steamist is American made to the highest quality and comes with a exceptional warranty and reliable service support.
The SMP steam generator carries a Two-Year labour and Lifetime parts warranty.
Saunafin has been carrying Steamist exclusively for over twenty years. We are their biggest distributor in Canada. We purchase in volume at discounted prices and we pass those savings on to our customers.
Sizing Your Steam Generator

Specifications & Manuals

Steam Controls

ChromaSense

AromaSense

AudioSense

ShowerSense
---
Sizing Your Steam Generator

Specifications & Manuals

Steam Controls

ChromaSense

AromaSense

AudioSense

ShowerSense
Sizing Your Steam Generator
To "size" the right generator, we start by asking for some basic information about the space you'll be using for your steam shower.
Length x Width x Height (in feet) of the steam enclosure to determine cubic footage.
For optimum performance, ceiling height should not exceed 8'. The maximum recommended ceiling height is 10'.
a. L x W x H = _______
"Adjusted Cubic Area" is determine by a number of factors.
b. Wall material:
Tile: ceramic / porcelain / glass / glass block. Add 35% _______
Natural stone: Add 100% ______
c. Number of Exterior walls:
one wall: add 10% _____
two walls add 20% _____
d. Height: no additional factor for 8' or less:
9' height: add 15% _____
10' height: add 30% _____
Adjusted Cubic Area = a + b + c + d
(If there window or skylight, select next larger steamer)
Example 1: 5' x '5 x 8'. Porcelain tile, one exterior wall
5x5x8=200'. Tile +70', exterior wall +20' = 290' = SMP-7, 7.5 kW steamer
Example 1: 4' x '5 x 9'.
Marble 4x5x9=200'. Stone +200', 9' height +30' = 430' = SMP-10, 10 kW steamer

SMP Series Steam Generators
Model No.

KW Rating

Max. Cu.Ft. Range

Volts/
Phase

Min. Wire Size

Max. Fuse Size

Model Dimensions L"xW"xH"

SMP-5
5
100
240/1
10
30
15 x 6 x 15.5
SMP-7
7.5
250
240/1
8
40
15 x 6 x 15.5
SMP-10
10
450
240/1
8
50
15" x 6" x 15.5"
SMP-12
12
550
240/1
6
60
17.75 x 7.5 x 15.5"
SMP-15
15
675
240/1
4
80
17.75 x 7.5 x 15.5"
Standard residential voltage for North America is 240 volt, single (1) phase.
208 volt, single (1) phase and 3 phase models also available.
For rooms requiring over 15 kW, use two Total Sense generators working in tandem.
Steam Installation Manual
Steam Controls
There are two controls available with the SMP steam generator
(Matching steamhead comes with each control)
TSC250 Series Standard Control
Programmable for two user profiles with individual temperature/duration preferences.
Ideal for those who just want to add Steam - without the bells & whistles.
Will not operate Total Sense Spa Options.
TSC550 Series Standard Control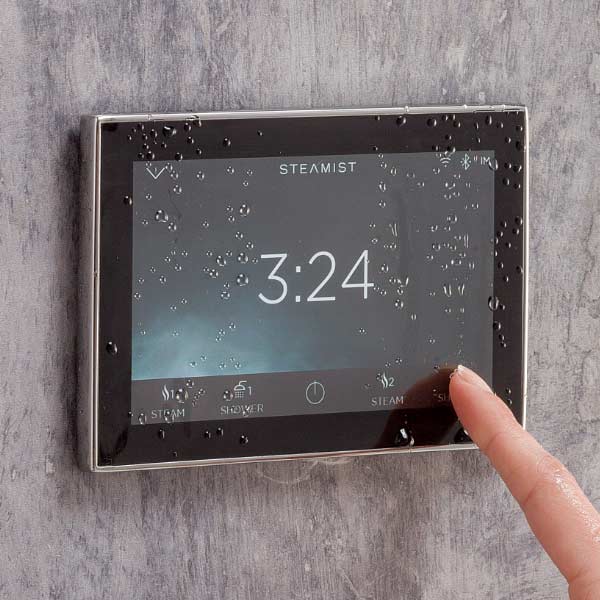 TSC 550 is a touch-screen, WiFi control.
TSC-Modern style is available with Polished Chrome and Polished Nickel with black or white border.
Saunafin stocks TSC Modern, Polished Chrome with Black and White border.
TSC-Transitional style is available in Polished Chrome, Polished Nickel, Brushed Nickel, Polished Gold, Brushed Bronze, and Oil Rubbed Bronze. (Transitional is special order).
TSC 550 required if you plan to add any of the TSC Spa Options (ChromaSense, AromaSense, AudioSense or ShowerSense).
TSC550 can be ordered without Spa options if you simply like the modern look better.
Chromatherapy at Home
Let color enrich your steam experience
ChromaSense can turn you on to a spectrum of six steam shower lighting effects to bring about positive physical or psychological change. Compatible with the 550 Digital Steam Control.
ChromaSense Spa Option Control Module: Product Code TSCH.
Supplied with Light Fixture with Polished Chrome Trim Ring. Designer Finish Trim Rings also available.
Six color effects
With one shower light fixture, ChromaSense gives you the choice of selecting white light or six color effects in the steam shower.
| | | |
| --- | --- | --- |
| Soulful | Bliss | Relax |
| Creative | Energize | Harmony |
AROMASENSE: HEAL WITH AROMATHERAPY
Add scents of well-being to your steam shower
For centuries, aromatherapy has demonstrated remarkable therapeutic powers, from relaxing body and spirit to soothing respiration to sparking creativity. And only Steamist's AromaSense adds 100% undiluted essential oils to the steam shower, ensuring your pure pleasure. Compatible with the 550 or 450 Digital Steam Control.
AromaSense Spa Option Control Module: Product Code TSA
Pure essential oils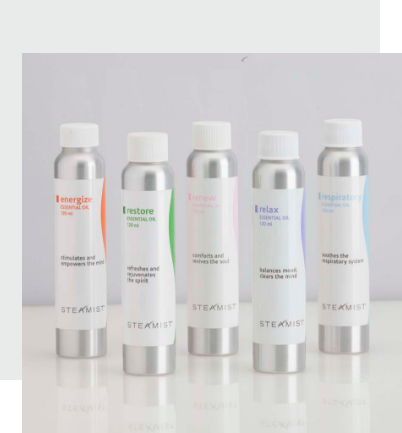 Only Steamist's AromaSense has a precision pump system that stores two different, easily replaceable essential oil canisters. allowing you to make your "aroma steam" selection without ever leaving your steam room. And only AromaSense uses pure undiluted oils, using just 1/4 of a drop at a time, so each canister will last for months. Five essential oils are available in 100 ml canisters (sold separately).
Two essential oil canisters should be purchased for installation with the AromaSense module.
AUDIOSENSE: EXPERIENCE SOUND AND STEAM
With AudioSense you can enjoy your favorite music in the steam shower from your computer, smartphone, iPod tablet or any other Bluetooth-enabled music player. Compatible with the 550 or 450 Digital Control. 550 Digital Controls links directly to Pandora®, Spotify® or iHeart® music streaming services. Speakers sold separately.
SPEAKER OPTIONS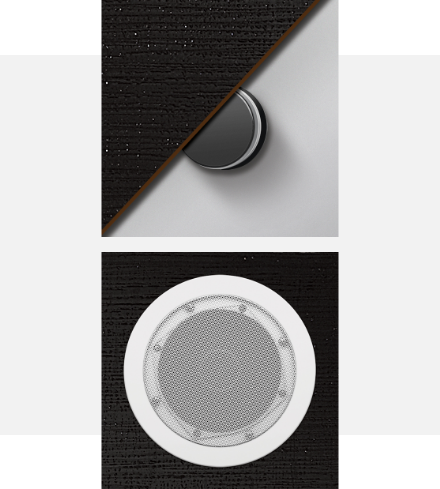 Two "Invisible" Speakers
Mount out of sight and transmit sound through the wall.
3" diameter. Product Code TSS-IN
Two "Classic" Exposed Speakers
Surface mount.
5.25: diameter, 8" outside diameter. Product Code TSS-CL
ShowerSense:
The Cleaner Choice
Cluttered Conventional Shower
A standard showerhead, handheld shower and body sprays require multiple controls and a cluttered, crowded enclosure.
Uncluttered ShowerSense System
With ShowerSense, one control covers all steam and shower functions, for a beautiful shower retreat without multiple shower controls.
Our Digital Shower System allows you to enjoy the benefits of ShowerSense without installing a steam generator and steamhead.
Ultimate Shower Options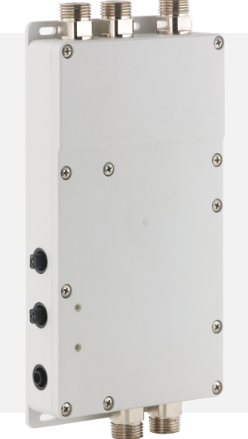 ShowerSense lets you enjoy the steam experience, plus your choice of three luxury shower options. The 550 Digital Control lets you select either of two different shower temperatures, and gives you total touchscreen command over all steam and shower functions, without the clutter of multiple shower controls. The ShowerSense Valve is easy to install in any position behind the wall, and is both temperature compensating and pressure-balanced to optimize user comfort.
ShowerSense Spa Option Valve: Product Code TSSH