Building a Sauna from scratch?
GET A CUSTOMIZED MATERIAL KIT QUOTE?
Call Us Today!
1-800-387-7029
or local: 905-738-4017
We accept:

Testimonials
August 30, 2021
As promised, here is my review and a few photos. I don't mind having my name attached to the review, but I do not want my phone number or address made available. Thanks.
Cheers, Scott Wilson
Overall rating: five stars (top rating)
Review: I love our new SaunaFin outdoor cabin sauna (the 6' x 8' prefab type, with a Tylo electric heater). Every aspect of the purchase met or exceeded my expectations. The cabin was delivered in mid August, exactly as scheduled. It was a delight to assemble, aided by the excellent assembly instruction manual and video. The knowledgable Saunafin staff were always available to answer the few questions I did have. The high quality western red cedar and the many design details resulted in a beautiful addition to our lakefront cottage property. The attached photos were taken a week after delivery, when it was fully operational following the installation of the heater by the electrician. We look forward to many years of enjoying the Sauna experience!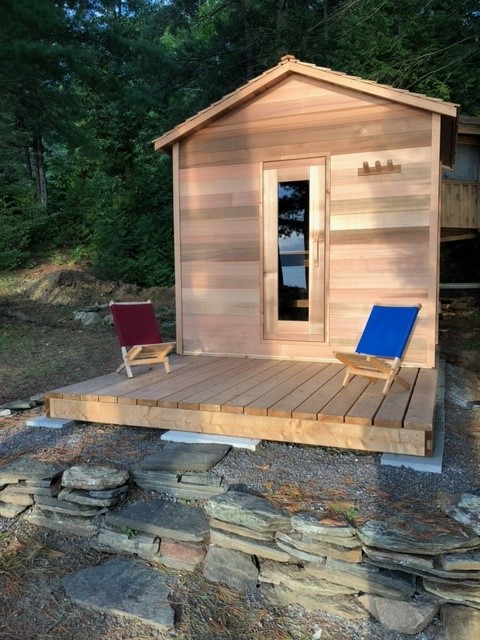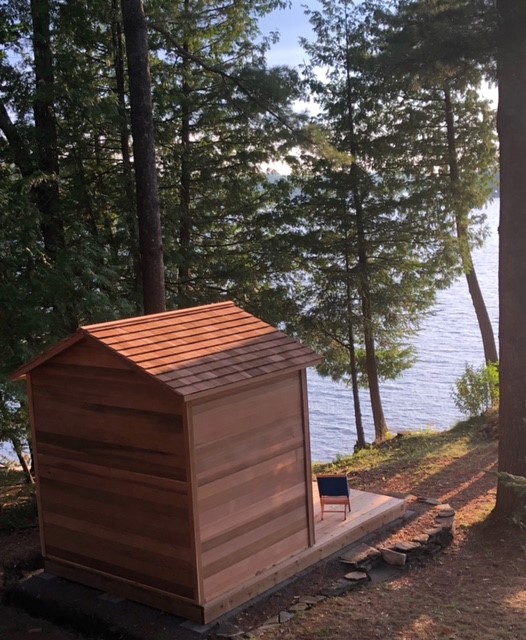 Wilson
November 02, 2020
My sauna renovation is now complete and it looks great. I bought a complete kit from Saunafin and it arrived in good shape on a sturdy pallet. The kit included all the cedar (which is beautiful top quality and clear), the controls, a new heater and I even splurged on a nice water bucket and wall thermometer. The glass window door really sets it off nicely. The kit was customized to accommodate the dimensions of our existing sauna and Saunafin provided exactly the right amount of wood... By carefully cutting and avoiding waste, I ended up with more than enough to complete the project. (Of course everything had to be final cut to fit but I ended up a nice stack of sweet smelling kindling! :-)) I highly recommend Saunafin. Their staff were very knowledgeable and helpful.
Frank Vitz (Google review)
February 24, 2020
Hi Milena,
Thanks for everything. The sauna is finished and looks great. Your kit was perfect; everything was complete and I was especially impressed with the quality of the material. The pallet arrived in excellent condition and the packing list was a great help in defining and locating all the different pieces. As we discussed on the phone I did lots of research before my purchase and used your web site extensively. If you ever need someone to give a recommendation let me know.
Ciao,
Gully
Larry Gullickson
February 21, 2020
I would like to provide feedback on the kit I purchased. I enjoyed the project of building the sauna. I bought a premium package and Tylo heater. All questions I had were answered promptly. The wood was excellent quality and easy to work with. The sauna works excellent and I am very glad I got the Tylo heater. Your ladies in the office are very knowledgable and great to work with Thanks Gord
Gord Keeling
January 11, 2020
Hi all - thanks for all your support through the sauna purchase process. I had a lot of fun building it. Beautiful cedar and the Tylo Combi is amazing. The how to manual was great guide for construction. Please have a look at the pics. We're loving the ambience of the backlit salt brick wall.
Jon Voss
December 16, 2019
Dear Milena, Maia, Diane and Mike,
I want to express my sincere appreciation to Saunafin, for the incredible customer care and support that you provided in making our Sauna Dream come true.
The Pod Sauna is awesome and it was with your expertise and commitment to customer care that everything worked out so well.
Thank you so very much for addressing some of my concerns while the Pod was under construction. Everyone at Saunafin worked quickly to make "the Pod", better than perfect... and for that, you are so deserving of the highest 5 Star Rating.
As the Pod Sauna was constructed in November, all exterior wood surfaces were prestained (2 coats), before assembly in a heated garage.
Please find a photo of our finished sauna!
The Pod Sauna is fantastic and a real joy to our healthy daily living!
Sincerely,
Norm Sultmanis
Lakefield Ontario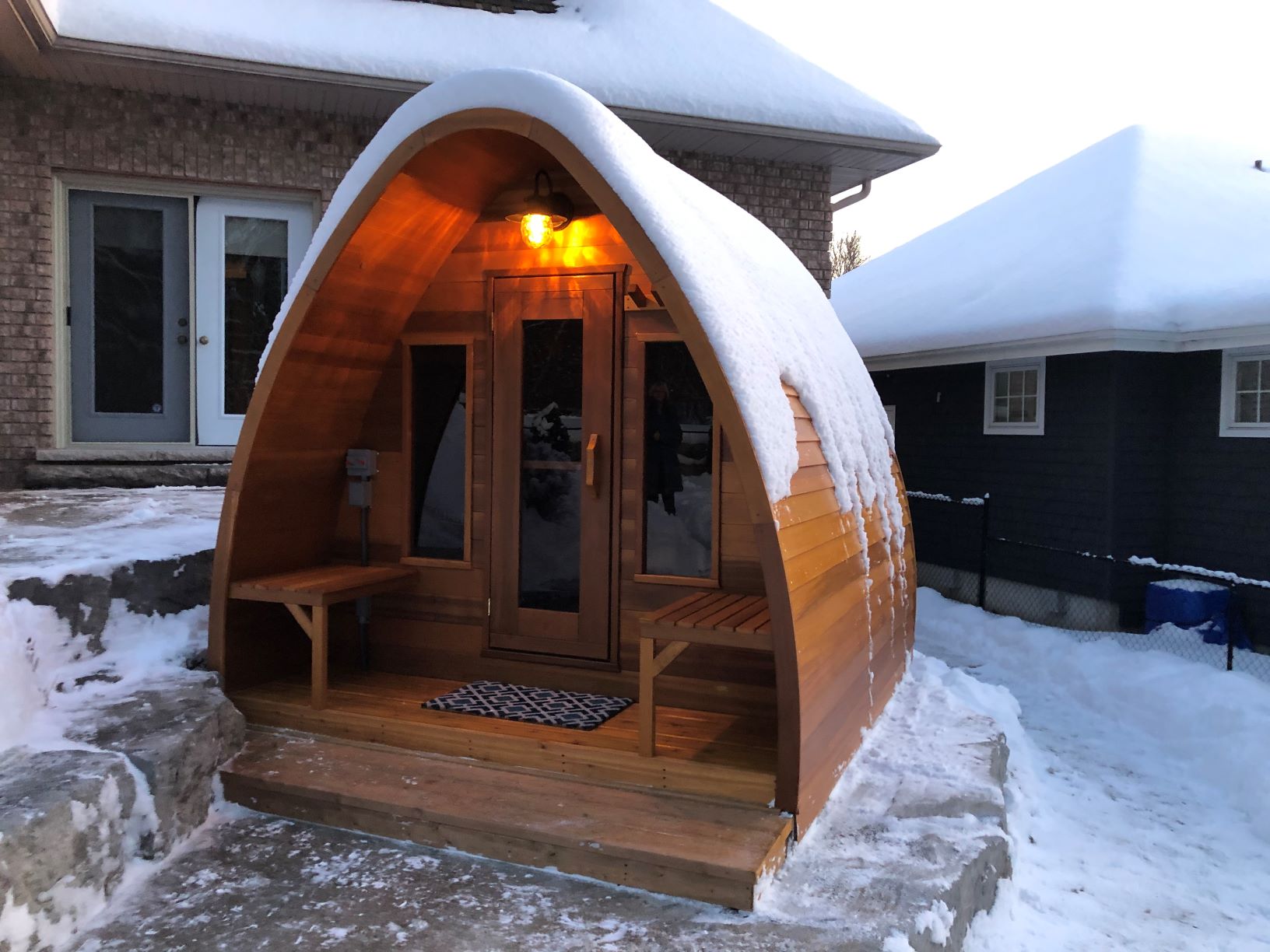 Norm Sultmanis
December 12, 2019
Thank you for your assistance and service. The sauna kit installed well. The was enough materials to allow some personalization. I have included a few pics you can share on your website.
Bob Slovick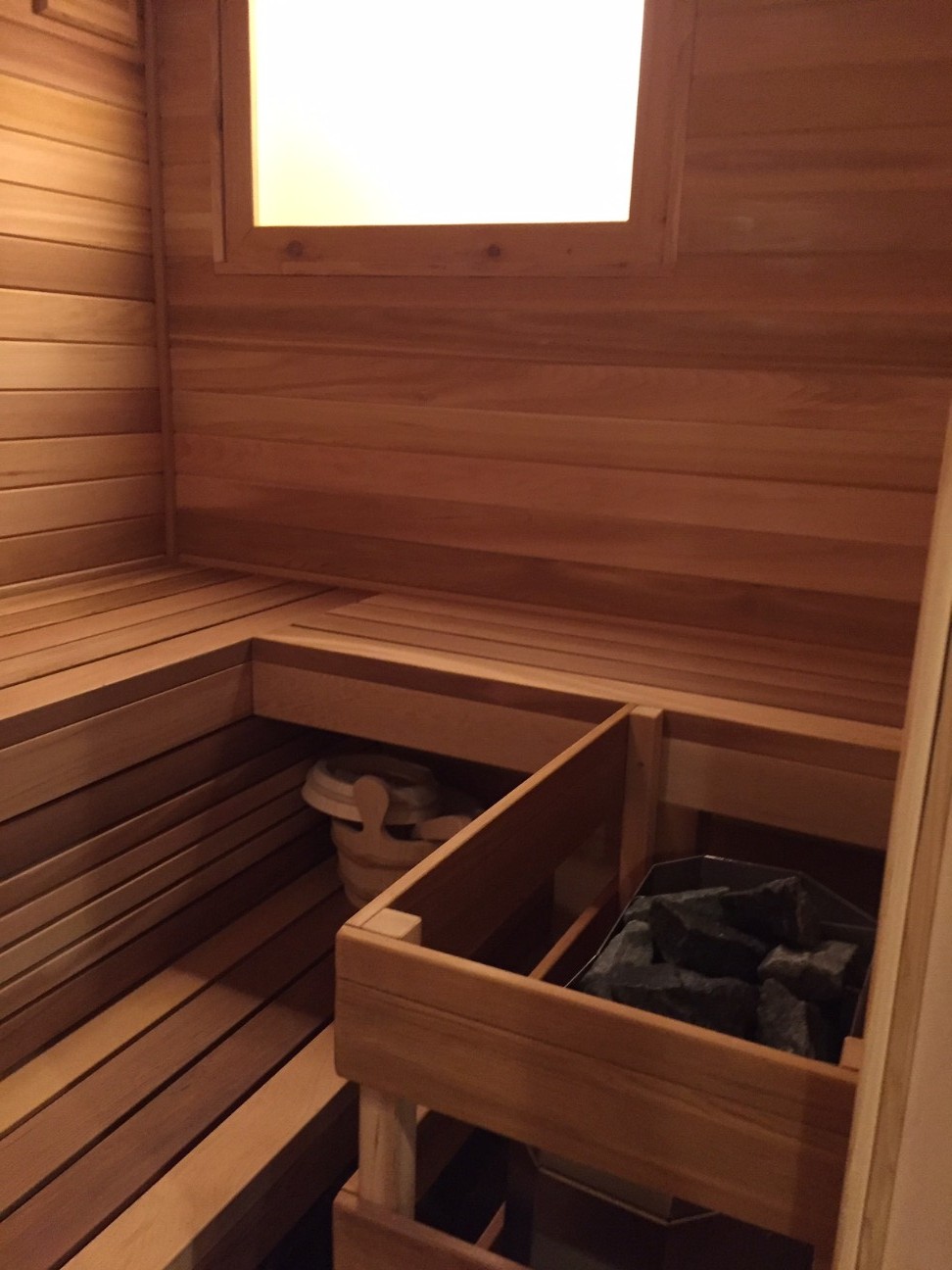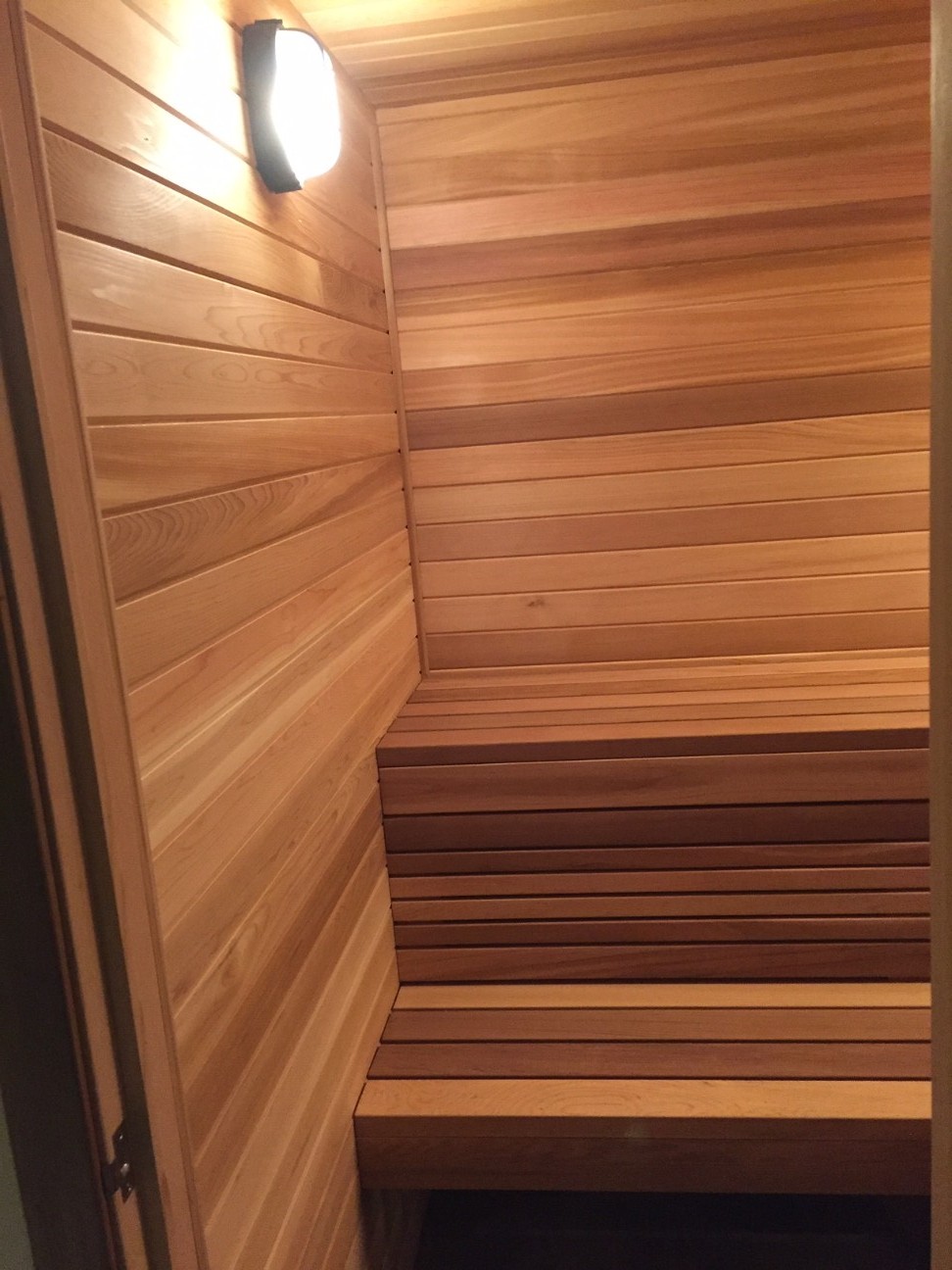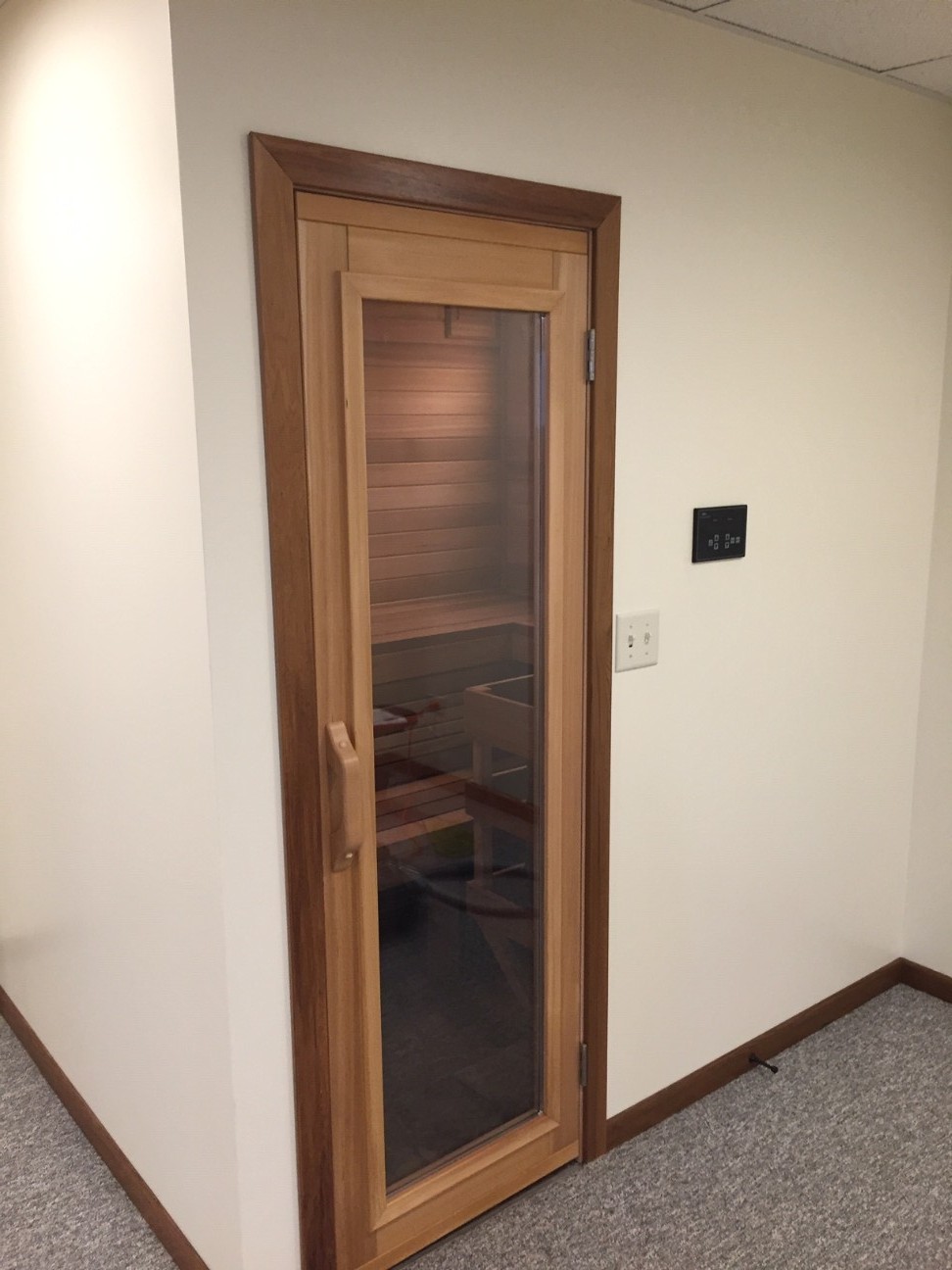 Bob Slovick
October 26, 2019
Hi Mike,
After researching for many months, and contacting numerous sauna dealers, we decided to order a panoramic barrel sauna from Mike at SaunaFin - and we are so glad that we did!
From the very start, Mike was very quick to reply to our many questions. He provided detailed setup instructions and images to help us along the way.
We are so thrilled with our end-product! We chose to purchase the combi heater, which allows for both wet or dry heat. We use both on a regular basis. We love every second in our peaceful barrel sauna!
Nancy Armstrong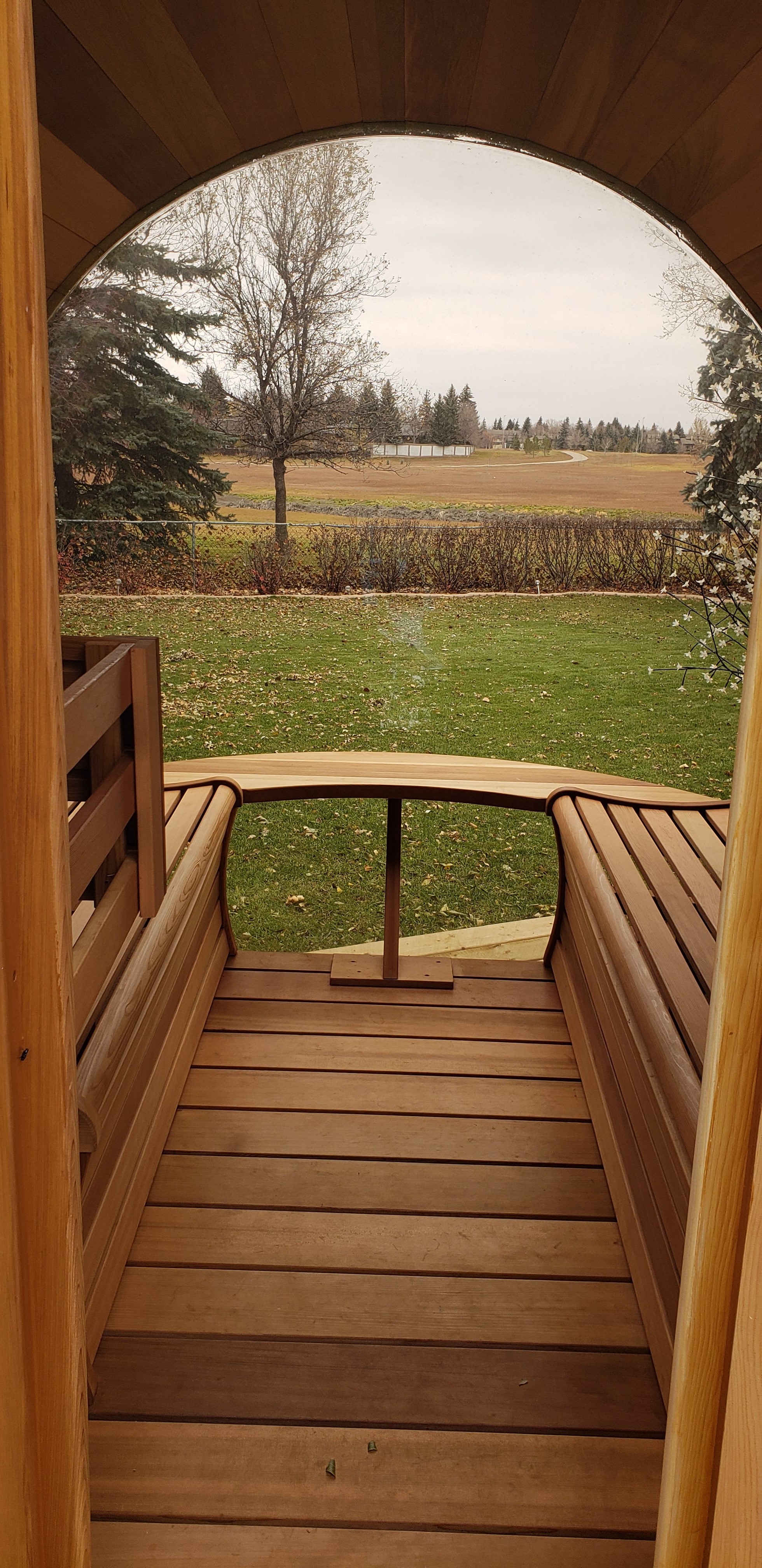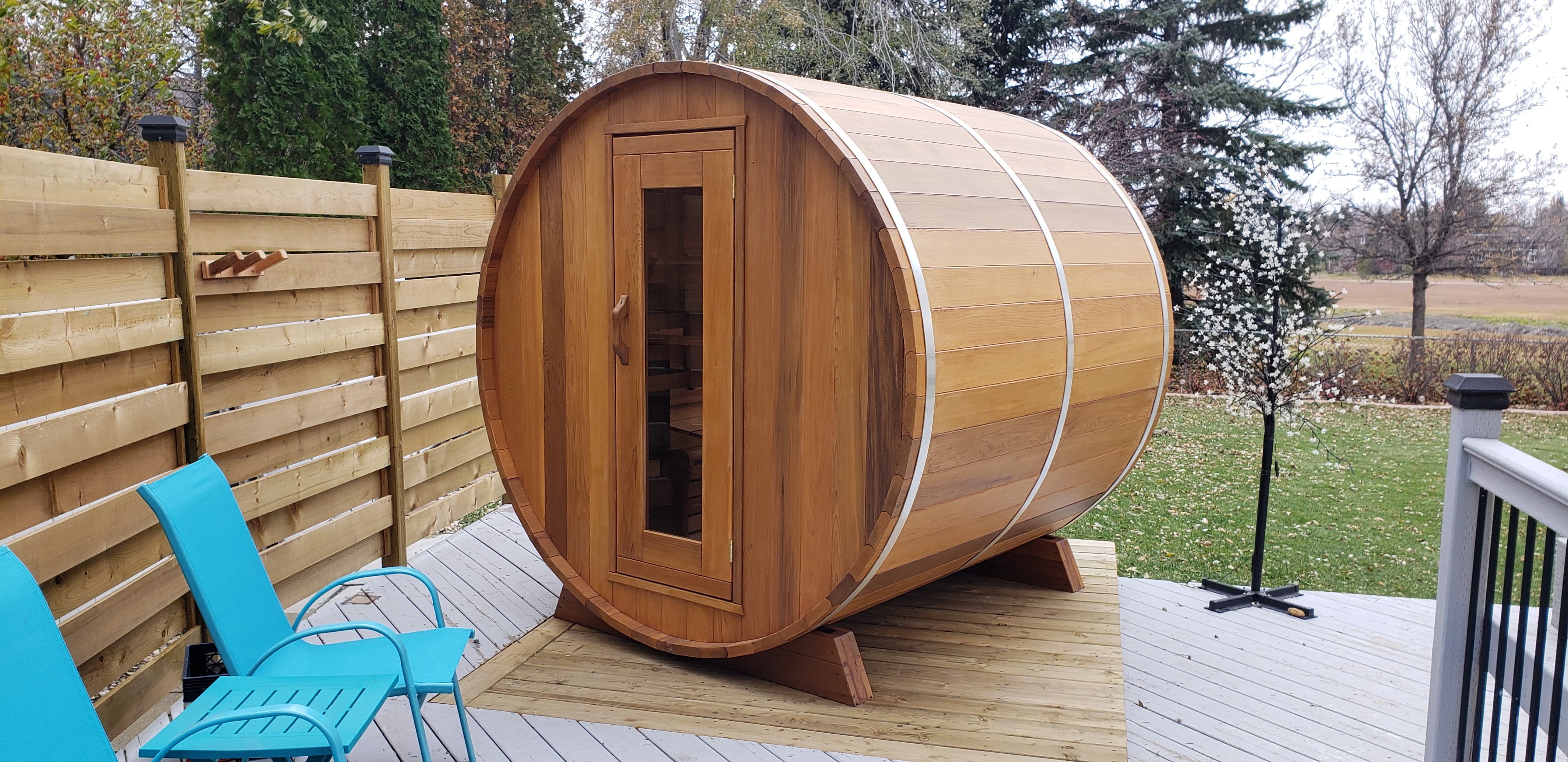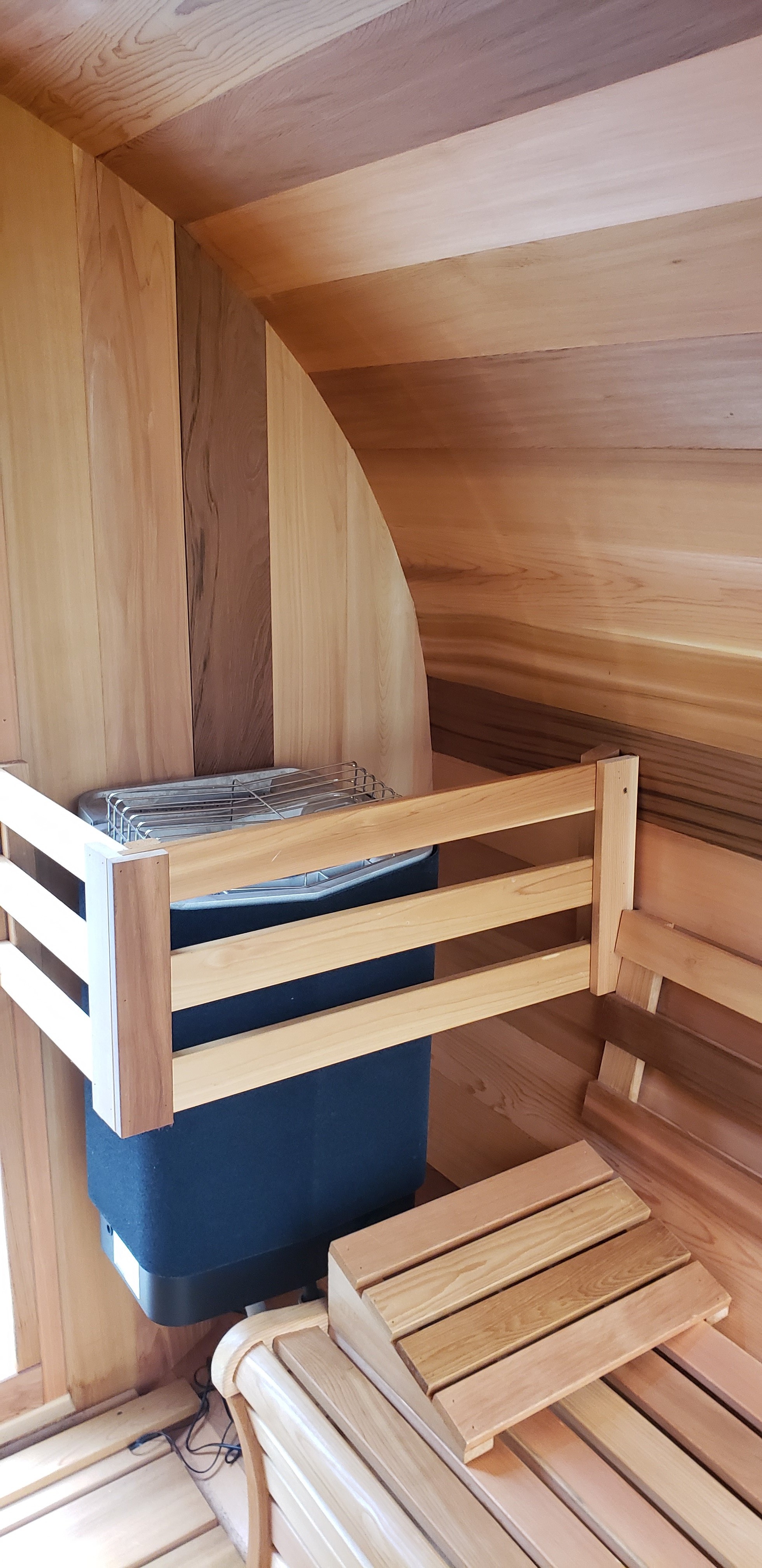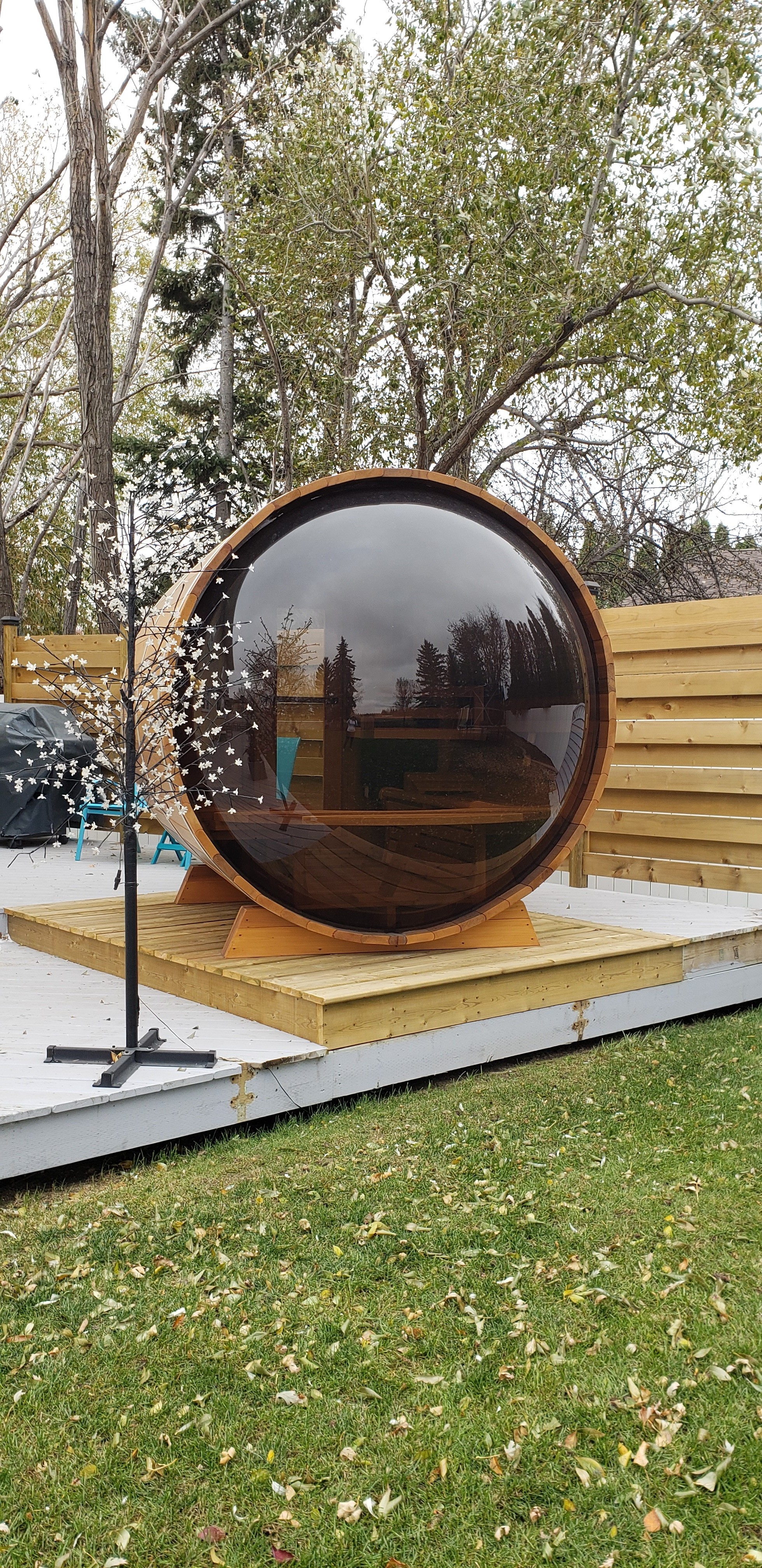 Nancy Armstrong
May 27, 2019
Two years ago, as part of a home reno, I purchased a sauna kit from SaunaFin and couldn't be happier with the product and end result.

Milena was really knowledgeable and supportive in helping me select the right model. The kit came well organized with very clear instructions. The materials provided – planks, vapor barrier, even down to the nails – were more than enough to complete the build with some left over to make a magazine holder!

I looked around before choosing and went with SaunaFin based on price (very reasonable compared to competitors) and quality. In particular, the quality of the cedar was by far the best – no imperfections and two years later smells exactly like the day it was built!

Two years later we are still using it 2-3x per week and absolutely love it (really cheap to operate as well). I can honesty say this sauna has been my favorite part of the entire home reno.

I would highly recommend SaunaFin to anyone considering a sauna.
Dave C
April 30, 2019
After a lot of looking at our options, we ordered the 6x8 outdoor cabin sauna from SaunaFin with a Tylo heater, and couldn't be happier with the process or the result. We asked for a custom layout (adding a window where there isn't usually one), and they worked with us to efficiently make that happen. We use the sauna almost every night, and comment to each other how happy we are with our decision almost every night as well. It's beautiful, was easy to put together, smells incredible, and couldn't be simpler to operate.
-Katie
Katie
March 08, 2019
"Expert advice. First quality materials and workmanship. Excellent customer service. Saunafin is my go to contractor for sauna restoration work and parts!"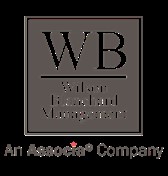 David Blois
Senior Property Manager | Wilson Blanchard Management Inc.
The Broadway One (TSCC 1587) & The Broadway Two (TSCC 1603) Condominiums
David Blois
February 04, 2019
Happy Monday Mike. Thanks kindly. Had my first sauna yesterday. Looks great and feels great. A warm thanks to Vlad and his attention to detail. Wonderful job. I have what I need in the beautiful sauna your company has provided. I'll take the $125 credit via cheque. Once again thanks kindly for a smooth fantastic job.
Warmly Steven Milincevich.
---
Steve,
Thank you for paying so promptly. It is a pleasure dealing with customers such as yourself.
Vlad confirmed my impression. Your framing was exceptionally well done. As a result he was able to complete in one day. He did not have to go to hotel as I had budgeted.
I would like to credit you the $125.00 I allowed.
We can give this to you by cheque or we can send you a package of popular sauna accessories. Let me know
Thank you
Mike Wynn
Steven Milicevich
January 11, 2019
World's Best Sauna
I must tell you we love the sauna. I have been in construction for 35 years. Your material were top of the line. The carpentry was perfect. I did not need to cut anything. The heater works great.
Thank you,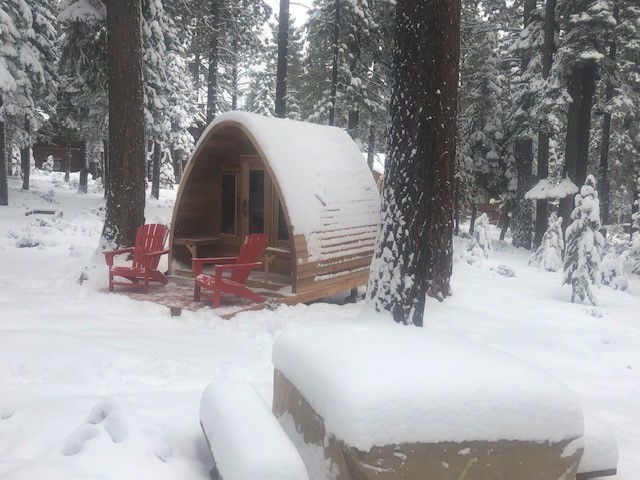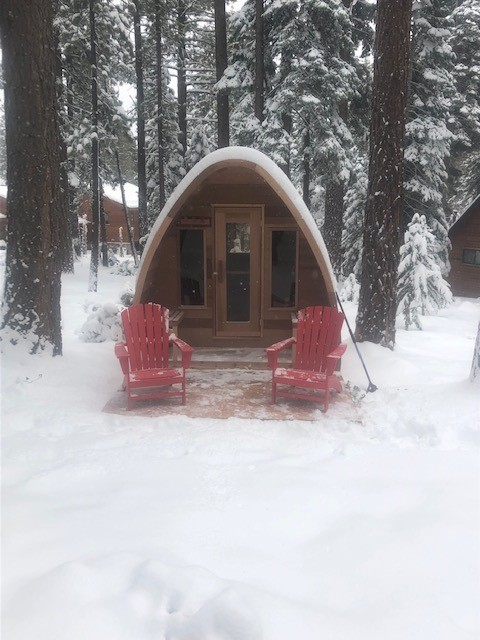 David Shaw
January 03, 2019
Greetings from Youngstown. Just wanted to thank you all for the awesome sauna . The install went very smoothly, as the cedar was top notch and the instructions were pretty good. Tracy and I are extremely pleased and wanted to share a couple photos, which hopefully you'll find attached.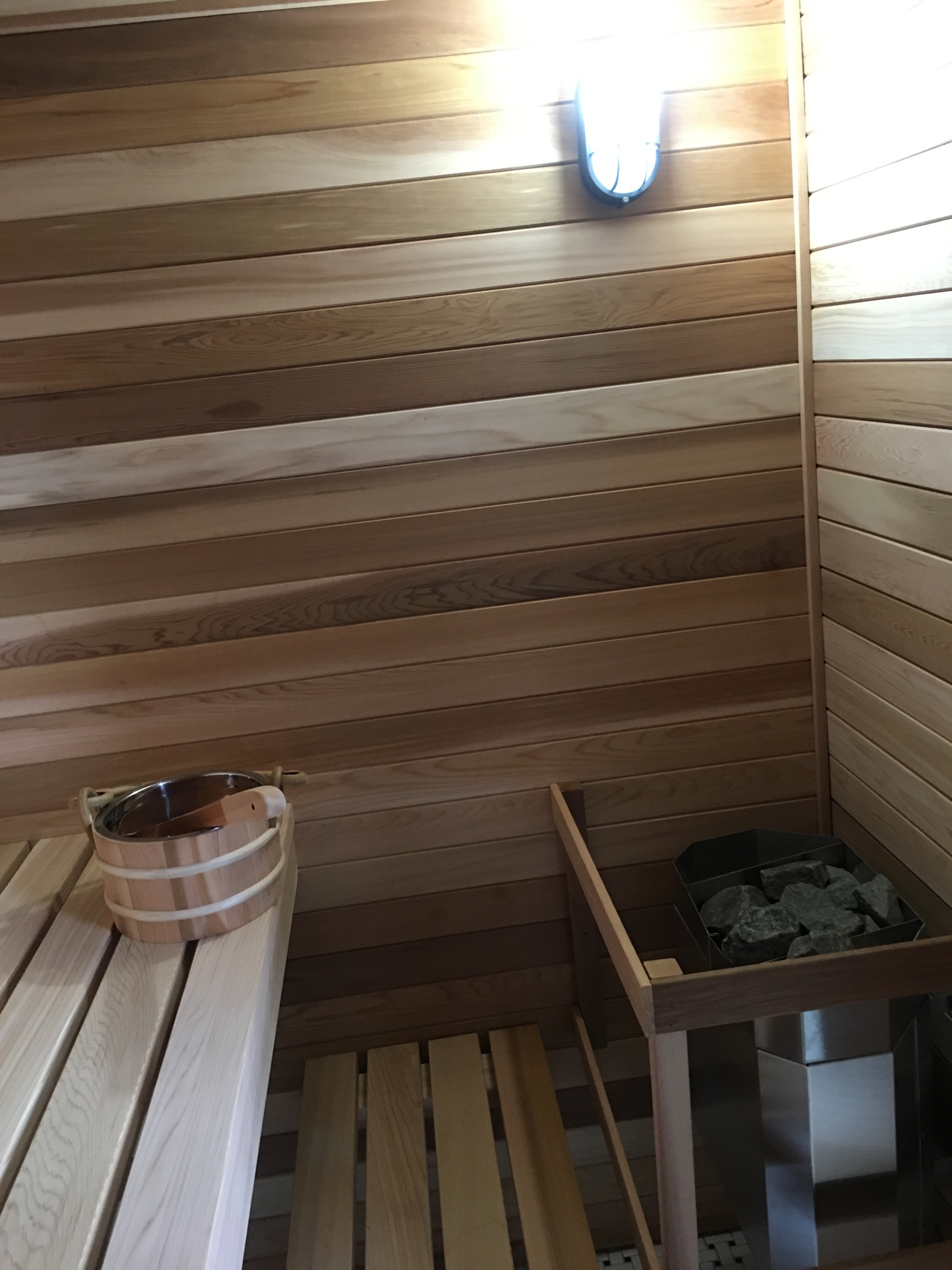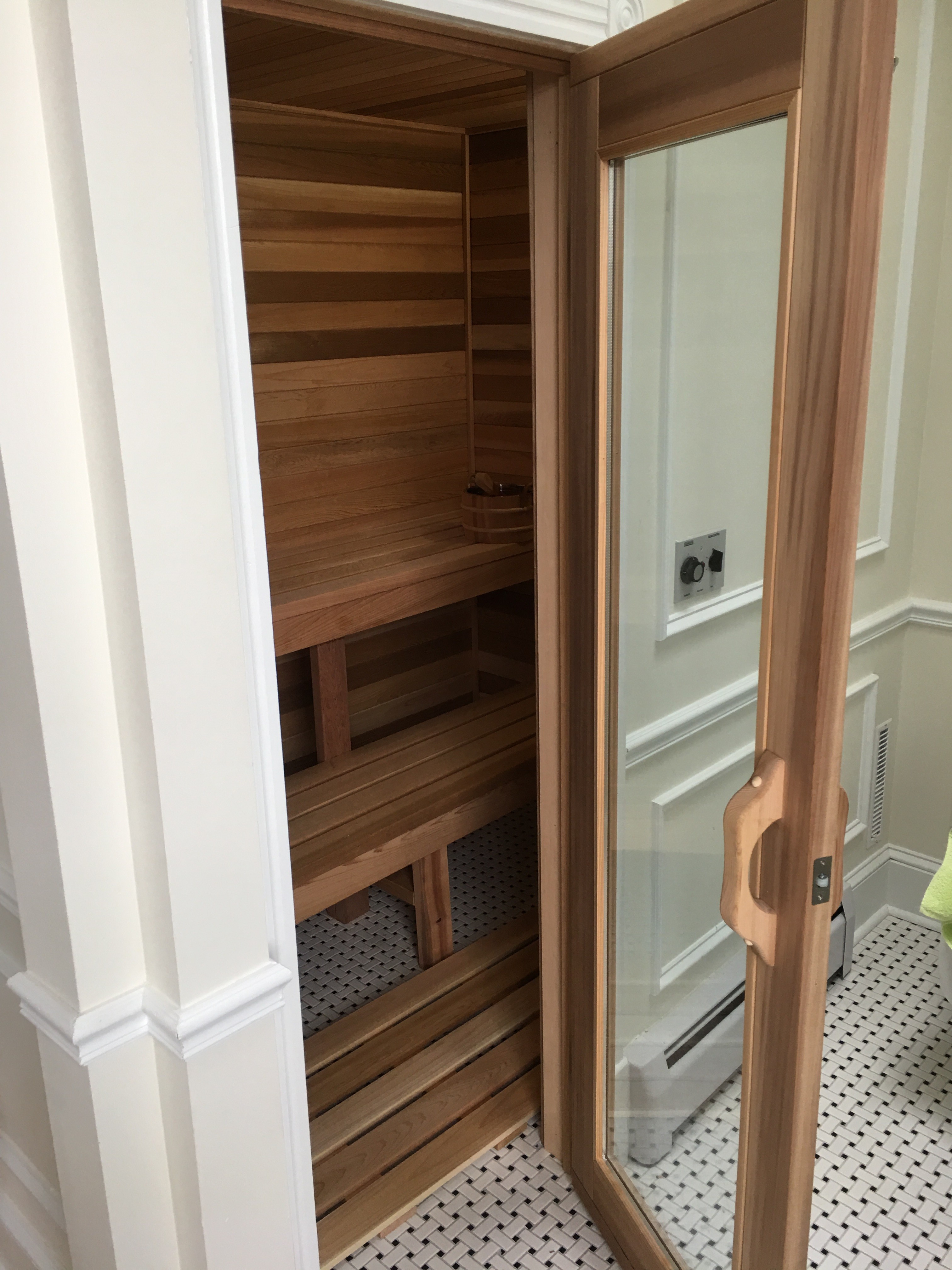 Eric Bloom
December 15, 2018
When I was looking to build a sauna at the weekend house about a year ago, I did some extensive research. Thanks to a clean and straight forward website, simplicity of selection (I can't brag that I built many saunas in my life), flexibility of sauna layouts and, of course, the price, Saunafin was a clear winner. Ordering was easy and quick, thanks to helpful sales ladies; delivery was exactly as promised and everything arrived in perfect shape, not a single item missing or ill-fitting. Cedar planks are of high quality and look great. My advice is to get the optional cedar floor; it makes a huge difference once you're inside.
If anyone would ask what I would do differently having used the sauna for a year, I would firmly say – nothing. I strongly recommend a Tylo heater upgrade. The 7x5 feet sauna is above 180F in 20 minutes and by the time the heater shuts off completely (it gradually reduces the heat as the temperature rises) the thermometer is pointing at 230F. Nothing short of amazing.
About nine months into the sauna use the pure control panel began acting up. Everything was working but the lights were off. After over the phone troubleshooting and exchanging pictures with Mike Wynn of Saunafin, Tylo stated that the wiring was wrong causing a fault in the panel. On his own accord Mike sent me the switch and the panel (it's a $800 part!). Upon replacing the panel everything is back to norm.
A great quality product made by friendly people in Canada and supported by exceptional service!
Best regards,
VK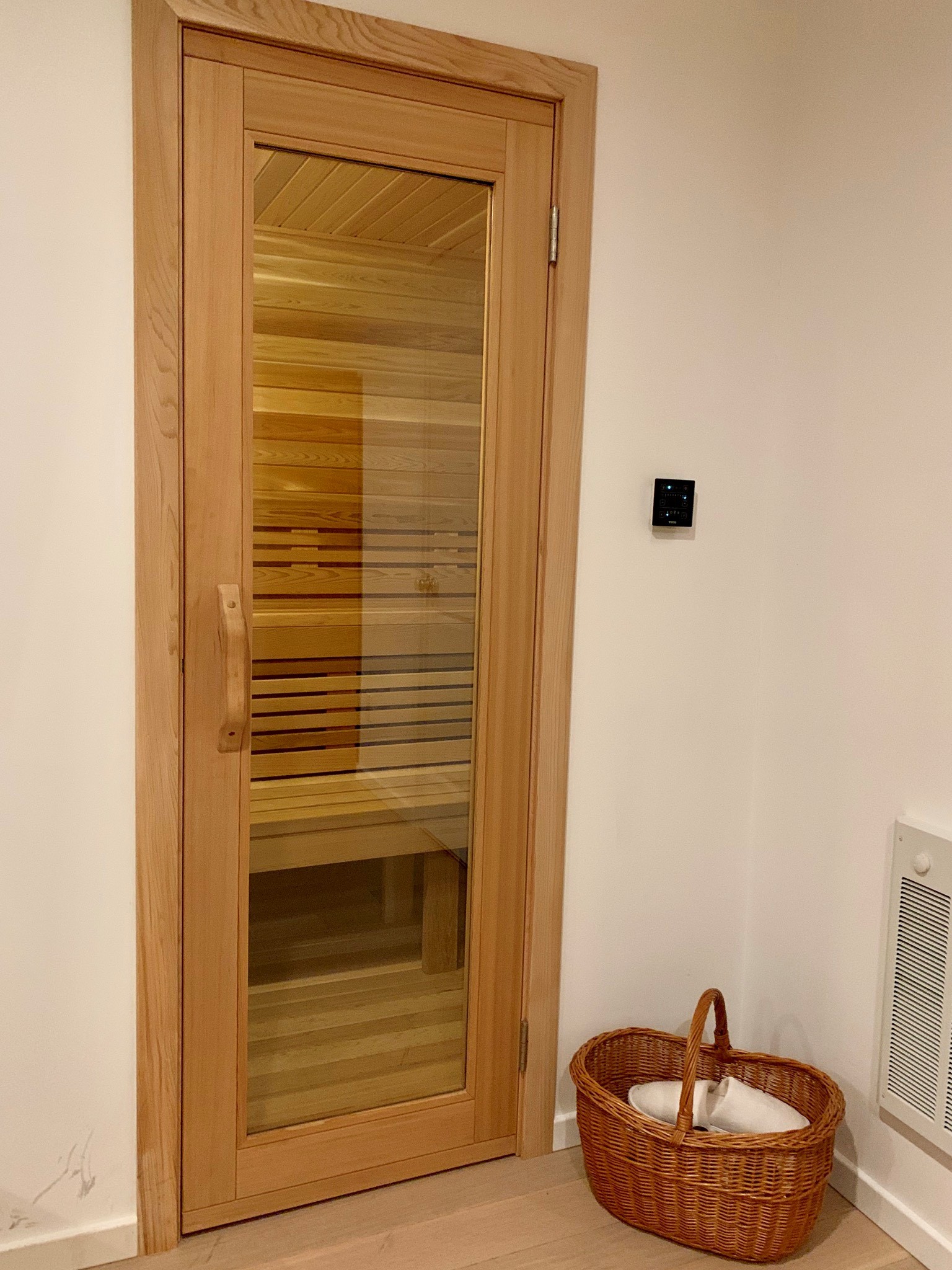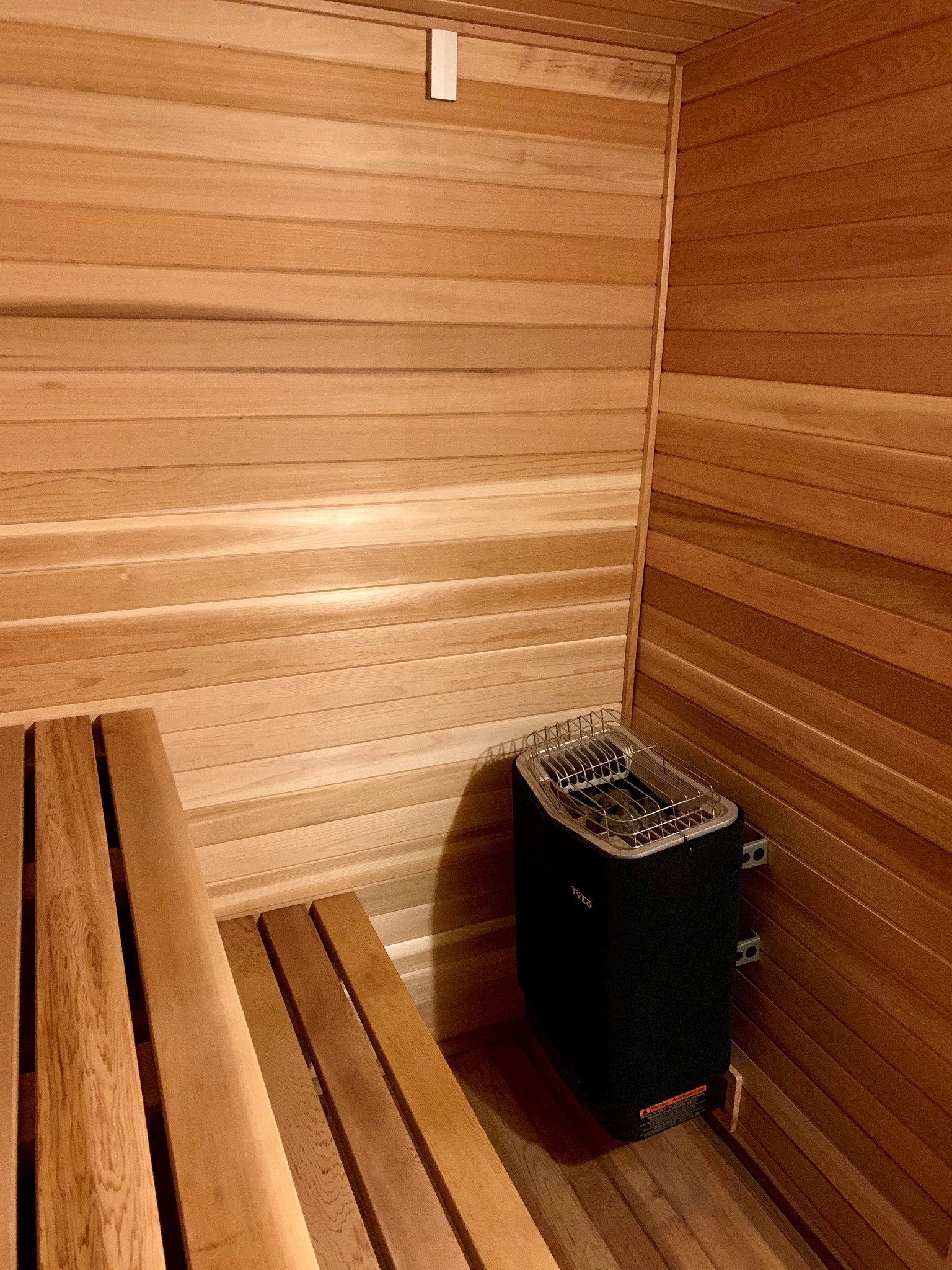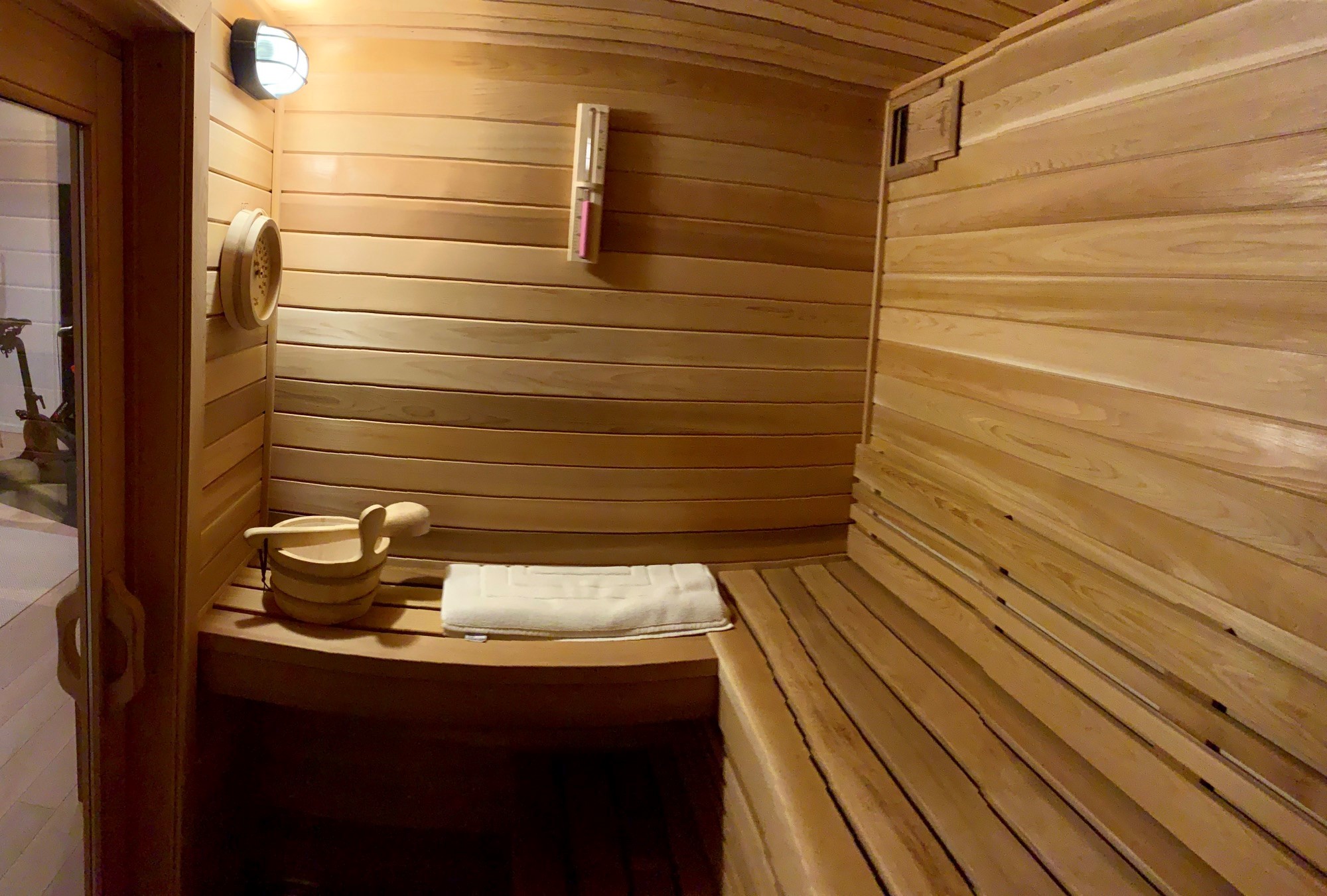 Vladimir Kaplan
December 03, 2018
Hi Mike,
Here are pictures of our roof top sauna.
We are enjoying it very much.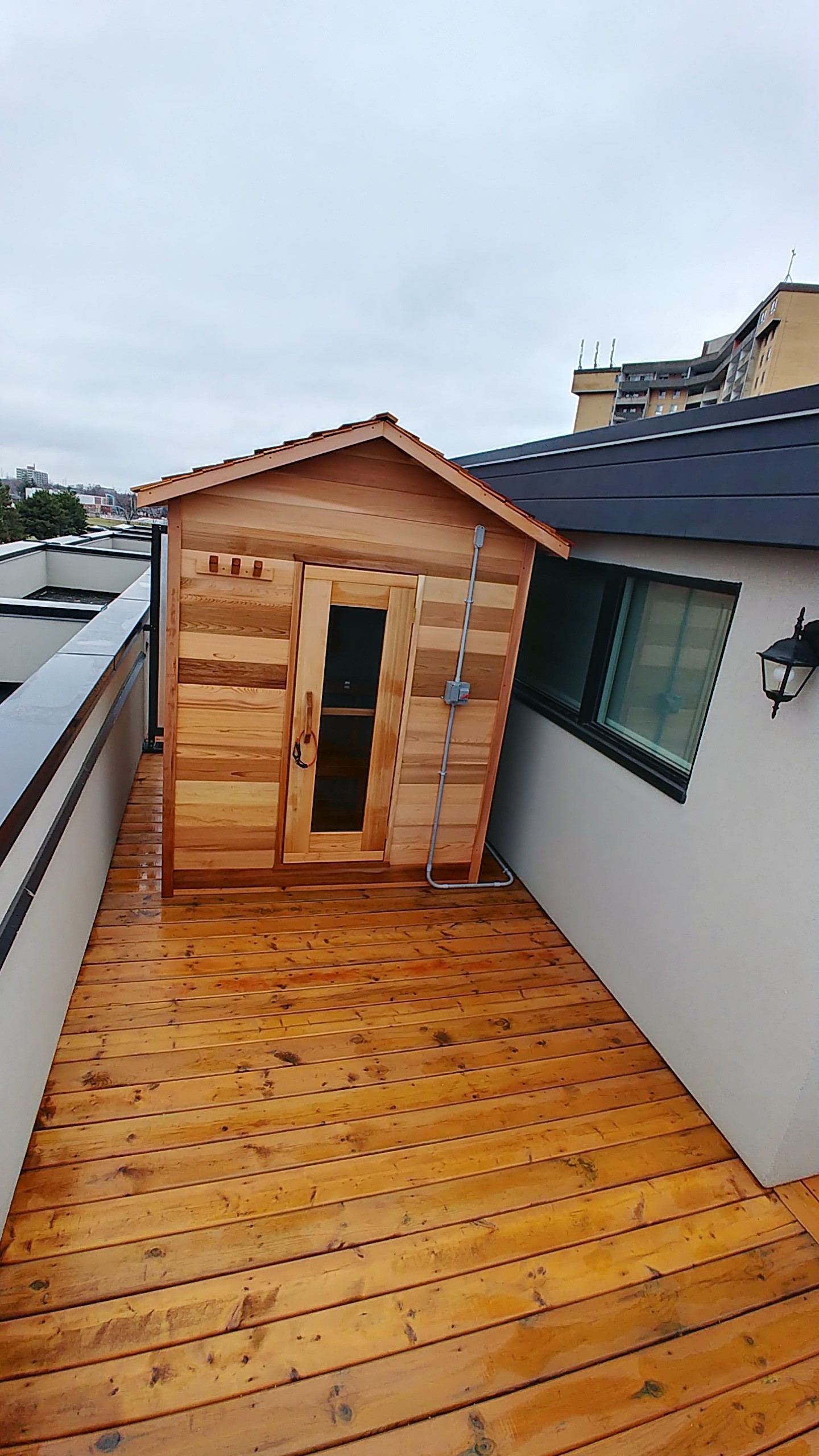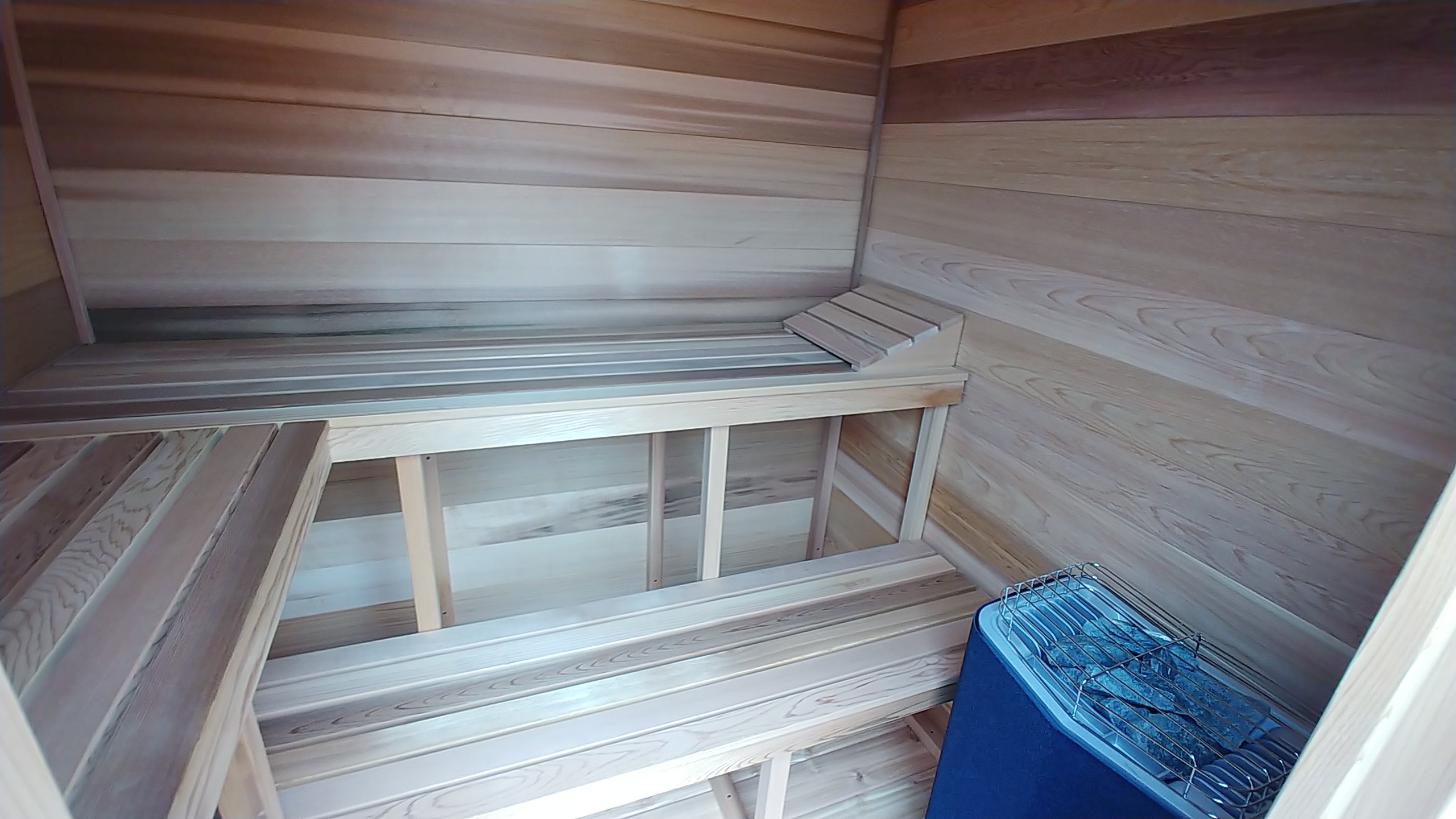 Karen Lee
November 20, 2018
Saunafin staff,
I purchased the 5x7 LK N Plus package for my personal use. Saunafin met or exceeded all my expectations in pricing, quality and schedule. Their website was straight forward and accurate. The delivery schedule was as promised, with all the material packaged properly for protection. The cedar is beautiful, and the material estimate was precise.
I rarely take the time to write appreciation letters, but this experience was A++. Everyone involved is to be commended. I highly recommend Saunafin to anyone seeking a sauna.
All the Best,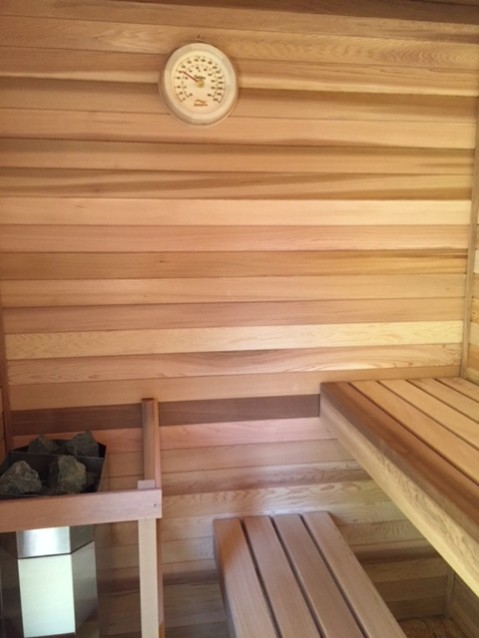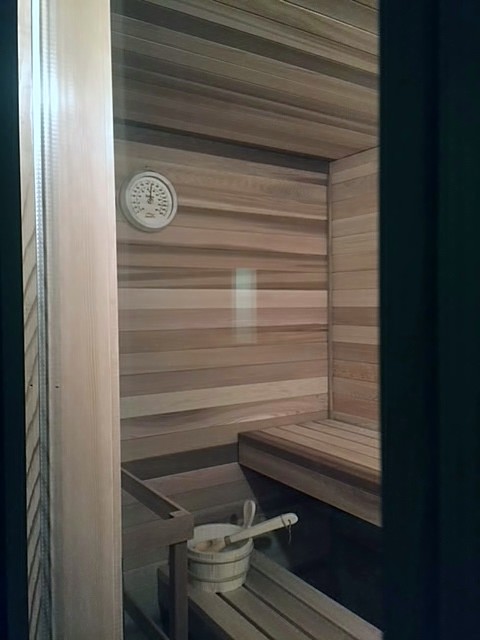 William Evans
October 30, 2018
Hi Milena,
As promised please find attached our pictures of our new sauna. Three of us (a friend age 65, my wife age 60 and myself age 65) completed the structure in 6 hrs the first day and the interior in 2 hours the second day. The only problem we had was that we couldn't get the roof boards in when we followed the instructions to install the boards from soffit to peak (not nailing the top 2 boards on both sides). We had to redo it starting with the peak down to the soffit. I'm not sure why your instructions show top to bottom.
We've had the sauna up and running for 2 weeks now and absolutely love it.
We use it every day at least once, sometimes 2 or 3 times a day. We highly recommend the SaunaFin product as it was easy to purchase, delivery was on time, super easy to build, and your support was awesome.
Please don't hesitate to have any of your prospective buyers call me for a recommendation.
Yours truly,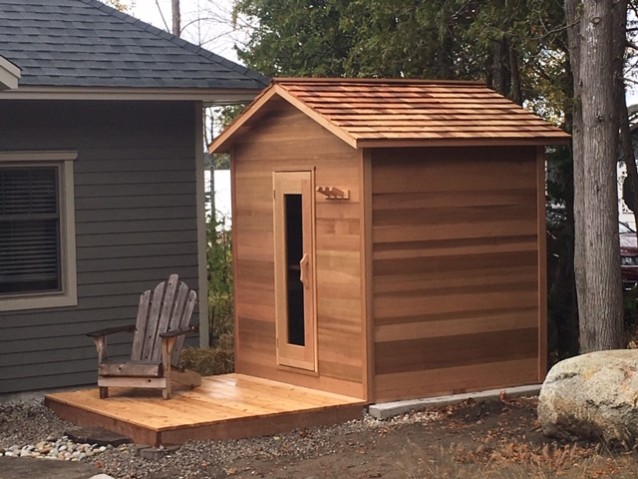 David Myles
March 27, 2018
Thanks for checking out my heater and for the control. I'll let you know how I make out. Here is a pic of the sauna. Lovin' it. Thanks Saunafin.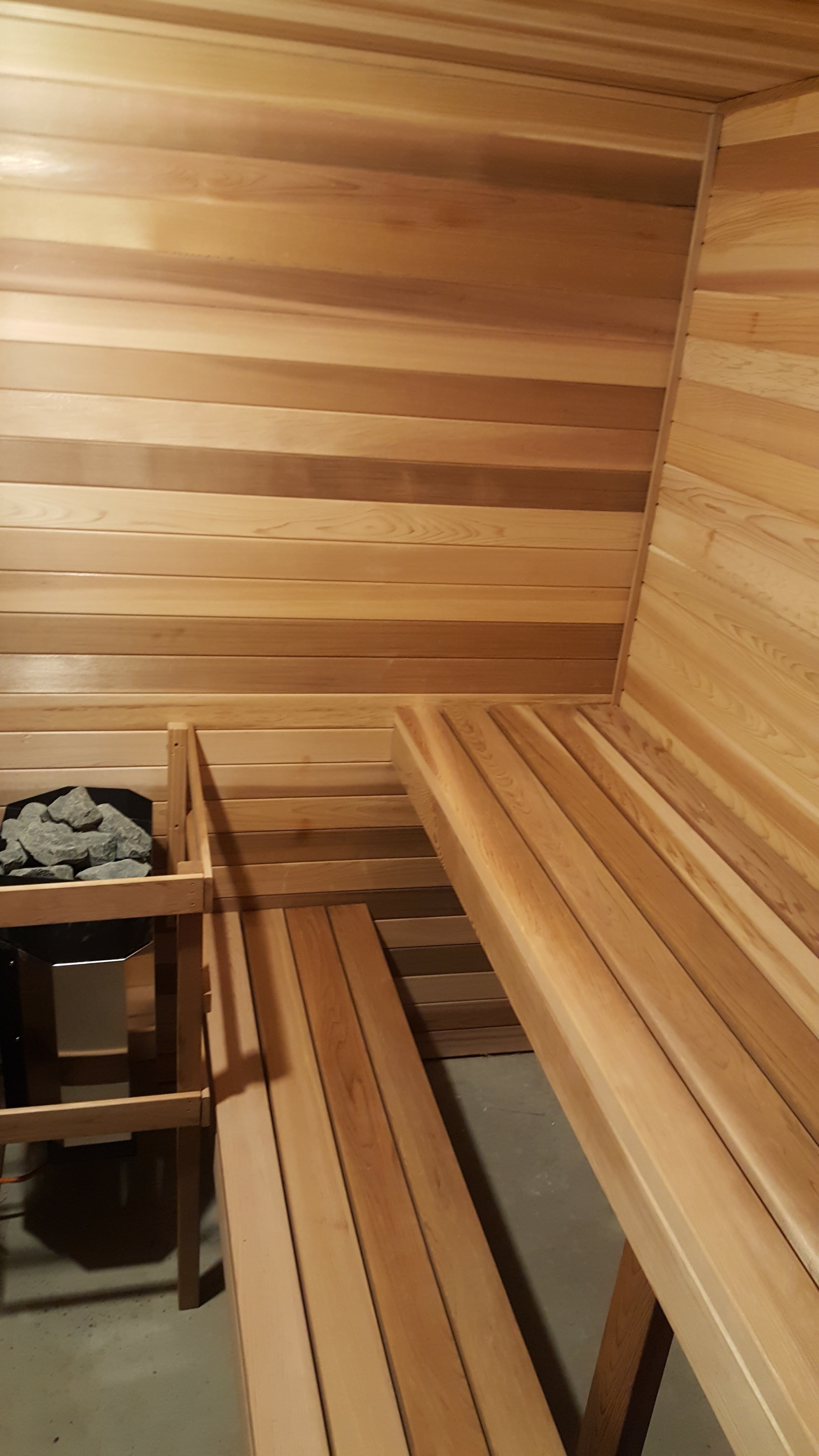 Bill and Joan Candy
March 26, 2018
Hi
I am really glad that i purchased the sauna through you. It is more than a year since installation and we love it
Thank you. Anand Varadarajan
.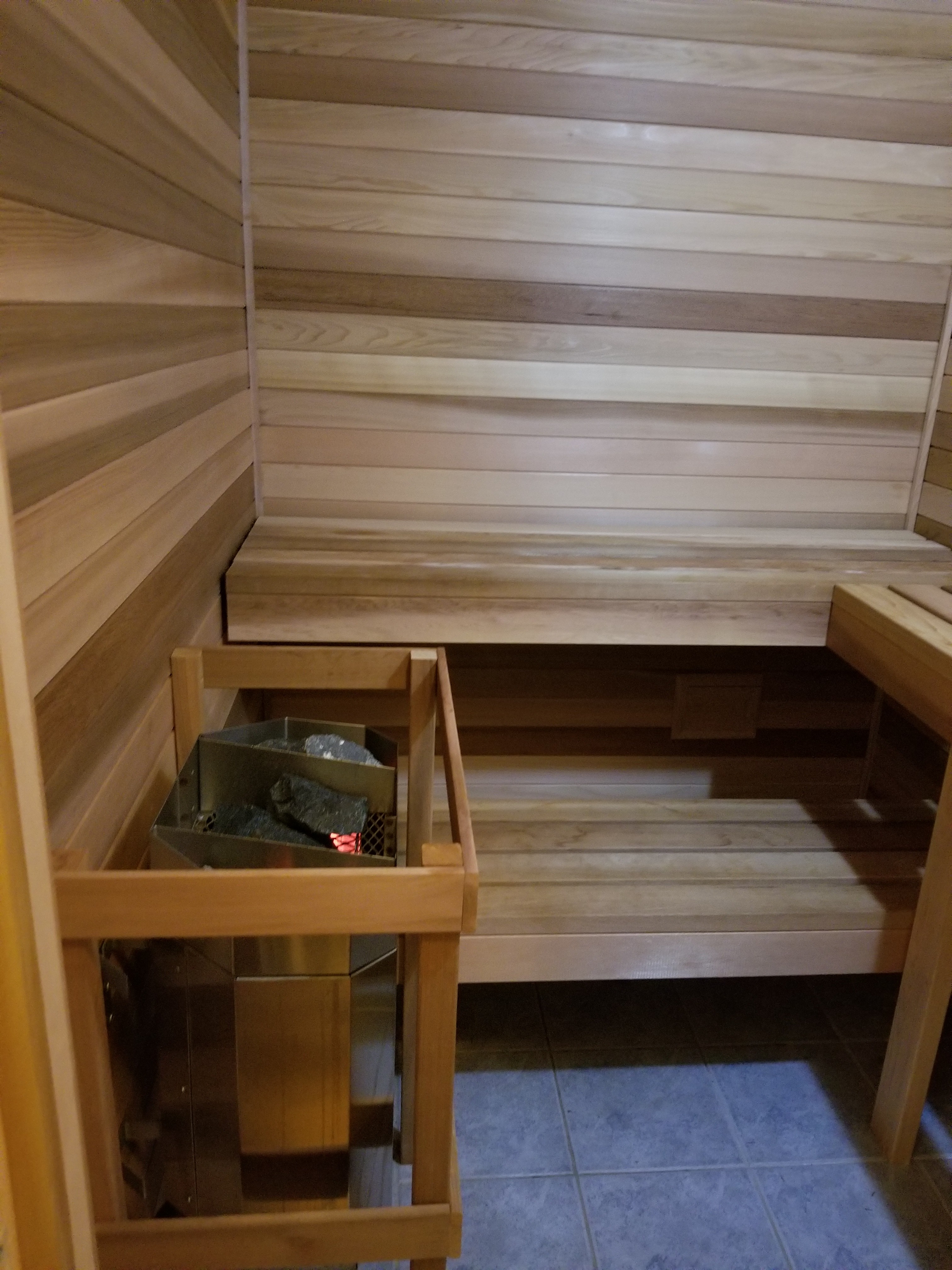 Anand Varadarajan
February 10, 2018
Our Sauna is assembled and working perfectly!! Great product, we are very pleased!
Mahalo ! Ken Onion
October 22, 2017
I started communicating with the staff of SaunaFin over a year ago as I was in the process of building a new home. I was quoted a price on a 5'x7' unit which I felt was fair. I decided to delay purchasing the unit until the home was completed and contacted SaunaFin last month and made arrangements to purchase the kit. The price was increased slightly from the original quote, which I felt was fair.
The staff sent installation instructions early so I could proceed with building the stud wall room in advance of receiving the order. When the kit was delivered, I was pleased with the way it was packed and shipped, but more pleased with the quality of the cedar wood, which was virtually absent any knots or blemishes. Each piece was straight and cut precisely to the proper length.
Although I am not a carpenter or electrician, I have been around construction enough to know how to put it all together. I ordered and paid for a towel rack that was inadvertently left out of the shipment, but the company quickly shipped it to me without any hassle. I purchased a combo meter and it was slightly damaged and SaunaFin credited my credit card, again with no hassle.
My experience with the company was very pleasant.
Clyde W.
Monroe, LA
Clyde W.
October 18, 2017
Hi Maia,
Thank you so much! I was definitely going to do something to show you appreciation! You have been great to work with from every step of the process and to me thats worth so much! I will recommend you to everyone I know and Ill probably end up installing a few more saunas for customers after they see how nicely mine turned out! I work with people all the time in my field of work, mostly building homes, and so many things can go wrong and with you everything went so smooth so thank you so much!
Sincerely,
Patrick
Iron Fit Gym & Wellness Center
Patrick Neumiller
September 30, 2017
Hi Milena,
I saw the picture, the packaging looks great! Looks like you guys really treat your products as well as your customers with care and respect! That goes a long way! I appreciate doing business with you and how fluent our conversation1s over the phone have been to nail down exactly what i wanted for my new space. Im looking forward to receiving the shipment and getting started with the installation. Thanks again Milena! You have been great to work with!
Thank you!
Patrick
Iron Fit Gym & Wellness Center
Patrick Neumiller
September 05, 2017
I received the new controller last week and it was installed and operates with any issue. Thanks for the quick turnaround. I shipped the original controller back to you on Friday, but realized later in the day that I forgot to pack the small thermal sensor. Sorry for that. BTW - the lumber that came with the kit was perfect and really well packaged. You've got a great product.
Thanks!
Jeramy LeMieux
January 16, 2017
We installed a small SaunaFin sauna almost two years ago. It is OUTSTANDING. Since installation, it has been completely maintenance free. We use it regularly and it has stood the test of time (and usage). It was easy to install for two non-woodworkers and has been an excellent enhancement to our house. The instructions were clear and easy to follow. The quality of the cedar far exceeded expectations and we still marvel at the beauty of the wood every time we use the sauna.
There is much to be said for installing these yourself. When you install yourself, you know everything about the strength of the bracing and everything about where the wiring runs and how you'd fix things should maintenance ever be required. You also look at the beauty of the finished product and think, "Wow! We did that!"
Reliability is first and foremost with me, though, and as noted above our SaunaFin has worked flawlessly since installation. The best thing about a sauna compared to a hot tub or a Jacuzzi (which are nice) is you never have to do anything but use it (and maybe wipe down the floor every now and then). It really is maintenance free.
Summer or winter, it doesn't matter--we use ours year round, and it is fantastic. It is wrong to think saunas are only winter devices; that's not true. You can always use a sauna!
If you're thinking about getting one of these, do not hesitate. Great product. Great home improvement. We love it! Thanks!
Tracy and Laura Sharp
May 10, 2015
We love our sauna,
It is 5x6 , upper is L-shaped with 1 lower step up bench.
Soraya Ahmad
August 25, 2014
Thank you so much for completing this in such a timely manner. It looks fabulous. I'm sure I'll enjoy it as much as I did the last sauna you built for me at my previous house some 15 years ago!
Sincerely,
K A Welsh
K A Welsh
May 15, 2014
Hi Maria,
I am just letting you know that the sauna worked out very very well over the past months. I use it almost daily, and I particularly like the steam setting on the Tylo Combi.
Everyone tells me that the sauna is very beautiful, nice wood, classy glass door, etc. I have had no problems with it, and I recommend your kit and your company to everyone who asks where I got this sauna.
Thanks!
Rense Lange
Rense Lange
December 24, 2013
Good Afternoon Mike,
I wanted to say Thank You so much to you and your crew for a fantastic job
on our new Sauna. Your crew was extremely professional and did a wonderful
job on our new sauna. It is up and running and looks awesome!!!!
To you and your family, have a wonderful Christmas and a very Happy New
Year! We will talk with you in the New Year.
Regards,
Keri Mingo
Richmond Hill, Ontario, Canada
Assistant Property Manager
Keri Mingo
November 25, 2013
Monday, November 25, 2013
After checking various sauna suppliers I found that Sauna Fin was the most knowledgeable and price competitive in choosing a custom built sauna. Their service of helping me decide with what I was looking for and their suggestions of beautiful ambiance lighting was perfect. Most important the kit I received to install was very easy to follow.

Steve Scarpa

Steve Scarpa
November 13, 2013
Wed 11/13/13 8:41 AM
Dear Maia,
I really appreciate all your help in getting materials and walking me through the details how to build my own Sauna.
Everything has finally come together, and we had a first try out this weekend - it's a real treat!
Again, I am very appreciative of your assistance.
Thank you,
Yuri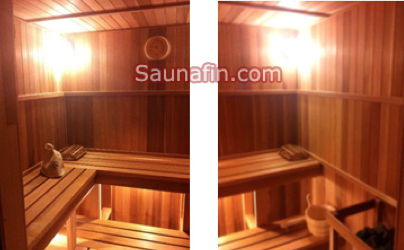 Yuri
October 03, 2013
Thursday, October 03, 2013
I suffered a terrible tragedy in 2006 with the loss of my son... suddenly. The aftermath in coping with this debilitating disaster resulted in a period of horrible anxiety and depression coupled with insomnia. I was put on antidepressants which only made matters worst for me. Moved around like a zombie with no mood or interest in any activity.
In 2008, I made the decision to move from the house where my son grew up and purchased a new house which I renovated and added a TYLO (steam) Sauna. This turned out to be one of the best decision I made. I found that the steam component of the Sauna made me sweat profusely and was capable of tiring me out sufficiently to make me fall asleep soundly.
Even now, whenever I cannot sleep or are tossing in bed with random thoughts, I simple go to my Sauna promptly. It never fails to change my mood and and give me the relaxation that allows me to drift off into a good sleep. Also, this Sauna therapy was very instrumental in helping me to ween off all the antidepressants medications that I was put on. As well, I will take a warm cup of milk and one 100mg of GABA, when necessary.
The folks at SaunaFin was very helpful in their guidance for sizing, equipment choice and installation, to my benefit.
This testimony is intended to help anyone who is presently suffering from the issues I had. Thankfully, I was able to control and remedy my sleep and depression issues successfully with the use of my TYLO (steam) Sauna.
Cliff Rajkumar
Retired. Senior VP, Deutsche Bank.
Cliff Rajkumar
September 19, 2013
Thu 9/19/13
Thank you for working through the credit card issues with me and thank you for the excellent product. Here are some pictures of how it turned out. I couldn't be happier.
Mike Davidson

Mike Davidson
July 25, 2013
Thu, 25 Jul 2013
Hi Maia,
A while ago you asked us to send you a few pictures of the sauna we ordered a few months ago. It was a 7X7 sized sauna. Joe cut the corner off so that it fit better in his room. We love the sauna!!!
Greetings from Joe and Eva

Joe and Eva
June 19, 2013
Wed 6/19/13
Received the gifts yesterday! They are much more than a token gift....thank you!
If we can act as an ambassador for Saunafin please let us know.
Best regards,
Ron & Lynne Zeraldo

Ron & Lynne Zeraldo
June 18, 2013
Tue 6/18/13
Hi Mike:
I am very pleased with the sauna purchased from Saunafin. Your staff were very helpful and professional. I installed the sauna myself, the instructions were detailed, and the result looks great as you can see. I would highly recommend Saunafin to anyone interested in installing a sauna.
Brian Way

Brian Way
June 18, 2013
Tue 6/18/13
Mike,
Following my move last fall from Bolton to Schomberg, I install my second Saunafin sauna. Attached are some photos. I made use of an available space of 11 feet to install the new 6' x 4' sauna adjacent to a new 4' x 4' shower to compliment the sauna.
My experience with the two Saunafin saunas installations (my first one was 6'x 6' installed about 8 years ago) was nothing but exceptional. Your superior product and easy installation instructions made the construction phase so enjoyable.
I take a sauna every morning, 6 days a week, after my piano playing and before heading off to work.
I would not hesitate to recommend Saunafin to anyone interested in acquiring a sauna. The sauna is one of my treasured possessions.
Regards….a satisfied customer,
John Mulrooney
Schomberg, Ontario

John Mulrooney
June 17, 2013
Mon 6/17/13
I had recently bought sauna materials from you and was so impressed with the packaging and the ease of assembly. Now we are enjoying our sauna several times per week. You had contacted me for some pictures of the finished product so I put a few together. My original e mail address was j****@*******. I had to send it via this e mail address because yahoo takes far too much time to attach pictures. I hope the pictures are suitable and thank you for a great product. I used the scrap wood to build a small table outside the sauna. I will attach more in a subsequent e mail.
Jerry Harrison

Jerry Harrison
June 13, 2013
Thu 6/13/13
Mike - attached pictures are from the Vollmecke Farm just north of Madison VA, - Whippoorwill Manor Farm.
We built the sauna inside an existing structure on the farm.
Kit arrived on time and in good condition.
Your customer help was outstanding, we call numerous times for minor questions/recommendations and each time received a timely response (e.g. - we wanted to use a nail gun to install the siding and were unsure of what size to use - within in hours we had a response, purchased the proper size and ended up with a cleaner looking product and saved lots of time).
Install seem straight forward no real hitches - except operator error here and there when it came to reading measuring tape - measure twice cut three times??? - thanks for the extra wood - we used it all.
Would classify our building expertise as DIY average skill level - so if we could put it together, pert near anyone could.
You have a real great product - keep up the good work.
So far it has been a big hit with all who have stayed there.
Will strongly recommend your product to others when ever we can.
Thanks
Take care

Anonymous
June 10, 2013
June 10, 2013
Loving the sauna. Hard to take good pictures to capture it.
Lorne Thoen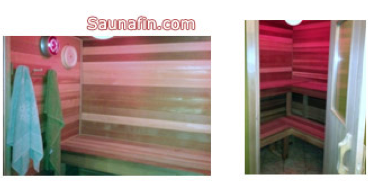 Lorne Thoen
June 06, 2013
Thu 6/06/13
Dear Mike Wynn,
Attached you will find two pictures of our 5 x 7 feet sauna. Our trim carpenter installed it for us and we are very happy with it.
We did different vents for the look, we liked those better.
The wood is of very nice quality and I love its natural smell.
I really like the idea of having the wood on the floor also. This makes it much more comfortable; I was not used to this option before.
Since we like to use sauna essence, I have observed that some of the moisture escapes through the gaps around the door. I hope I don't need to be concerned about moisture being trapped inside the drywall. Usually we keep the door open after usage for a few days. I hope that the vents are sufficient to have enough air circulation when the sauna is not used for a while, even if the door stays closed.
Thank you for this nice product.
Gabi Frasier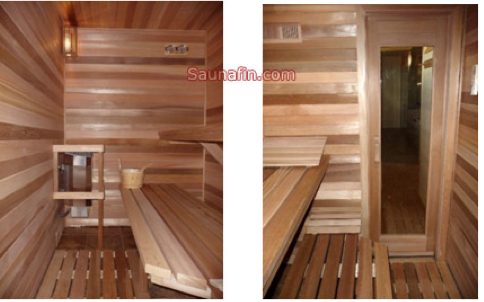 Gabi Frasier
May 29, 2013
Wed 5/29/13
Hello Maia,
Here is a (very honest!) text on our sauna experience. Feel free to pick up the parts that seem most interesting to you (and to correct it since English is our second language…)
A picture is attached.
Last year, we decided to shop for an outdoor sauna after reading a report in the local newspaper. We were particularly amazed by the look of barrel saunas. While visiting different retailers, we discovered that outdoor saunas were not very popular in Quebec city. Consequently, the product was poorly understood and salespeople were unable to advise us properly. We finally found information's and advices at Saunafin and ordered a western red cedar barrel sauna with a Tylo Combi 7 heater. This heater has the attractive feature to enable steam bathing AND traditional sauna.
Shipping was planned and executed to our convenience. Building the barrel sauna and heater installation were easily realized. Post sale service was perfect. We had tips and quick answers to all our questions. At first we were reluctant to buy online but our experience was positive.
Our family had a full year of careless heat and steam relaxation, especially pleasant during the cold season. Now, we are left with a mystery: why isn't sauna bathing fully integrated to the Canadian northern culture?
Thanks to Saunafin,
Isabelle Boucher
Rejean Boilard
Quebec city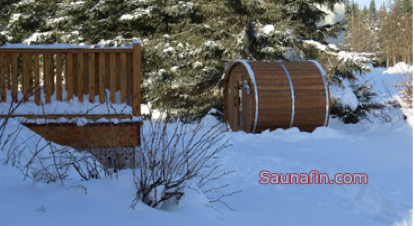 Isabelle Boucher    
May 18, 2013
Saturday, May 18, 2013
Hi Mike,

Great news!

Armed with the trusty screwdriver, and your words of wisdom, I have stripped the unit down, rebuilt it and it is working better than ever!
You were right - I couldn't see it, but the connector was in the wrong way round.
Also, there was a short where the ribbon cable had chafed against the unit.
The upshot is that it is working brilliantly - mush kudos Tylo, to make their unit survive an upside down connection!
Thank you for being there with the inspiration to work through the problem.
I got everything put back together an hour or so ago, and am very happy with my sauna.
Thanks, Mike - if you ever need a reference for a 'wobbly' customer, please direct them to me with total confidence!
Thanks again,
Andy
Andy
April 08, 2013
Mon 4/08/13
Maia, I wanted you to know that we finished our 6 x 7ft sauna last week...Lynne & I are very pleased with the results. The wood kit provided was top-notch, the western red cedar components were of the highest quality & very piece could be used generating minimal waste. The instructions provided were detailed & easy follow....I would recommend Saunafin to anyone considering to have built & or to purchase a DIY kit, we knew from the moment that your detailed quotation was received that Saunafin (far better than all of your competitors) was who we wanted to deal with. This proved true from the time we purchased the kit through to the final assembly of the sauna.
Please feel free to use us as a referral for any new potential customers....it was a pleasure doing business with you.
We have attached a few pics of our sauna to be posted on your web site.
Best Regards,
Ron Zeraldo
Ron Zeraldo  
March 16, 2013
Sat 3/16/13
Maia,
Thank you for taking my phone order for my wife's birthday.
As I mentioned on the phone, I installed the kit over the Christmas holidays taking my first sauna on Christmas Day. Installing a sauna is something that I wanted to do for years after travelling through Europe. My sauna experience drove to framed a 4 x 8 box with standard door opening into a 2 story addition I had put on back of the house before finding settling on a kit.
The whole process from customizing the kit to my non-standard dimensions, picture of the shipping delivery, quality of materials received, percentage of extra materials allowing for mistakes and excellent installation instructions were all professionally crafted and handled by Saunafin. It really made installation by me very easy. So easy, I only waited on the electrician to hook up the heater for me to meet my Christmas day deadline. I attached a couple of pictures of the finished product.
Thanks again,
Dan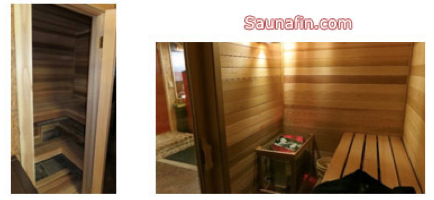 Dan
February 14, 2013
Thu 2/14/13
Hi Maia,
Sorry it took so long but here is finally a brief review and some pictures. I hope you can use them.
Thank you,
Sabine

Saunafin was referred to us by our local contractor in Chicago. We were hesitant at first to order a complete sauna online without being able to look at the different options for layout, heaters, etc. We were pleasantly surprised by the knowledgeable Saunafin staff, their prompt feedback and the ease of ordering and shipping. We can highly recommend Saunafin and would use them again.

Sabine
February 09, 2013
Sat 2/09/13
I would like to thank you for my sauna shipment. It arrived in great condition, the packaging was perfect and all needed supplies were intact. The instruction booklet was informative and easy to follow. It took me five days to complete, working on it in the evening after work. We are very happy with it and have used it every day since completion. I would recommend you to anyone interested and would like to build saunas for others. If I have that opportunity I will surely order from you again. Thanks again!
Jerry Harrison
Jerry Harrison
January 16, 2013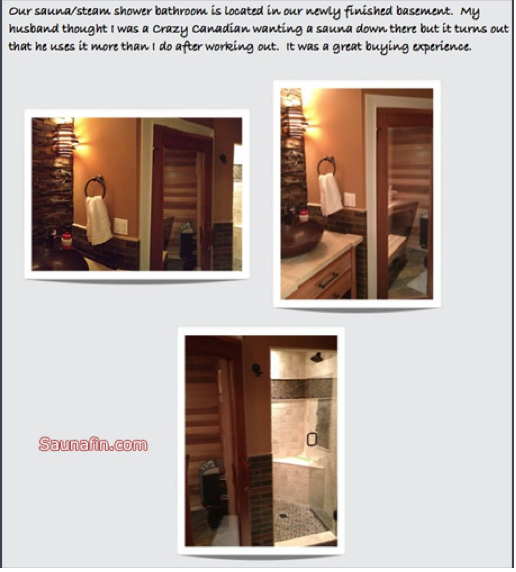 Stephanie Skopek
January 14, 2013
Mon 1/14/13 Jenny and Mark La Belle
here are some pictures of my sauna in Hugo, Mn, heats up nice to
150-175 f. and hotter. the cedar wood you sent is beautiful with no knots
at all and everything went together great. wiring was easy and i just plug it in to a 30 amp electric stove receptacle in my garage. i love it and use it at least once a week.
thanks
mark
p.s. I used the sauna 5 times the first week and that was before it was even finished and lost 5 pounds.

Jenny and Mark La Belle
December 07, 2012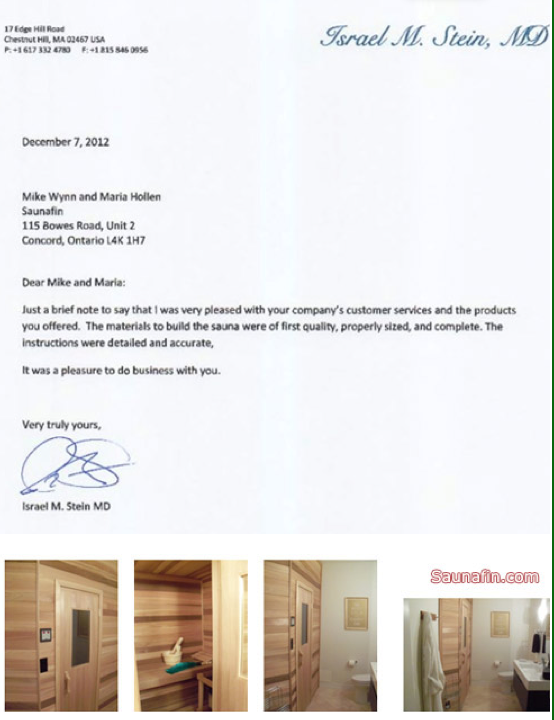 Israel Stein
November 19, 2012
Mon 11/19/12
Mike,
Attached are some pictures taken throughout our sauna build. It's a 5x7' traditional sauna featuring a Tylo Combi 7.
Reference letter:
We wanted to include a traditional sauna in our basement and the name SaunaFin came highly recommended. Through the design and ordering process, SaunaFin staff was always available to answer our questions and were very knowledgeable about their products. Our kit shipped without issues and included everything we needed to build our dream sauna. Thank you SaunaFin!
Kal Wallner
Founder, TheElectricBrewery.com
Editor, CurtPalme.com Home Theater
Kal Wallner
November 17, 2012
11/17/12
This was my first time building a sauna and the people of Saunafin made it a very hassle-free experience. The wood was high quality and the support after the sale was great. If I build another one I will use them again.
-Eric Kowal
Kowal Construction
Gunnison, Colorado
Eric Kowal
November 16, 2012
11/16/12
Dear saunafin , we love the sauna, my brother Jim, installed the system and commented on how high the quality of everything was. He's been in the construction business for forty pluses years, and that is no small compliment! Thanks again for our beautiful sauna.
Jeff and Sharon
Pagosa Springs Co.
Las Vegas nv.
Jeff and Sharon
November 15, 2012
Thu 11/15/12
Hello Mike,
Attached, please find 4 pictures I took of my sauna. Here is my short reference letter that you can use on your site. Let me know if there is anything else I can do to help.
I am an extremely satisfied customer. Despite the fact that sauna was purchased and shipped from a foreign country, Mike made the whole experience very easy. He always answered my calls and provided me with answers I was looking for. Once I got it, it was relatively easy to assemble it. Now it's definitely the most favourite place for all my friends and family to hang out at. Saunafin Sauna & Steam offers excellent quality products with an outstanding customer service. I would definitely recommend it!

Sincerely,

Alex Gold
Energy Consultant

Alex Gold
September 12, 2012
12/09/12
Hello,
Our sauna is a smallish one (4x6 feet) that is why I was not able to make an all-around photo :) But here are some parts of it as well as some photos of the construction process if they may interest you.
My husband and I, we did it all by ourselves even if it took a bit longer that 3-4 days you promised :) (in fact it was about 2 weeks) and we are very happy with the result. It easily seats 4 people and if there are only two of us we can both lie on the benches. The heat is good and the wonderful smell of the cedar lingers in the house long after the sauna is cold.
We recommended your company to all our friends and one on them had bought a sauna from you not very long ago!
Thank you for a good product and I wish you good luck.
Irina Kravtsova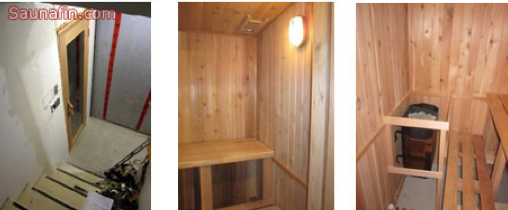 Irina Kravtsova
September 07, 2012
9/07/12
Dear All,
I want to thank you for outstanding costumer service and great product that I purchased from SaunaFin.
Your help and support during building process was very helpful and my wife and I have been enjoying saunas every day for the last week.
It is great.
Thank you again,
Best,
Boris
Boris
July 20, 2012
7/20/12
Just a note to let you know~~your sauna is awesome!
I have not missed a night in it since Steve finished
it in April! I do share it with family and friends~
but the biggest benefit is the pain relief I get every
night! Thank you so very much for such a quality
product~~May the Lord bless you and your company
for your great company!
Sincerely,

Ramona
Ramona Opray
Ramona Opray
July 12, 2012
Hello Maia,
We have had our sauna now for several days and we absolutely love it!
Not only is it aesthetically attractive, but the tylo combi heater, which gives us the choice of a dry sauna or steam sauna is excellent, and the aroma of cedar fills our entire home. We purchased the 4 x 6 model, which is perfect for both myself and my husband - plenty of room to stand, sit or lie down. It was a product worth purchasing, and I want to thank you, Maria and Mike for making our purchasing experience a great one.
We look forward to enjoying our sauna for many years.
Sincerely,
Laura & Alex
Eden Mills

Laura & Alex
June 27, 2012
Sent: Wednesday, June 27, 2012 8:27 AM
Subject: RE: Sauna Reline
Good Morning Mike
Everything went well with the sauna installation. The sauna looks great. I am very pleased with outcome.
Marlene
Marlene Olsen
Facility Services Manager
Ron Edwards Family YMCA
500 Drury Lane
Burlington, Ontario
L7R 2X2
Marlene Olsen
April 24, 2012
April 24, 2012
Maia,

Just wanted to let you know that we are very pleased with the quality of the commercial sauna heater we received. It is super fast in heating the room and built very well.

Please forward this to the powers that be and I will personally be promoting your product to our clientele.

Thank you

Sincerely,

Doug Pomanski
Adonis Spa Inc.
1060 Main Str.
Winnipeg, MB
Doug Pomanski
January 22, 2012
I have been meaning to get back to you for awhile regarding the sauna materials now that I am all finished and everything looks so beautiful. Mostly, as a lover of wood, I was highly impressed by the quality, the consistency of the milling, the attention to sanding: all was practically perfect. Hardly a board I couldn't use both sides - all perfectly straight and dry. Honestly, that was the best thing about ordering your kit - the wood quality.
Thanks again.
Pamela
January 19, 2012
January 19, 2012
Dear Maia,
I'm sending you this email (which I rarely do....), just to tell you how happy I'm with the Sauna you supplied me. My expectations were high - but the final result exceed it....
Its so perfect - both built and finish quality and performance!

Thank you very much! I'll definitely order again from you and recommend your company to anyone I know!
Regards
Eli
Eli
December 15, 2011
Dear Mike, Maria, and Maia,
Saunafin made my wife and I very happy with your service, quality and pricing. We are delighted with our Sauna.
In our home remodel we carved out a 7' by 7' room for a Sauna. But we were not sure how to get the Sauna designed for our needs. My first contact with Maria I learned that as a matter of principle you did not sell an "always on heater". This informed me that you wanted to give me the right product not just sell me something.
We put in a few extra touches that that add to our enjoyment I was guided by Saunafin to get a marine speaker so we could have music without having the speaker melt. Another technical detail provided by Saunafin were vertical. It looks wonderful 3 by 3 window in our Sauna. We were assured by Andersen Windows that the double pane vinyl would not melt. The window and, on the opposite wall, a Saunafin glass door make it very special. One other thought is our approach to getting the hot air to move in the room. We have a Japanese dance "performance fan" (18 inches) that we occasionally wave at the ceiling and it circulates the most intense heat.
I had one problem after about year. The heater stopped working, but Mike explained how to reset the breaker on the heater and how to avoid my problem in the future. Easy to get service from an expert!
Our sauna is a treat for us several days a week. The quality of the cedar wood, insulation, heater and overall design all contribute. I am grateful for the guidance we got from the Saunafin team to make our Sauna a great buying and using experience.
Sharon and Frank C
November 29, 2011
November 29, 2011
Dear Mike,
Last January we had a custom Saunafin Sauna installed in our new construction house. It was a 5ft by 7ft sauna, with a Tylo Combi heater. It was a complicated process as there were several custom features such as accent bench lighting, a water faucet, a custom door, custom window, as well as a very tight spacing.
I am very particular and we had many back and forth emails to try and get things right. We have now been using the Sauna for 6 months. I would like to thank you for all your efforts and complement you and your crew on your work. The design was perfect. The bench sizes work just great. The carpenter was outstanding and everything still looks great.
I would gladly be a reference for anyone else who is concerned with how things will turn out.
The accent lighting in the lower bench has worked out well. We used LED step lights and a wider board for the lower bench.
Once again, thanks for everything and please pass my thanks on to the carpenter.
I have enclosed some pictures for your scrapbook.
Sincerely,
Earl
Thornhill, Ontario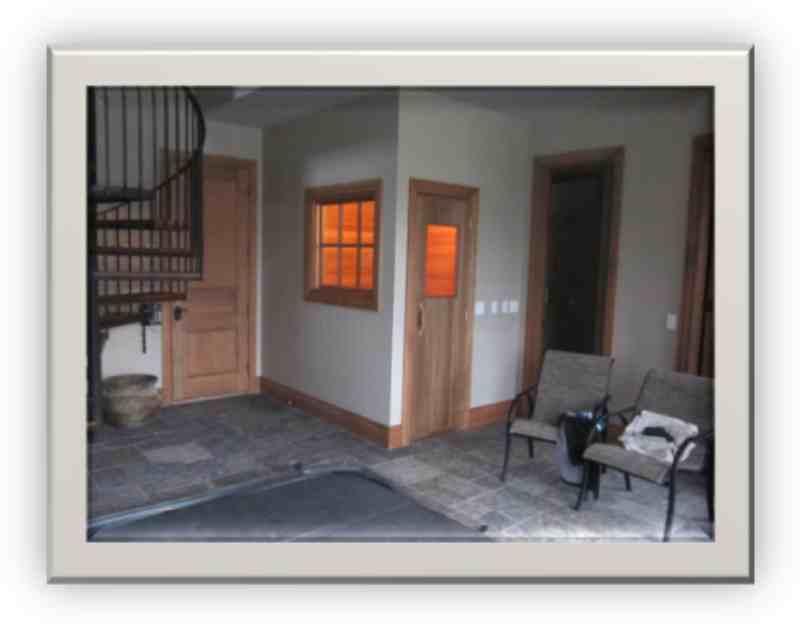 Earl Nussbaum
November 19, 2011
Maria, I want to sent you a quick note to say how much I appreciate the quality and easy of assembly in your sauna unit I supplied to my customer. I found all the pieces in perfect condition and the assembly went very quickly.
My customer is very happy this the final product. I have been a contractor - carpenter of over 30 years and this was one of the best products I have experienced. Thank you for a fine product.
Bill Austin President
BB&C Construction LLC
Bill Austin
October 05, 2011
Mike,
Our new sauna at the University city recreation centre looks fantastic. Thanks for a great job.
Thanks
Carlos
Carlos
August 31, 2011
Here's the photos, sending smaller versions for your review – if you'd like higher resolution, happy to send.
Recommendation: "We are delighted with our new Sauna and the quality of the product. We used a kit in our new home construction and the Sauna folks (Maia) worked with our builder to create a space that is both functional and accommodating."
Hope this finds you well and thanks so much.

Anonymous
August 07, 2011
Maia,
I was finally able to build my Sauna (inside only, as I am waiting for the insulation inspection and then the plastering contractor to finish the room). It was a great experience, the instructions were helpful, and the result continues to blow me away. I have used it twice already. It is Memorial Day weekend here and I opened the pool as well. Due to the long and cold winter in Massachusetts the water temp is still in the 50's (14° C), but after the Sauna it feels just right. Thank you Saunafin!
Christian D
Medfield, MA
Christian D
July 07, 2011
Maria..
Our sauna is built and we are very pleased with how it looks and more importantly how enjoyable to use. The pre-fab kit [ 4' x6'] was well packed upon arrival...instructions were clear...together in and trimmed in one day. Really a high quality build. Thank you for your customer service and personal help with custom designing a layout that would fit our needs...
Satisfied customer in Connecticut.
Respectfully,
Helga and Jay
Helga and Jay
June 18, 2011
Maia:
Thanks for the great sauna kit! It took a few months with some procrastination on my part, but the sauna is lovely! We were working on other parts of our basement renovation, and in the middle of a very hot July here, the last bits of the sauna (the trim and the heater installation) had to wait until this last weekend.
I wanted to point out a few things that came up along the way -
1. My neighbor who is an old "Pennsylvania Dutch" carpenter helped me with the framing and was very impressed by the quality of the cedar, and boy is he tough to please (he rarely buys lumber from Lowe's or Home Depot - he usually gets it from other smaller mills locally).
2. The installation was remarkable easy and all of the boards were of extremely high quality - there was literally no waste. All of the tongue in groove slipped together neatly and snugly. Your estimation of how much wood we would need was right on. I saved a few small end bits to shave up and use next time I smoke some salmon on the grill.
3. The packaging and delivery was excellent - everything came in time and in tip-top condition.
I would happily recommend you to anyone looking for a sauna.
Kiitoksia teille and nakemin!
Jaan
Jaan
May 27, 2011
Hi Mike
I finally got around to take some pictures of the sauna. We got our kit from you at the end of January.
It worked out great and we enjoy it.
The materials you supply are very good and everything went together well. A basic rectangular sauna would have gone together very quickly. With our shape there was more time involved in cutting, so I was slower at getting it done. Also you can see by the one picture the "hidden" style door we used for the room behind the sauna (left of the heater).
When anyone asks I let them know we bought the kit from you. We have been satisfied and would recommend you to anyone looking for a sauna kit.
Thanks
Jim
St. Marys, Ont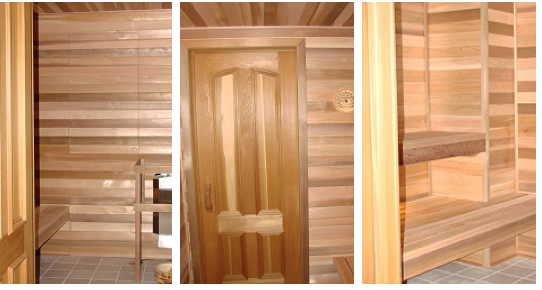 Jim
May 16, 2011
saunafin.com is the best sauna company to get your home sauna from
Chuck Kobasew
March 23, 2011
Schoen guten Morgen, Maria
I have now completed the sauna and am very satisfied. Attached please find a series of photos, permission for which I freely give you to publish in your catalogues, web site etc.

I want to thank you for excellent pre and post sale support, especially the fast shipment of the new emitter. I would most certainly recommend your company and its products. I got great satisfaction from doing this and I have a very happy wife.
All the best,
Steve
Steve
March 08, 2011
03/08/2011
Dear Saunafin people,
We'd like to take a moment to say "Thank you" for our beautiful new cedar sauna.
After a little research we decided to go with Saunafin and did not regret this decision once. The customer service was very helpful in selecting the right size and model of the heater unit for our needs and the sauna kit arrived promptly on time and with NOTHING MISSING. We assembled it during the course of the weekend and IT IS PERFECT. Tylo heater unit is everything we hoped it'd be and cedar walls and selves emanate such divine smell, you don't want to leave the space. And then, after the bathing session is over and we open sauna's door to let it dry, entire house is filling up with aroma of birch and cedar :)
Thank you, Saunafin, once more for a great product and exceptional service!
Very satisfied customers,
Nissim and Olga
Brooklyn, New York
Nissim and Olga 
May 18, 2010
Upon bringing the 4' X 6' custom kit home from Saunafin, I was prepared to spend days, even weeks to do the install properly, when it was complete about 10 hours later, I had to double check that I had actually put everything in correctly, it was perfect.
The packing list was accurate down to the screw, and the logic of the assembly was simplistic. Although they supply a few extra cedar pieces in case of errors, they were not needed, the install couldn't have been more straight forward.
Thanks again Saunafin for working with us to lay out a comfortable and relaxing sauna (which we use several times a week), and for having all the necessary accessories to make our space an indoor get-away.
Rob H
March 01, 2010
Maia

I wanted to say thanks for all your help with my sauna purchase. I received the kit and immediately started the installation. The quality of the cedar far exceeded my expectations. The kit went together rather easy and looks fabulous. Pass along my thanks to Mike as well, I had only one question and it was easily answered. Should I move i'll be contacting Saunafin for another sauna.

Sincere Regards

Richard
Burnsville, MN
Richard
January 29, 2010
Dear Saunafin Staff,

Thank you for providing exactly what you promised. Getting things to a
remote island in Alaska can be a challenge, especially a pre-fab
sauna! (The only casualty in shipping was a broken head rest bracket,
which will be an easy fix).

Assembly was as advertised and within 48 hours of delivery the sauna
is installed and broken in. Customer service was very responsive when
there was questions regarding the shipping and the quality of
workmanship in the sauna itself was very evident during unpacking and
assembly.

We really appreciate your professional and personal way of doing
business and will recommend your company to anyone in the market for a
sauna.

Sincerely,
Father Innocent (Daniel) Dresdow
Kodiak, Alaska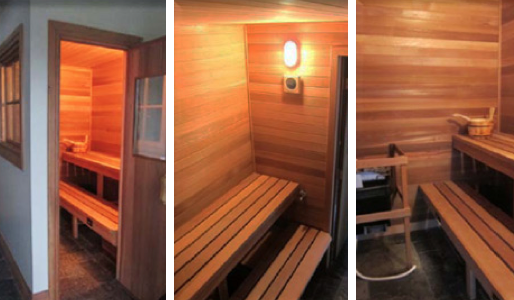 Daniel Dresdow
January 15, 2010
Maria
C/O Saunafin Saunas and Steam baths
Concord, On
Dear Maria,
As you are aware, I ordered a 6x8 sauna kit two weeks ago. Although I had done some research into pre cut kits, it was certainly not something I was aware of or had any idea of the nuances involved in not only ordering the kit, but the assembly required.
You virtually walked me through the process, making certain I understood what it was that I needed, including veering me away from some of the items I thought I needed, and making certain I ordered other items I didn't think I needed but in the end made my sauna more enjoyable. I would well imagine that most customers are very much like me, in that they have a reasonably good understanding of what they want however, have no idea of exactly what they need.
I must tell you, it is a difficult decision to provide a credit card number over the phone for a purchase of this magnitude, to a person in another country, for a product you will in all likelihood only purchase once or twice in a lifetime. You made this decision very easy, and were most helpful in explaining all areas from shipping to construction.
When I received my sauna kit, I was truly amazed at the way in which it was packed, marked, and the care that was taken to insure all the correct pieces were in the kit. The kit truly does contain everything you need to install your sauna kit, including extra lumber in the event a mistake is made in cutting or installing by the homeowner. It just got better as I opened and began to install my kit; the quality of the materials, the beauty of the wood, the care taken to explain what items are in which carton, and again everything I needed was in the package I made less than 12 cuts for the entire kit, and this was only trimming the corner molding and cutting the top pieces of wall planks.
I am so impressed with the quality and the service I received, that I would be willing to allow you to give my name and number to any potential customer as a referral.
Once again thank you all at Saunafin for great customer service and a great product.
Art & Marie
Jefferson City, Montana
Art  & Marie 
May 15, 2009
Hi Maia,
I would like to express my great satisfaction with the product I bought, and the service you provided. I have finally built the sauna, and have experienced a great löyly. I will recommend your product to all my friends who might be interested. I'll be happy to be a reference for your potential customers.
Have a nice holiday season.
-Alex
(408) ***-****
Alex
December 20, 2007
Dec 20, 2007
Mike, I want to express my appreciation for your assistance in helping me choose the right sauna specifications and the excellent work of your company in manufacturing it.
The sauna was delivered on - time as promised.
The workmanship was excellent.
It was very easy to assemble.
The functionality is marvellous. The Tylo heater is exactly what I hoped for.
I wish you success, and I will certainly recommend your company to all my friends and contacts I will be happy to serve as a reference for any potential customer.
My best wishes for happy holidays and a great 2008 to all the Saunafin team.
Thanks, Sam
Sam
November 16, 2007
Attention Mike:
Hi Mike: As per our conversation last week, I would like you to know that we are very pleased with our one-person sauna. We built a little room for it off our bedroom and we are using it every night. I am a cancer patient and my doctor recommended the use of an ultra-violet sauna. So hopefully, it will also improve my health. Thanks again for a great product and great service.

Regards, Jacqui Webb and Barry Field.
Jacqui Webb and Barry Field
October 31, 2007
Joulupukki came at Samhain this year! (To mix the Suomi and Celtic and seasons a bit--but saunas ARE magic.)
Richard Schneider's partner Misha (the resident Finn) here to say that the modular sauna kit arrived this morning after a day's delay between Yellow and the local freight company.
What an AWESOME Halloween treat. Tonight we'll celebrate the Celtic new year by lugging the panels to our bedroom...and piecing them together.
I couldn't resist cutting open one of the shipping cartons, just to sniff the wood. It was so wonderful, I got tears in my eyes. The panel on top is also lovely. I'm going to want to sleep in there.
I thought perhaps I could apply my ample stocky strong peasant genes to hauling and sorting the components before he gets out of his afternoon meeting, but I will definitely need Richard's help. My gosh, they're so SOLID. I can't wait to see all the pieces.
On behalf of the Sinexes/Sennekkes, who came to the New World in 1656, and stayed Suomi despite everything, I wish you kiitoksia oikein paljon--many many thank-you-very-muches.
Richard and I shall be in touch, as promised, with photos when we have it in place.
peace
misha Michele S
Olympia, WA
Michele S
October 22, 2007
Good afternoon,
I just wanted to thank you for making my Infra Red sauna purchase a pleasant experience.
As I had a previous bad experience with another supplier claiming to have "great" saunas, I was fairly apprehensive and a bit gun shy.
I visited your showroom on Monday morning and by Wednesday night we were enjoying our new sauna. Eric did a great job, was very professional and helpful in explaining things to a newcomer. He represents your company well.
The sauna is a well designed and well assembled unit that I'm sure will last us a lifetime. I had seen and have seen since units made of Hemlock that are obviously cheap models produced in mass quantity overseas. There is a definite difference in quality that I wouldn't recommend anyone compromise on. I certainly did not myself.
You have a great product, a helpful and knowledgeable staff and you deliver what you promise unlike at least one of your competitors that I know of. This is the perfect recipe for a successful business. Please feel free to use me as a reference or publish this email if you need to.
Bill Arsenault
September 12, 2007
Cummer Park Community Centre
Sept. 12, 2007
Hi Mike
Just a short note to pass on the praises from our members on the new sauna. Once again you and your crew did a beautiful job of removal and installation and on time. It looks great and our members who use it regularly are enjoying it immensely.
Thanks
Mike Gerke
Cummer Park CC
Mike Gerke
May 19, 2007
May 19, 2007
Dear Maria,
I want to tell you how thrilled I am with my new "toy". I have only had the infrared sauna for about a week and use it every day.
The results from using the infrared sauna are already manifesting in my body. I am feeling a different energy level; my constant back pain is relieved after using the sauna. What a super cleansing of the skin!
Today I was able to "sweat" for a longer time (40 minutes). Began with 15 minutes and built up each day.....I love the time I spend in the "toy" because it is special time for only me, myself and me!! I become so engrossed in my book (which is kept next to the sauna and only enjoyed during my special sauna sessions) that the time flies and I look forward to the next time I am able to spend relaxing.
Thank you for the service you provide and especially for the quality help given answering my questions on the phone. It has been a joy dealing with your company.
Sincerely,
Sieglinde B.
Sieglinde B.
October 06, 2006
Dear Maria,
I certainly appreciate your quick response in sending me a replacement EPC control for my sauna. The new unit corrected my problem with the light. I'm returning the defective control by mail today (12/21/05).
Thanks again for your help. My Sauna is beautiful and surpassed my expectation's on the quality and customer service of your company.
Happy Holidays from a satisfied customer.
Randy R
Randy R
March 09, 2006
Maia,
First of all, even though it is late, HAPPY March 8th.
Congratulations and Best wishes.
As I promised (long time ago), I am sending you picture of our SAUNA.
We will be very glad, if you choose it for the display on your website.
If another view is desirable, I can provide you with more pictures.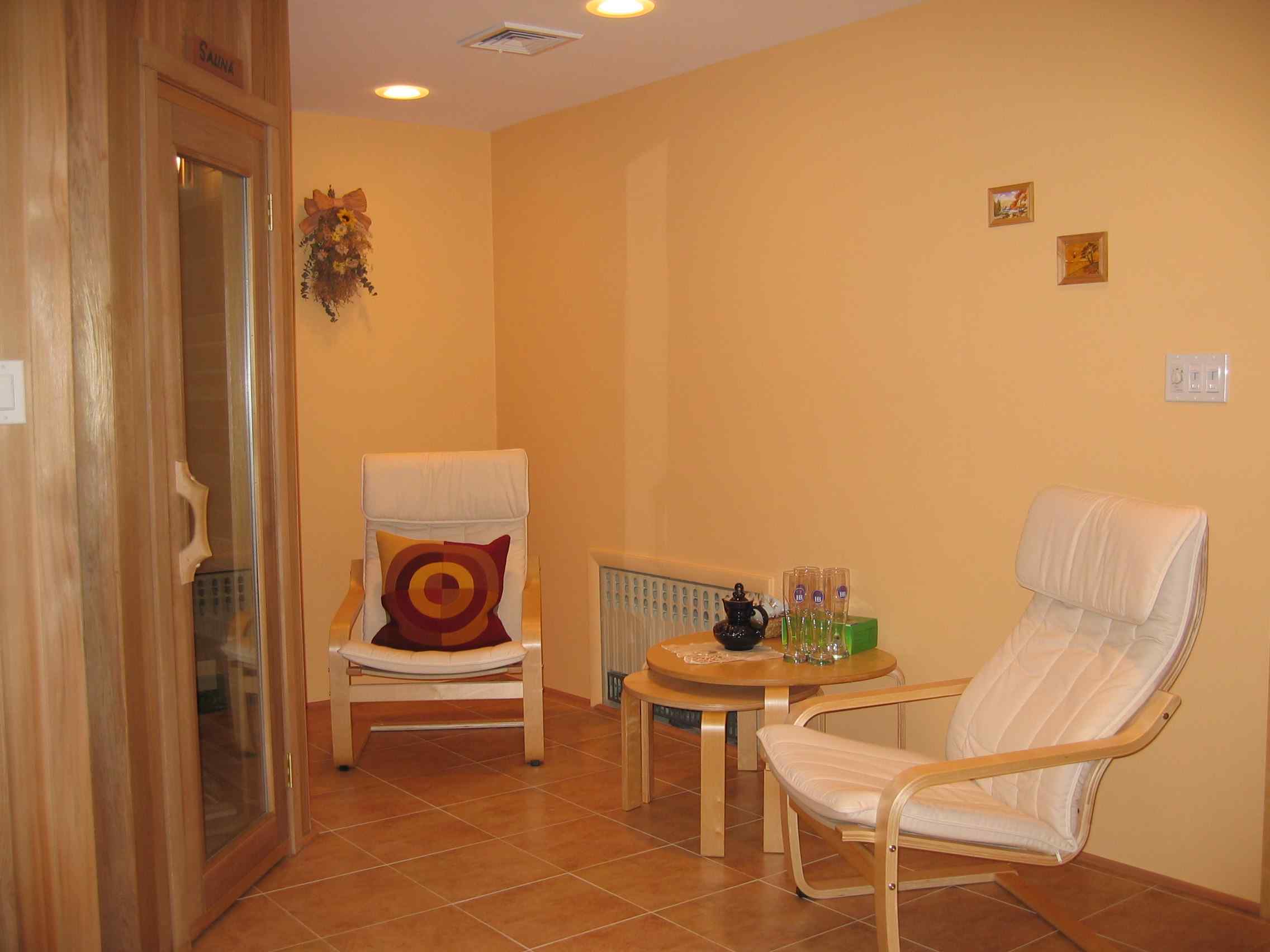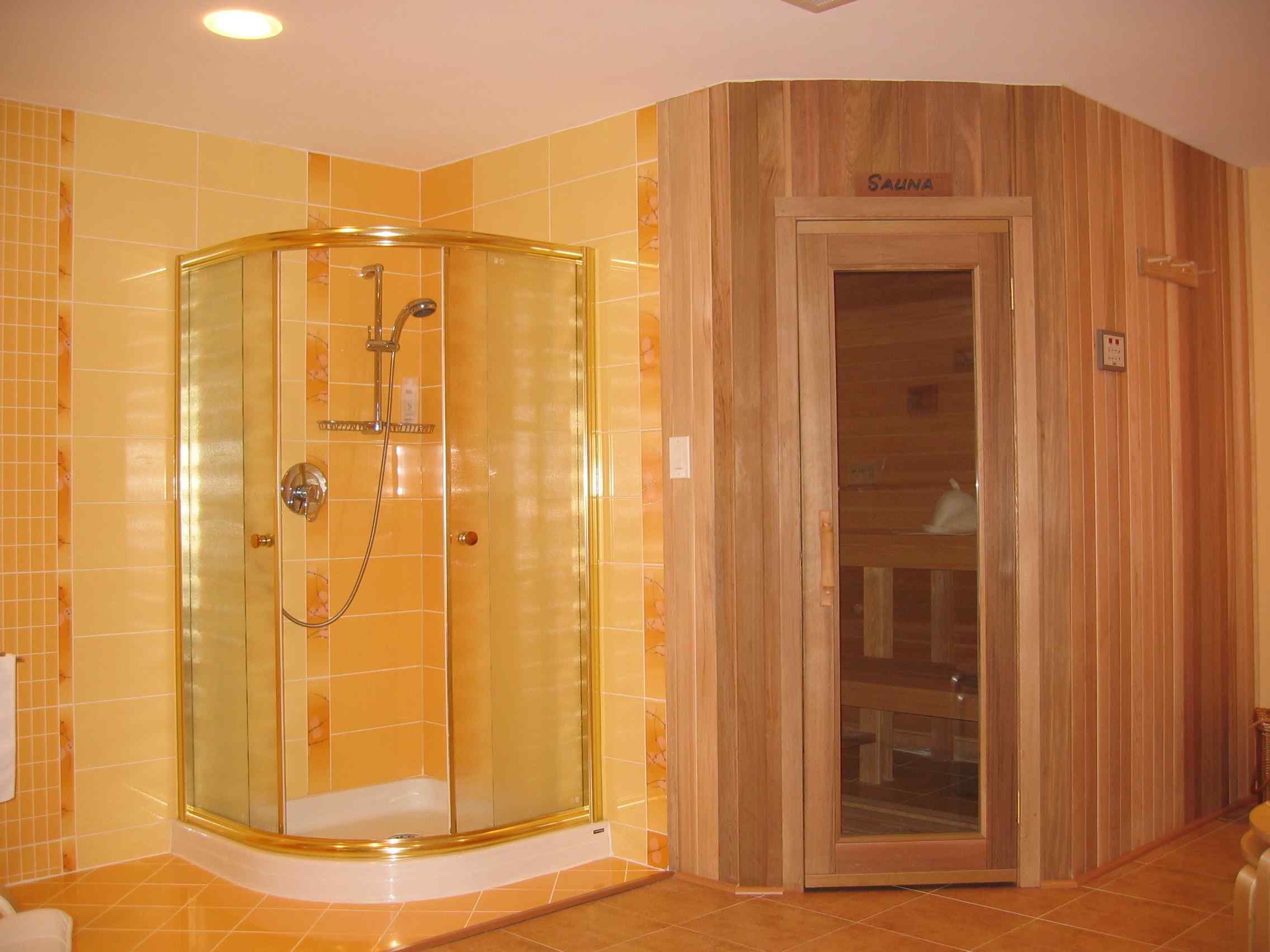 Oleg Raginskiy
March 04, 2006
Dear MARIA at SAUNAFIN,
The best and healthiest thing we have done, is to purchase and install the INFRARED SAUNA from you.
In the short period we have insatllaed and used it, we are feeling SO MUCH BETTER.
My Son helped to install it and is ENVIOUS of our being able to ENJOY A HEALTHY "IN HOME" SAUNA treatment. (He wants one in His home)
Our sincere thank you, for a VERY WELL BUILT PRODUCT, and YES, it is easy to assemble, as you advertise.
Gertrud & Wilfred B
Salem, New Hampshire
Gertrud & Wilfred B
February 17, 2006
Dear Sauna People,
We received your Sauna January 11th, installed it the 12th. I must tell you that it went together like clock work. Would like to applaud your organization on their expert craftsmanship.
Thank You
Robert N
December 27, 2005
I just wanted to know how much we have enjoyed our sauna. Everything was as advertised and took about 2.5 days to construct. I looked at several companies before I decided to buy my sauna from Saunafin and I made the right choice. Thanks again.
Paul & Meg McLemore
December 21, 2005
Dear Maria,
I certainly appreciate your quick response in sending me a replacement EPC control for my sauna. The new unit corrected my problem with the light. I'm returning the defective control by mail today.
Thanks again for your help. My Sauna is beautiful and surpassed my expectation's on the quality and customer service of your company.
Happy Holidays from a satisfied customer.
Randy R
November 28, 2005
When I was ready to buy sauna I made an extensive research on the market. And my choice was Saunafin. They offered me the very good price. In addition to that I've got good quality product and excellent customer and technical support.

Package includes easy to follow instructions. So, I'm not really experienced handyman but I was able to built sauna by myself.
I already have sauna in my hose for four years, since that, it's most favorable place to spend time with my family.
If I will have a chance to build one more sauna I would definitely go to Saunafin. Highly recommend their products.

Sergey and Natalia.
Sergey and Natalia
November 07, 2005
Hi Saunafin,
I just wanted to say a quick thanks for the kit we purchased from you and the outstanding help that we received along the way. Everything worked exactly as expected. Our sauna is complete and fully functional now, and just works wonderfully. I've posted a few pictures of it if you're interested in seeing our handiwork: http://www.studionoumena.com/private/sauna/
It was a pleasure doing business with you. Thanks again!
Rob Magiera
October 30, 2005
I received my sauna about a week ago. Just wanted you to know how pleased I am with your product and service. I love it and so do my neighbors.
Thanks again,
Anthony V
New Port Richey, Florida
Anthony V
October 03, 2005
Dear Saunafin Management, Mike Maia and Maria:
Thank you so much for the Beautiful Sauna, Pre-Fab Model. It has been such a pleasure dealing with you individually I am a little sad that now that it is up I won't be talking with you guys.
I manage a business in the United States, Los Angeles and I am not used to dealing with such courteous and professionalism combined with the high level of real affinity that your people have for making the experience such a pleasure.
I found you on the internet and must have had dialogue with Maia and then Maria and even Mike at least 20 times between the emails describing my design, which you custom built and the additions that were added.
Every time I spoke to any of your team I felt like I was speaking to a best Friend, you guys are so warm and friendly and seem to have all the time in the world for even the simplest of questions.
I am sending some jpegs of the finished product, as it looks like a Swiss chalet.
If you ever need a reference or have someone who is uncertain that they are dealing with the very Finest company who really care about their customers as much as their own family, or so it seems, please have them email me and I will verify what I have written.
Warmest Regards,
John M
P.S. I have about 100 photos at all stages of development, so if you would like I can send you more, especially of the Roof construction.
John M
September 20, 2005
Hi,
I received my sauna about a week ago. Just wanted you to know how pleased I am with your product and service. I love it and so do my neighbors.
Thanks again
Anthony Vannata
September 06, 2005
Maia as per phone conversation Sept 6 2005
The Sauna Kit purchased from you was a treat to install.
The B O M and instructions where accurate and well illustrate.
I would highly recommend your product to others.
Thank you again very much
Rick T
Rick T
April 10, 2005
Dear Mike,
We installed your sauna kit in our basement, and the results exceeded all our expectations! First of all, the kit was made to perfectly fit our dimensions and all the materials were of excellent quality. Secondly, we never thought it would be such a heavenly experience and that we would spend so much time enjoying the sauna! And finally, we just feel ourselves more healthy, relaxed and just more happy with our lives!
And by the way - your prices are the best in town!
Thank you very much for the new quality of our lives!
Wish you all the best,
Elena and Michael, Woodbridge
April 10, 2005
Elena and Michael
April 01, 2005
Maia,
Just a note and a thank you. The sauna arrived in great condition and was super easy to assemble. The instructions were not great but the unit was so simple
I really didn't need to use them. If Saunafin needs a reference, I'd be happy to oblige.
Best wishes,
Christian
Christian
March 26, 2005
Hi Mike...the sauna arrived mid day Friday, right at my driveway. I put it together in about 2 1/2 hours of leisure time, and we used it after dinner that first nite, and each nite since.
It works exactly as advertised...and we just love it! After my neighbors see it...you may get some more orders.
Thanks once again, for your correspondence, and your fine product!
Sincerely, Ray C
Kettle Falls, WA
Ray C
March 15, 2005
I recently purchased a sauna from your company and it is in use. It is a wonderful escape from the north country winter.
The quality of the product is excellent.The service extended by the employees is also commendable. I am very pleased - and will not hesitate to tell others about your company.
Best wishes for a prosperous and happy New Year.
Rose S - Malone, New York
Rose S
March 02, 2005
hello,
here are some pics of my completed 5+7 sauna.i built it in 5 weeks putting it inside my garage.i did the framing and electrical myself never having done neither before.
i covered the outside with paneling put on horizontally.i made the trim from cedar 2+4.i did modify the heater guard making it heavier from cedar 2+4 also.
thanks for the fast delivery.im very pleased with the quality of the kit.i now have a place to spend the winter!
john.
John
February 27, 2005
We purchased your sauna a couple of months ago - I just wanted you to know we are enjoying it immensely! I know our health is improving each week we utilize the detoxing abilities of this wonderful sauna.
All in this family have noticed an increase in energy, better skin condition, increased metabolisms, and overall improved attitudes due no doubt to the infrared effects on the mood sensors of the brain.
I am so glad we purchased from your company, and we are very pleased with the perrormance of your machine. Thank you for all your help with our decision to purhase from you.
Sincerely,
Donna and Jeff P
Donna and Jeff P
February 20, 2005
Hi Mike,
Its a beautiful job - thanks so much. But if you have the time I would appreciate you coming by to make sure I put the rocks in properly and show us how to use the deep water basin best. I could hand you over the cheque for the balance at the same time and you could admire the unusual construction and the handiwork of Vladimir and Geoffrey - and maybe even take a few pictures of if this handsome construction for future customers!
Leo
Leo
May 29, 2004
To All At Saunafin co.
I bought a 5x5 Kit two and half months ago I waited till now to write because I want to see a whole months electric bill.
I have the Tylo Combi. I just want to say that the kit is very easy to Install received a day early from Canada. I put it together in about 5 hr. it was perfect. also the info about what it would cost in electric was a little high. I recommend that any one who like steam and sauna get the Combi. The quality of the wood and the 2x4 construction of the sauna is better than any I could find here in the states.
Pete C
Flagler Beach Fl.
May 29, 2004
Pete C
May 26, 2004
I just wanted to drop you a little note from USA. I bought your sauna over two years ago and I tell everyone how great my experience was from start to finish.
rdering it was a little scary since it was so far away but amazingly, you handled everything well. I ended up getting the 6 to 8 person sauna (just couldn't resist Ha/ha) and it truely is my prize!
Thanks for the great and honest service.Your total pricing was much better then anything here and I love the quality of your wood.
It is not like me to go on and on but I really don't want you to think that your service and customer care went unappreciated. Please fell free to use this for any future prospective buyers. They may e-mail me at any time. Again thank you for the terrific product and service.
Best regards;
Pat K
Sacramento,CA
May 26, 2004
Pat K
April 15, 2004
I wanted to drop you all a quick note and tell you about my Saunafin experience. You are more than welcome to include me on your referral page.
As your average American consumer, I was a little nervous at first about sending a bunch of money across the border, but you folks handled my whole situation so well, I actually ended up being very happy in doing so.
My construction situation was unique, and I ended up going with a fairly large alternative layout. Maia and Mike were great in helping me to work through my particular concerns.
The kit arrived in only a few days, which was nothing short of amazing, it being the week before Christmas. Everything was packed well, and survived the trip. I spent 3 solid days, with a lot of help from friends and family, but the result is absolutely beautiful. I did have to do some miter saw work, and I would have been happy with a few more screws and a few less nails, but all in all, the entire construction experience was very enjoyable (for a guy who is **not** a carpenter). The materials provided were just right for the job, and the clear cedar is gorgeous.
In summary, I can't say enough good things about the whole deal. I would highly recommend Saunafin to anyone wanting to install a *quality* sauna. There is nothing quite like shutting off the TV and going to take a sauna whenever the urge strikes, and the whole thing pays for itself in the increased property value of my home.
Thanks much,
Eric G. L
Colorado Springs, CO USA
April, 2004
Eric G. L
April 04, 2004
I just wanted to drop a line to say I'm very happy with the sauna that as purchased from saunafin. The instructions were very easy to follow and the unit was completed by myself in 3 days.
The Tylo heating unit that was purchased with the kit performs very well & my wife enjoys it thoroughly. I would also like to thank you for you attention to the situation that I had and how you handled the call. I have also shown this unit to a few friends who are thinking of installing one in the future.

Regards
Len W
St. Catharines.
April, 2004
Len W
January 26, 2004
Hi! Mike
How are you? Hope you had a good holiday season and all the best for the New Year.
I have been so busy using the Sauna that I didn't get time to thank you sooner. The family is busy using the Sauna too and must admit you and your people did a good job. We were not sure how it would turn out specially because it was in the bedroom. Now that it is done, we think it was a great idea and thanks to you for making it look wonderful.
If you ever need to show a potential customer who may be considering installing a Sauna in their bedroom, we would be happy to show them what you have done.
Regards,
Sai P
Richmond Hill, Ontario
January 2004
This was a sauna installed into an existing master bedroom walk-in closet
Sai P
December 28, 2003
Maria,
I have received not only ur email but a call from the shipping company. Our sauna will be delivered on Wed.
I shouldn't speak too soon but I want you to know that it has been so wonderful dealing with you. I will definitely recommend you to everyone. You know what your talking about, you were of your word to ship so quickly, and very pleasant to talk to, no hidden costs, or hidden extras. I wish all the companies I have delt with were 1/2 this wonderful... All I can say to you is Thank You.
I hope I enjoy our sauna as much as dealing with you. Thanks so much once again.. I will get back to you when we receive it and try to put it together.
We will let you know how easy it is...talk to you soon.
Joanne F
Joanne F
December 17, 2003
Hi Mike,
Here are a few pictures from our Sauna we build last year by Parry Sound. Remember, I promised to send a few. We are very happy with the Sauna, and your Service.
Best Regards
Helmut (K)
Helmut
December 10, 2003
Hi,
I ordered my kit a few weeks ago and I just wanted to let you know how happy my wife and I are with it. The quality of the material was perfect. My problem is I had not anticipated the ticking of the timer. Although it's not excessive it is slightly distracting during the peaceful, quiet time we spend in the sauna. Can the electronic timer be installed without having to rewire?
Again, thanks so much.
Scott
Scott
December 07, 2003
Installed the unit right after Xmas. Just in time for our vacation to Cancun, more importantly, our return! Unit works great. I am so glad
I ordered the larger unit (SM7) as the heat up time is fast (125sq.ft - tile). Probably takes 5 minutes from the start of steam to hot room and another 5 minutes until tile and room are hot enough that one can shut it off for a couple of minutes.
The electronic control 'inside 'is the key to the whole thing! Some of the competitor models have manual timers outside and after the first use one can see the drawback of that. If you ever want someone's email address to send a prospective customer, feel free.
I sent an email to Steamist asking about cleaning (maintenance schedule and how to clean). If you have suggestions, please reply. Otherwise, thanks again. My wife and I are happy customers!
Kerry V
Kerry V
December 03, 2003
Dear Maia,
I'm happy to report that the sauna arrived safely last Wednesday, and this past weekend we managed to get the wiring done and the sauna itself assembled, up, and running over the week-end.
There was one minor omission in the shipment: there was no ladle with the bucket and other accessories. We'd appreciate your sending us one, as we have not found it easy to locate a wooden ladle; it was an uncharacteristic lapse from an otherwise flawless package.
The product is superbly designed; my only suggestion is some better instructions about installing the heater itself in the unit. And I must say the instructions included with the Tylo SS-7 were unnecessarily difficult because they insist on writing one book to cover all their many units, and the flow of instructions was a bit like following a maze.
Still, we look forward to many lovely sessions in the sauna and will happily recommend your company to friends.
Best wishes for the holiday season,
Michael S
mjsprof@******.net
Charlottesville, VA
Dec 2003
Michael S
November 27, 2003
Hi there.
Just thought I'd drop a note of thanks. I ordered a material kit for a 5' x 6' corner entry, which arrived 2/7. I did the construction over the past two weekends and it was fully operational as of Sunday.
Everything is working great and it is awesome and relaxing!
Thanks again.
Daniel H
Fox River
Grove, Illinois
Daniel H
October 16, 2003
Dear Maia,

Thank you again for all your help, bellow is my follow up on your request.
When I decided to build a Sauna I was looking for two criteria's, excellent quality of the material and reasonable prices.
Without any doubt now looking back, Saunafin met these criteria.
To my surprise beside these two qualities I was bargaining for, I also got outstanding service in no small part to the great assistance I received from Maia Zelyuk. From my first encounter with her to the last I felt her great enthusiasm, knowledge and love for the job she is doing. I wish that more people like her are around us, it would make our lives much easier.
Without doubt I strongly recommend Saunafin to everybody who wants a good sauna and exceptional service for an excellent price.
With great respect for the people at Saunafin,
Alex Feldman.
Oct 2003
Alex Feldman
July 10, 2003
Hello Maia.

We are done. The sauna is complete and in use. All I need is for my robes and towels to arrive. Attached is a collage of pictures of the completed product. I actually recorded the whole process and have 22 pictures.... but I will spare you from having to view them all! The one attached is the one I have posted on our website.
Thank you for providing a great product at a great price. Your service was great as well, and you were very patient with us. Thanks again. If you ever have anyone in our area who would like to view your product before purchase,
send them to us. You would be proud to see what we have created in out backyard with your sauna kit.
Sarah Dolk
--
Rol & Sarah D
Adobe Nido Bed & Breakfast
Our website: http://www.adobenido.com
Rol & Sarah D
June 13, 2003
I just thought I ought to send a note thanking everyone at Saunafin for your wonderful product. My wife and I are enthusiastically happy customers. We finished the installation of our sauna about a month ago, and it's just spectacular. My wife was not wholly enthusiastic about this project, having
sauned only once or twice in her naïve past. But now she is a fanatic! If Sherrye doesn't have her DAILY sauna, she gets really cranky.
The lumber materials (after replacement of some trim boards that were damaged in shipment) are excellent, better than expected; the heater (CW-STL) is an exceptional piece of work, works perfectly; your Web site is a no-frills, information-packed, easily navigable source of pertinent information. Count us as thoroughly satisfied customers.
My contractor, who installed the sauna as part of a much larger building project that included a sizable deck adjacent to a large screened-in porch (the sauna is adjacent to the porch on the opposite side from the deck, an outdoor installation affixed to the exterior of the house and accessible by a walkway of about 20 feet that leads to the sauna from the porch, had never before installed a sauna. He had only a little trouble following the enclosed instructions.. If you're interested in what my contractor would recommend as additional information for those ignorant of the proper procedures of building a sauna, I'll share that with you. It really is a thing of subtle beauty. We should send you a picture.
One question and one problematic comment, however: (1) Why does the little red light on the TPT3 control panel stay on all the time, whether or not the sauna is on? Is that just to provide confirmation that the unit is properly connected? Or does that result from some sort of error in the wiring? (2)
Initially, the timer would get "stuck" at about the midpoint of its cycle, that is, would stop ticking and, in fact, cut off current to the heater. After a couple of weeks, however, that problem seemed to have disappeared. The timer-heater has not stopped during a set term of operation for a couple of weeks.
All in all, we are very happy with our purchase and have already bragged on Saunafin to our friends.
Thanks for your help during my initial inquiries, through the matter of the damaged shipment, and for further information you may provide.
Bard Y
White Bluff, TN
Bard Y
March 30, 2001
March 30, 2001
Dear Ladies and Gentlemen,
My name is Mark B. We bought your sauna at the end of last year and using it about three month. My wife and I would like to thank you for such good product. We really enjoy it. We take a sauna two - three times a week and every time we feel like we were born again.
Any way thank you for good product and I'm trying to promote it among my friends.

Sincerely,
Mark B.
Arlington Heights, IL USA
Mark B
January 18, 2000
January 2000
Just a short note to let you know how pleased I am with the 4 x 5 Sauna Kit, which I purchased from you. The parts list was perfectly correct, the parts were all in excellent condition and were more than adequate to meet the needs for my sized sauna.
The quality of both the lumber and other materials was excellent. The instructions were good and I was easily able to complete the full installation in four normal working days. I only had several minor questions and you were readily available on your toll-free number to answer those.
I have already received numerous compliments on its terrific appearance and performance, and as you guess we are giving it extensive use.

Thank you again, and you are most welcome to use my testimonial for whatever purpose you deem fit.

Sincerely,

Tony G.,
Ottawa, ON
Tony G
January 08, 2000
Ed Dent
Manager,
Building Services

Mike

Great job on the sauna - as always. Looks fantastic.

Thanks,
Ed Dent
Ed Dent (Service Manager, Metro YMCA)
December 19, 1999
December, 1999
I must admit the load was bigger than I had anticipated. We did get across the Boarder without any hassle. I'm glad we decided to use your Broker. I can't imagine doing it without their help.It took about 45 minutes.
I started assembly on Friday and finished on Sunday about 22 man hours including the Electrical which I did myself. It looks Great, I've had several complements on it. We had 5 people in it on Sunday night. We shared a small glass of Finlandia Vodka, each adult taking a sip the child in the room could only smell it. We then christened the sauna with a little of the Vodka for good luck.

Thanks for all the help.
Patrick D.
White lake, MI
Patrick D
September 04, 1999
September, 1999
To whom it may concern;

This summer I built a cabana/sauna in my backyard. I did a lot of comparison shopping for quality and price before deciding that Saunafin offered the best of both. Their "select quality" clear cedar is virtually unavailable elsewhere. Lansing, Cashway, and Home Depot offer inferior cedar at ridiculously high prices; while specialty dealers like Hanford don't carry any stock whatsoever.

Saunafin took my design and precisely calculated the number of boards I required. They assembled a complete sauna package, which included detailed, simple-to-follow instructions. Building was easy and resulted in almost no wastage because Saunafin provided me with carefully calculated lengths of cedar to suit my plan. The result was that I didn't end up paying for wood I couldn't use. My sauna went together quickly and the result was spectacular.

I am a very satisfied customer. Thanks Saunafin!

Sincerely,
Andy C., Etobicoke
Andy C
May 24, 1999
May, 1999
Dear Mike and Maria,

I would like to drop you a short line to let you know how I made out with the kit I purchased from you.

I spent time comparing your kit price to purchasing the items from various sources that I have contacts with, ie a lumber yard, an electrical contractor.

After comparing everything, it was very clear that your package was well worth the money for the material alone, never mind your guidance with the assembly and hook up.

I had already built the outside walls, from start to finish I had the 5 x 7 liner kit installed in 12 hours. The electrician came the next day and hooked the breaker into the panel and within ½ an hour I was enjoying the sauna.

We use it at least twice a week. We have had numerous compliments on our sauna, should you ever have a customer near me in Whitby, feel free to give them our name and number, we will be happy to show them our unit.

Sincerely,

Barry G.
Whitby, ON
Barry G
May 04, 1998
Dear Maria & Mike: May 4, 1998

Please find enclosed a cheque for the final payment on my sauna installation. I am, in general, a perfectionist with very high standards and I am not often inclined to take the time to write a letter of commendation. However, I must tell you how pleased I am with your level of service and the high degree of professionalism that you demonstrated on this project. The individuals who worked here created a minimum disruption and I honestly couldn't believe how little "damage" was created when your electrical sub-contractor ran the new wiring through my finished basement!

I am extremely pleased with the finished product and appreciate the manner in which you coordinated the installation, including moving the doorway to the old storage room and repairing the wall where the old doorway was. If you ever require a reference, I would be more than happy to provide one.

Sincerely,

Kathy W.,
Thornhill, Ontario
Kathy W.
April 09, 1998
April, 1994
Dear Mike

Nice To See You Again!

I was a pleasure to see you again at this year's home show. Meeting you again, reminded me that I had never really expressed my personal and my family's satisfaction and happiness with 'Saunafin's Sauna Kit' we purchased!

Thanks For Your Advise And For The Quality Products!

With help of my 16 year old son and a neighbor, we installed the kit in about three evenings after dinner….you were correct "anyone who can read and common sense can install your sauna kit……thanks again….the installation became a labour of love which I admire continually 3 to 4 times a week even now almost a year later.

I wish you and your colleagues every success!

Roger B. & Family
Roger B. & Family
April 25, 1992
To Saunafin

Fulfilling a Dream

My dream got fulfilled in April of 1992 at the Home Show in Toronto.

Once again looking for saunas and information I met Mike Wynn from Saunafin, who gave me very patiently detailed information about different saunas.

The actual advise and professionalism made me purchase from Saunafin.

After a couple of phone calls with Maria at the office, the cedar wood was cut to specific measurements as requested and ready for pick-up.

The Material was of very good quality.

Then with the help of a Building guide the real fun began.

By nailing board after board with easy instructions after 2 weeks of evening and weekend work the sauna was ready for use, which I did of course. It has since been a pleasure to use it and hopefully will be for many years to come.

Sauna Lover
Mr. & Mrs. H.
Toronto, Ontario
Mr. & Mrs. H.