Building a Sauna from scratch?
GET A CUSTOMIZED MATERIAL KIT QUOTE?
Call Us Today!
1-800-387-7029
or local: 905-738-4017
We accept:

Heaters
Saunafin offers a complete range of sauna heaters.

The Canadian made Sauna Craft heater has been in production is 1980. Offering the entry-level CWS model up to the XR model in 100% stainless steel with a lifetime residential warranty. Sauna Craft is a tried and true workhorse. Tough, reliable simple construction for years of trouble-free sauna enjoyment. Sauna Rocks included.

Sweden's Tylo brand sauna heater is an engineering marvel. A sauna heater with distinct design features designed to provide a truly exceptional sauna experience. Tylo heaters all have three unique features. Tylo heaters have a "thermoflux" outer shell. The shell never gets hot to the touch. Tylo has divided output heating elements. All other heaters cycle either 100% or completely off. Tylo heating elements cycle in stages. Initially, all elements are on to heat the room quickly, then the elements begin to stage off so that only one is operating to maintain an even temperature and low-cost operation. The Tylo rock compartment and grill are designed for maximum efficiency. The side chambers are open for a quicker heat-up. The rock compartment has direct contact sauna rocks within a stainless steel well. While the outer shell is cool, the rock compartment is very hot. This thermos effect means that every single drop of water poured over the rocks evaporates. Tylo is the most energy efficient and functionally efficient heater on the market. Tylo sauna rocks included.
Saaku Sauna heaters are manufactured by TyloHelo Inc. The Saaku brand is provided exclusively to Saunafin. The Saaku CP models have the control built in the front base. Saaku blends a mixture of components that are both durable and non-rusting; including a steel shell and baffles that are galvanized. The Saaku is standard our pre-fab Cabin and Outddoor saunas. The built-in control is simplifies the wiring for the log-style construction of pre-fab saunas. Saaku saunas include a 50 pound of rocks.
---
Tylo Features

Sauna Craft Features

Wood Stove Features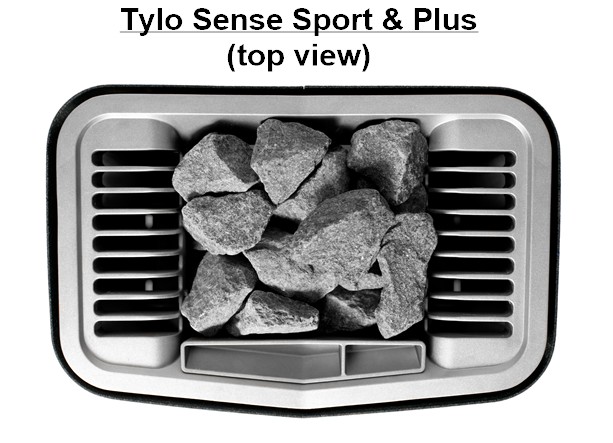 Tylo Sense models.
Sense Sport: Mechanical thermostat and Spring Timer at front bottom of heater.
Sense Plus-Pure: Low voltage separate control with light diodes.
Sense Plus-Elite: Low voltage separate control. Touch pad &WiFi (home network only)
Sense Combi-Pure: Separate steaming reservior.
Low voltage separate control with light diodes.
Sense Combi-Elite: Separate steaming reservoir. Low voltage separate control.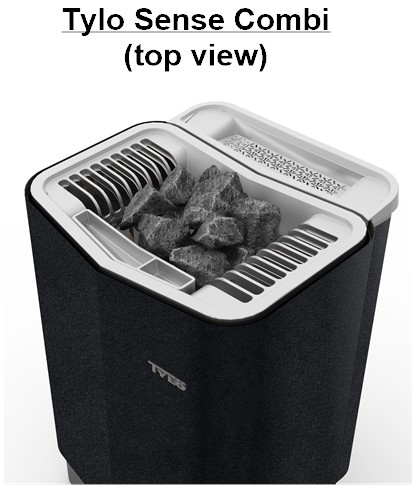 Touch pad &WiFi (home network only)

The heart of every sauna is the sauna heater.
Tylö sauna heaters are widely renowned and greatly respected for their high quality and distinct features - but not everyone knows all the reasons for this. That's why we'd like to take this opportunity to point out some of the most important benefits of the Tylö design and explain what this means for you. Read on to find out why the hottest range of sauna heaters on the market knocks all the others cold.
Safe to touch.
"Thermosafe" velvety covering ensures a low surface temperature - just 40°C on the front and sides of the heater.
Quickest heat-up time.
Twin side chambers maximize the through-flow of air, minimize heat-up time and economize on running costs.
No other sauna heater uses less energy.
The lowest energy consumption.
Test after test confirms that Tylö is the most energy-efficient sauna heater.
The most even bathing temperature.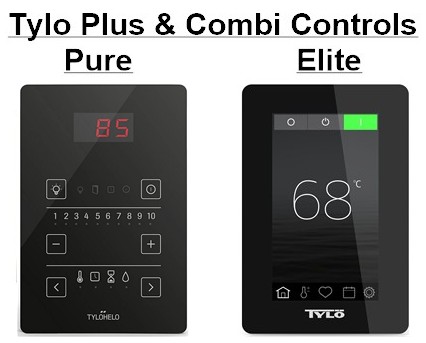 A divided output is the secret behind the constant bathing temperature and lower energy consumption of a Tylö heater. Divided output means the heaters elements cycle in stages. Other heaters go on/off, on/off, etc. causing a temperature swing. Tylo heaters maintain an overall higher and more consistent temperature.
The finest material quality.
Only Tylö has a solid-cast top, inner casing and stainless steel stone compartment.
The best heating elements.
Tylö is the only sauna manufacturer to produce its own heating elements - the very heart of every heater. High quality here is crucial for a long service life, and Tylö elements are widely regarded as unsurpassed.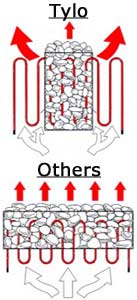 Optimum water sprinkling.
A deep generously proportioned stone compartment, and direct contact between the stones and the heating elements ensure perfect water sprinkling with 100% vaporization.
The right quantity of stones.
Tylö makes sure that the quantity of stones is perfectly matched to the output. Too many stones prolong heating-up times, leading to higher energy consumption and poorer steam generating performance. Tylö heaters are also the only ones on the market that can be used with or without stones.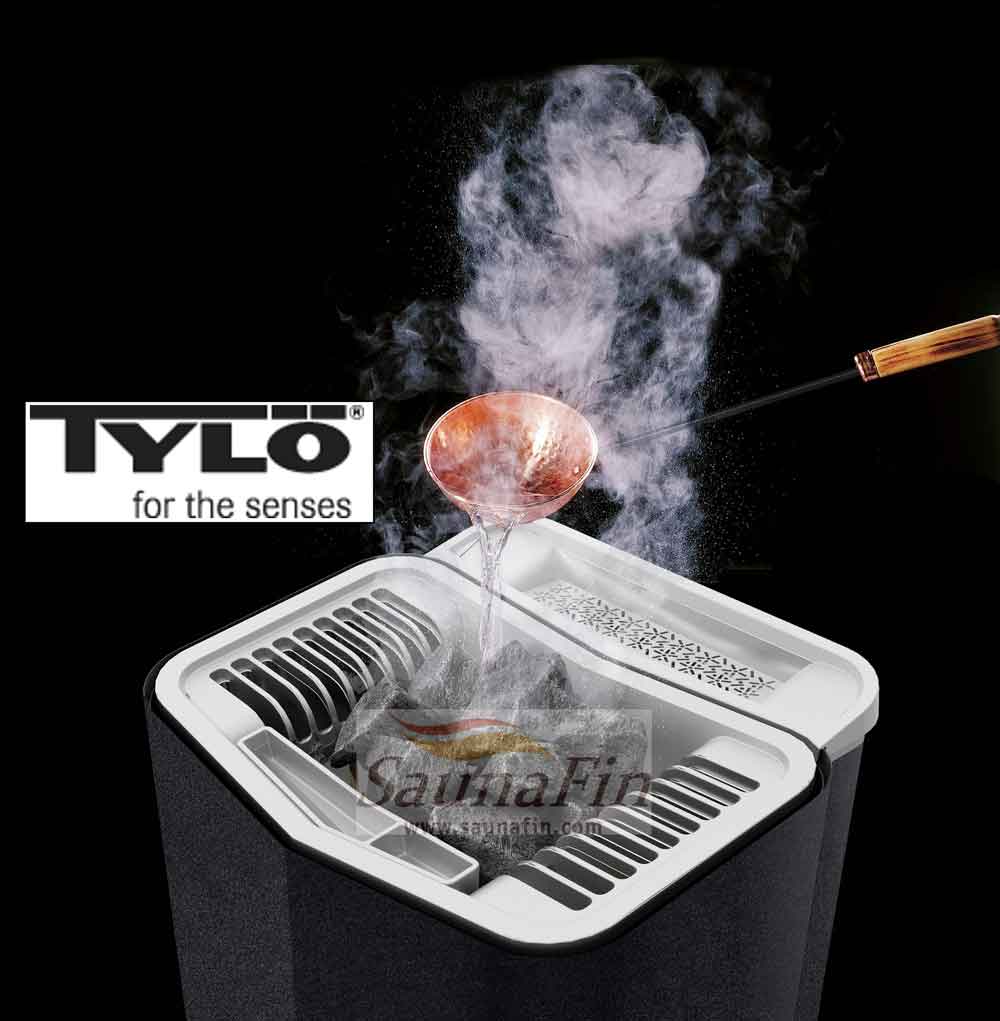 Built-in humidifier.
This unique Tylö feature further enhances your sauna bathing experiences.
Superior performance.
With a Tylö heater, you can enjoy a pleasant sauna, wet or dry, at whatever temperature you choose from 40-90°C (104-194°F).
Best in the test.
Time and time again Tylö has scored top marks in Finnish sauna tests. Tylö was first awarded the coveted 'Best in Test' accolade in competition with seven Finnish heaters in 1982. A test published in a Finnish magazine (Kuluttaja no. 5, 1995) confirmed that Tylö also has the quickest heating-up time and lowest energy consumption. A SEMKO test in April 1999 confirmed this result and also proved that the steam generating performance of Tylö heaters was unrivaled.

(for saunas up to 450 cubic feet)
(4kW to 9kW) (Exterior Controls)
CW Wall Hung - Wall or Corner mounted
Stainless Steel (304) shell and inner baffles
CWM:

100% Stainless Steal.

CW-XR:

100% Stainless Steal.
Deep Rock Compartment
Extended Warranty
Warranty
| | |
| --- | --- |
| CWS/CWM: | Residential Warranty: 5 years. |
| Commercial Warranty: | 1 year |
| CW-XR: Residential Warranty: | Lifetime. |
| Commercial Warranty: | 3 year |




(for saunas over 450 cubic feet)


(12kW to 18kW)
FM Floor Standing (Exterior Controls)
Stainless Steel (304) shell and inner baffles
FM:

100% Stainless Steal.

FM-XR:

100% Stainless Steal.
Deep Rock Compartment
Extended Warranty
Warranty
| | |
| --- | --- |
| CWS/CWM: | Residential Warranty: 5 years. |
| Commercial Warranty: | 1 year |
| CW-XR: Residential Warranty: | Lifetime. |
| Commercial Warranty: | 3 year |
XR Model Heaters - Deep Rock Basket
CW-XR and FM-XR have deep mesh rock basket
Vertical column of rocks and better vaporization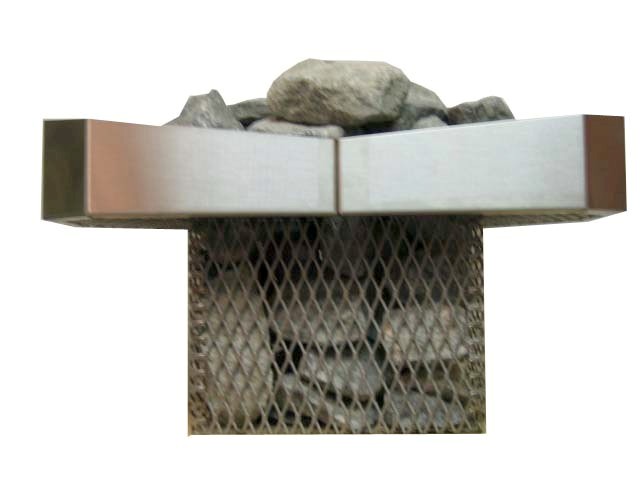 Mikka Wood Burning Sauna Heaters
Made in Canada
Heavy gauge steel plate construction
Large rock capacity
Deep (20") fire chamber
Heavy duty cast iron grate
Fabricated using laser cutting & CNC tooling for a professional finish
Ash tray for easy ash removal
Burns hot leaving little ash
Ash drawer adjustable to control draft (and temperature)
6" round flue outlet. Easily fits standard 6" stove pipe
All models can be installed flush to non-combustible wall for outside feeding
Effective water heating on models with water tank

Mikka 2 /20

Mikka 6 / 60 (with water tank)

For outside feed, Mikka sauna is placed tight to brick opening. Opening should be approx. 14" wide by 19" high. This is preferred to a "long neck" wood burner where you are expected to brick around the neck.

It is much easier to prepare the opening in advance. You do not have to set the stove in place and build around it.
Brick is easier to access and repair should the need arise.
Mikka provides a better "seal" between heater and outside. The long neck and collar make it difficult to brick up tight, so you tend to get more gaps.
It is easier and safer to load the Mikka stove. The wider brick open provides good access. And the fire box is closer to you so you do not have to reach inside to load firewood.

Note: Instead of brick, some use metal stud & cement board for a non-combustible surface.