Building a Sauna from scratch?
GET A CUSTOMIZED MATERIAL KIT QUOTE?
Call Us Today!
1-800-387-7029
or local: 905-738-4017
We accept:

ELITE STEAM
Great entry level Steam generator with temperature control.
Waterproof control mounts inside steam shower
All you need to get is a suitably sized steamer and the standard control.
Elite Steam is American made to the highest quality control standards.
Purchase with confidence.
UL & CUL approved for Cananada and USA
Excellant Warranty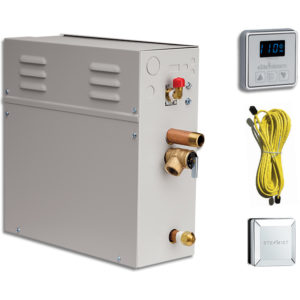 Elite Steam Sizing & Prices
---
Elite Steam Generator
Chrome Elite control is included.
Polished Nickel-PN or Brushed Nickel-BN - add $30.00
Starting at: $1800.00
ELITE STEAM
Elite Steam Sizing & Prices
KW Rating
Price with Chrome Control
* Max. Cu.Ft. Range
Volts/
Phase
Min. Wire Size
Max. Fuse Size
Model Dimensions L"xW"xH"
5
Call
100
240/1
10
30
15 x 6 x 15.5
7.5

$2100

250
240/1
8
40
15 x 6 x 15.5
10
$2350
450
240/1
8
50
15" x 6" x 15.5"
12
$3300
550
240/1
6
60
17.75 x 7.5 x 15.5"
15
$2870
675
240/1
4
80
17.75 x 7.5 x 15.5"
(Our SMP pricing is very competitive. As Per our agreement with Steamist, we cannot display our SMP prices.)
Please call or submit email request.
* Maximum cubic foot range is based on adjusted area after factoring in things like wall material height,etc.
Standard residential voltage for North America is 240 volt, single (1) phase.
Sizing Your Steam Generator
Steam sizing is more than just cubic area. You must factor in things like wall finish (tile vs. stone), exterior walls and height to arrive at the correct "Adjusted Cubic Area".

To "size" the right generator, we start by asking for some basic information about the space you'll be using for your steam shower.
Length x Width x Height (in feet) of the steam enclosure to determine cubic footage.
For optimum performance, ceiling height should not exceed 8'. The maximum recommended ceiling height is 10'.
a. L x W x H = _______
"Adjusted Cubic Area" is determined by a number of factors.
b. Wall material:
Tile: ceramic / porcelain / glass / glass block. Add 35% _______
Natural stone: Add 100% ______
c. Number of Exterior walls:
one wall: add 10% _____
two walls add 20% _____
d. Height: no additional factor for 8' or less:
9' height: add 15% _____
10' height: add 30% _____
Adjusted Cubic Area = a + b + c + d
(If there window or skylight, select next larger steamer)
Example 1: 5' x '5 x 8'. Porcelain tile, one exterior wall
5x5x8=200'. Tile +70', exterior wall +20' = 290' = 7.5 kW steamer
Example 1: 4' x '5 x 9'.
Marble 4x5x9=200'. Stone +200', 9' height +30' = 430' = 10 kW steamer