Home Sauna & Steam Showers in Vaughan
Add a little luxury to your home with customizable home saunas in Vaughan from SaunaFin, Canada's leading sauna kit and home sauna supplier.
Whether you're looking for a simple way to relax your mind or rehydrate your skin, you can find the perfect sauna solutions for your Vaughan home. Browse our range of sauna kits, sauna wood stoves, barrel saunas, Dundalk saunas, and prefab saunas. Or contact our team for guidance, so you can bring home a little luxury with a sauna you love.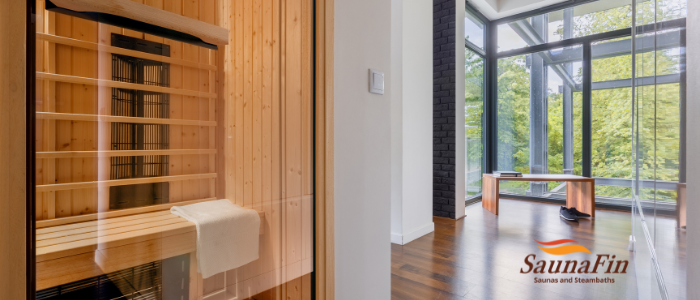 Benefits of Steam Therapy & Saunas in Vaughan?
From work to family and responsibilities, saunas are a simple and easy way to relax your mind and restore your body, escaping the daily stressors of everyday life. There are many reported benefits of sauna steam therapy, including physiological relief, medical improvement and mood enhancement.
Finding the Perfect Home Sauna in Vaughan
At SaunaFin, you'll find a range of sauna kits and prefab saunas that can be installed indoors or outdoors, including barrel saunas and Dundalk saunas. You can also shop for sauna wood stoves, heaters, accessories, and sauna steam generators for showers.
Sauna Kits: Our customizable sauna kits in Vaughan come with all the materials you need to construct the inside of your very own sauna. Choose from Clear Canadian Western Red Cedar, or Clear Canadian Hemlock for a beautiful interior. The cost-effective option delivers a luxe and can be designed in virtually any shape or size for installation inside or outside your home in less than one day.
Prefab Sauna: The prefab sauna allows quick installation of your dream indoor sauna. Designed for easy assembly, the self-supporting walls need no framing, insulation, or specialized tools. Not looking to upgrade your entire house, the addition of a prefab sauna will give you the functionality you want in just a few hours.
Barrel Sauna: Searching for a sauna that offers a classic look and long-lasting performance? The barrel sauna is simple, minimalist, and perfect for outdoor installations. The thick wooden walls made with Canadian materials offer inherent insulating capabilities for a pleasant sauna experience for all bathers.
Dundalk Sauna: For modern homes, there's the Dundalk Sauna. The geometric design and contemporary glass door fit seamlessly into indoor or outdoor applications for a stylish finish and maximum convenience. Made with high-quality Western Red Cedar, the Dundalk Pure Cube sauna is durable, long-lasting, and alluring.
Sauna Accessories & Steam Showers
Sauna bathing is about more than just the sauna itself. You can enhance your home sauna in Vaughan with sauna accessories and steam generators at SaunaFin. Whether you need practical tools like thermometers and hygrometers or you want to upgrade your sauna experience with aromatherapy. SaunaFin has all your home sauna needs covered.
Why Choose SaunaFin for Your Home Sauna in Vaughan
Custom Options: We have a selection of home saunas with custom design and installation options, so you can bring home a sauna kit or prefab sauna that's right for your space and your needs.
High-Quality Materials: At SaunaFin, you can expect the best and ensure a top-of-the-line sauna experience. All of our saunas are equipped with premium wood and materials for longevity and durability.
Trusted Sauna Supplier: SaunaFin is a trusted supplier of home saunas in Vaughan and North America. We are BBB accredited with decades of experience, prioritizing quality and integrity in everything we do.
Call us today to find your perfect Sauna in Vaughan.