Pre Fab Sauna Standard Heaters

Standard Sauna Craft Features:
Precisely engineered baffled shell construction provides enhanced air flow for quicker heat-up time, cost saving efficiency
Can be mounted on a straight wall OR in a corner
Rugged construction for years of safe, low cost, efficient sauna enjoyment
Highest quality, low watt density heating elements
Built-in high temperature safety cut-off
Tested and approved for use in Canada and U.S.A.
Volcanic "sauna" rocks provided with all heaters

CTT-S Model
Stainless Steel (304) shell and inner baffles with black high heat,baked enamel frame and rock tray
Corner or wall mounted
Residential Warranty: 3 years
Commercial Warranty: 1 year

Standard Tylo Features:
Incorporates all the standard Tylö sauna features, including:
Built-in humidifiers
Deep stainless steel rock compartment
Triple-mantled construction
Thermosafe, velvet-smooth (cool-touch) covering
Sauna rocks are included

TYLÖ SPORT (Standard for pre-fab saunas over 6' x 8')
TYLÖ SPORT has a front-mounted control panel at the base of the heater. However you design your sauna, the control is easily visible and accessible.
The integral control panel has a 60-minute timer and thermostat, with dials for setting time and temperature, and a pilot lamp to show when the unit is switched on.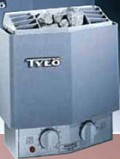 SPORT

CTT-S Model