Building a Sauna from scratch?
GET A CUSTOMIZED MATERIAL KIT QUOTE?
Call Us Today!
1-800-387-7029
or local: 905-738-4017
We accept:

Steam Baths & Steam Showers
Imagine the luxury of a spa-like steam shower or bath, right in your very own home. With SaunaFin's selection of steam bath and steam shower generators, at-home steam therapy is right at your fingertips! Combine with one of SaunaFin's high-quality indoor sauna kits to create the ultimate home spa.
Having sold Steamist for over 25 years, SaunaFin is Steamist's largest distributor in Canada.
If you just want steam. No bells. No Whistles. ES Easy Steam is the perfect choice.
If you want any upgrades like different control, aroma infusion, Wi-Fi, then you need to upgrade to the SMP or TSG model.
Steam Shower Generators
The steam shower generator is an important component of the home steam shower or steam bath experience, as these generators produce the steam needed to fill your home shower.
There are a variety of steam shower generators available at Saunafin, from the ES Easy Steam to the Steamist SMP series. Our focus is on providing you with steam shower generators that are efficient, easy to use, and integrate seamlessly into your home shower. We also offer a variety of steam generators that are eco-friendly and cost-efficient.
To customize your experience further, we offer a variety of steam shower accessories to enhance your bath experience. With a little time, you can turn your home shower into a custom sauna bath experience. Learn more about our Steam Shower Generators here.
---
ES Easy Steam
(steambath & steam shower generators)
If you just want steam. No bells. No Whistles. ES is the perfect choice. ES Steam provides an affordable quality steam shower and great prices. ES Steam is manufactuered by Steamist for those looking for a quality, reliable steamer without all the extras like music and WiFi. EliteSteam generators are American-made, and backed by an ten-year warranty (one year on control).
Steamist SMP
Total Sense Series
(steambath & steam shower generators)
The SMP model comes with a comprehesive array of options and upgrades.
The American made SMP has an industry leading warranty: Two years labour. Parts: Lifetime for steamer; two years for controls and accessories.

SMP vs. ES:
Wider variety of controls and colours
Compatible with Total Sense Spa featuers such as AromaSense, ChromaSense and AudioSense (requires upgrade to TSC 550 control)
Total Sense Options:
AromaSense - for lush, aromatheraphy-infused directly in to the steam as it enters the shower
ChromaSense -LED light with multiple colours to provide chromatherapy
AudioSense - Bluetooth-enabled sound system with in-shower controls. can also sync directly to your Spotify®, Pandora® or iHeart® Music account.
Offer with traditional surface mounted or in-the-wall invisble speakers.
ShowerSense - lets you use your steam control to control up to three showerheads (includes shower balance valve. Shower heads not included)
ES vs. SMP vs. TSG

Sizing Your Steam Generator

Steam Controls

ChromaSense

AromaSense

AudioSense

ShowerSense

Model No.

KW Rating

* Max. Cu.Ft. Range

Model Dimensions L"xW"xH"

SMP
5
100
15 x 6 x 15.5
ES
SMP/TSG
7.5
250
15 x 6 x 15.5
ES
SMP/TSG
10
450
15" x 6" x 15.5"
ES
SMP/TSG
12
550
17.75 x 7.5 x 15.5"
ES
SMP/TSG
15
675
17.75 x 7.5 x 15.5"
ELITE
SMP/TSG
20
900
19 x 11.5" x 17"
ELITE
SMP/TSG
24
1100
19 x 11.5" x 17"
ELITE
SMP/TSG
15
675
19 x 11.5" x 17"

* Maximum cubic foot range is based on adjusted area after factoring in things like wall material height,etc.
Standard residential voltage for North America is 240 volt, single (1) phase.
208 volt, single (1) phase and 3 phase models also available.

Sizing Your Steam Generator
Steam sizing is more than just cubic area. You must factor in things like wall finish (tile vs. stone), exterior walls and height to arrive at the correct "Adjusted Cubic Area".

To "size" the right generator, we start by asking for some basic information about the space you'll be using for your steam shower.
Length x Width x Height (in feet) of the steam enclosure to determine cubic footage.
For optimum performance, ceiling height should not exceed 8'. The maximum recommended ceiling height is 10'.
a. L x W x H = _______
"Adjusted Cubic Area" is determined by a number of factors.
b. Wall material:
Tile: ceramic / porcelain / glass / glass block. Add 35% _______
Natural stone: Add 100% ______
c. Number of Exterior walls:
one wall: add 10% _____
two walls add 20% _____
d. Height: no additional factor for 8' or less:
9' height: add 15% _____
10' height: add 30% _____
Adjusted Cubic Area = a + b + c + d
(If there window or skylight, select next larger steamer)
Example 1: 5' x '5 x 8'. Porcelain tile, one exterior wall
5x5x8=200'. Tile +70', exterior wall +20' = 290' = SMP-7, 7.5 kW steamer
Example 1: 4' x '5 x 9'.
Marble 4x5x9=200'. Stone +200', 9' height +30' = 430' = SMP-10, 10 kW steamer

ES Steamer (Elite)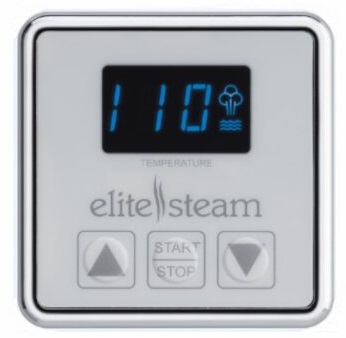 ES Steam control: EC-150 Series Standard Control
On/Off bottom, temperature control
(Size: 2-3/4" x 2-3/4")

SMP and TSG Steam Generators:


TSC250 Series Control
Programmable for two user profiles with individual temperature/duration preferences.
Will not operate Total Sense Spa Options.
Many color options
(Size: 3-3/4" x 3-3/4")

TSC550 Series Control
TSC 550 is a touch-screen, WiFi control.
Available in m,odern and transitional styles.
Many color options.
TSC 550 required if you plan to add any of the TSC Spa Options (ChromaSense, AromaSense, AudioSense or ShowerSense).
TSC550 can be ordered without Spa options if you simply like the modern look better.
(Size: 3-5/8" x 5-3/4")
Chromatherapy at Home
Let color enrich your steam experience
ChromaSense can turn you on to a spectrum of six steam shower lighting effects to bring about positive physical or psychological change. Compatible with the 550 Digital Steam Control.
ChromaSense Spa Option Control Module: Product Code TSCH.
Supplied with Light Fixture with Polished Chrome Trim Ring. Designer Finish Trim Rings also available.
Six color effects
With one shower light fixture, ChromaSense gives you the choice of selecting white light or six color effects in the steam shower.
| | | |
| --- | --- | --- |
| Soulful | Bliss | Relax |
| Creative | Energize | Harmony |
AROMASENSE: HEAL WITH AROMATHERAPY
Add scents of well-being to your steam shower
For centuries, aromatherapy has demonstrated remarkable therapeutic powers, from relaxing body and spirit to soothing respiration to sparking creativity. And only Steamist's AromaSense adds 100% undiluted essential oils to the steam shower, ensuring your pure pleasure. Compatible with the 550 or 450 Digital Steam Control.
AromaSense Spa Option Control Module: Product Code TSA
Pure essential oils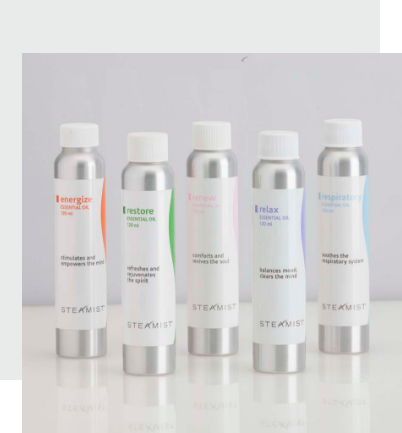 Only Steamist's AromaSense has a precision pump system that stores two different, easily replaceable essential oil canisters. allowing you to make your "aroma steam" selection without ever leaving your steam room. And only AromaSense uses pure undiluted oils, using just 1/4 of a drop at a time, so each canister will last for months. Five essential oils are available in 100 ml canisters (sold separately).
Two essential oil canisters should be purchased for installation with the AromaSense module.
AUDIOSENSE: EXPERIENCE SOUND AND STEAM
With AudioSense you can enjoy your favorite music in the steam shower from your computer, smartphone, iPod tablet or any other Bluetooth-enabled music player. Compatible with the 550 or 450 Digital Control. 550 Digital Controls links directly to Pandora®, Spotify® or iHeart® music streaming services. Speakers sold separately.
SPEAKER OPTIONS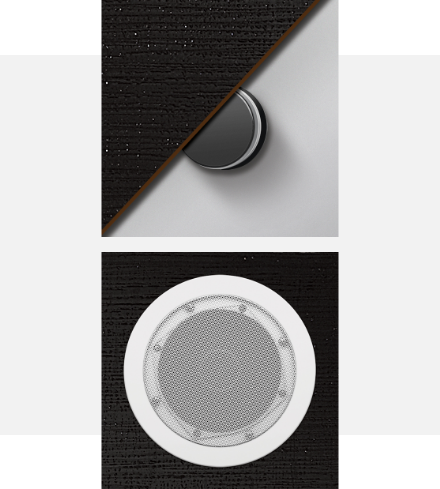 Two "Invisible" Speakers
Mount out of sight and transmit sound through the wall.
3" diameter. Product Code TSS-IN
Two "Classic" Exposed Speakers
Surface mount.
5.25: diameter, 8" outside diameter. Product Code TSS-CL
ShowerSense:
The Cleaner Choice
Cluttered Conventional Shower
A standard showerhead, handheld shower and body sprays require multiple controls and a cluttered, crowded enclosure.
Uncluttered ShowerSense System
With ShowerSense, one control covers all steam and shower functions, for a beautiful shower retreat without multiple shower controls.
Our Digital Shower System allows you to enjoy the benefits of ShowerSense without installing a steam generator and steamhead.
Ultimate Shower Options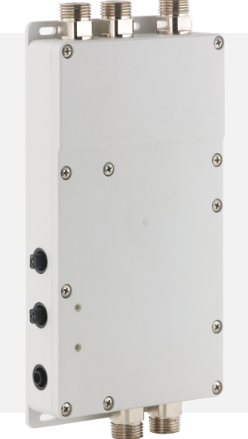 ShowerSense lets you enjoy the steam experience, plus your choice of three luxury shower options. The 550 Digital Control lets you select either of two different shower temperatures, and gives you total touchscreen command over all steam and shower functions, without the clutter of multiple shower controls. The ShowerSense Valve is easy to install in any position behind the wall, and is both temperature compensating and pressure-balanced to optimize user comfort.
ShowerSense Spa Option Valve: Product Code TSSH