Building a Sauna from scratch?
GET A CUSTOMIZED MATERIAL KIT QUOTE?
Call Us Today!
1-800-387-7029
or local: 905-738-4017
We accept: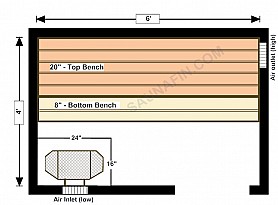 4x6 Prime-C
---
LK-Prime-C includes clear cedar for lining walls and ceilings. Wall lining has a staggered, offset seam.
Essentially, every wall uses one 2' piece and one longer.
For example, a 5' x 7' sauna will have 2'&3" for side walls and 2' & 5' for back wall.
LK Prime packages come with 1x4 clear cedar bench tops and 2x2 supports as required (optional wx4 benches).
LK Prime includes the Saaku sauna heater with built in thermostat and timer.
Sauna Craft and tylo heaters with separate controls are available as upgrades.
All our Clear cedar sauna kits come complete. And you have the option to upgrade and customize to suit your layout and preferences.
You can add L-benches, change door style, add floor board, backrests, skirts (where applicable),
upgrade heater and choose from a large selection of sauna accessories.
---
starting at:
$4495.00
customize
Customize your 4x6 Prime-C
Heaters
Sauna Benches & Layouts
2 x 4 Bench Tops
Cedar Direction on Ceiling
Doors
Designer Features
Sauna Accessories
Lighting Options
LK Prime Kits Include:
Lining:

1 x 4 (11/16") tongue & groove (T&G), "KNOTTY" STK (Select Tight Knot) Western red cedar for walls and ceiling.


(Saunas up 8' are line horizontally and have no seams. Saunas over 8' line vertically and may require seams.)
Benches:

1X4 Clear Cedar bench tops. Benches are supported by wall cleats and 2x2 legs.
2x4 bench tops are optional.

Door:

Standard: Frameless door Rough Opening: 27-1/2" x 76-1/2"
Optional: Cedar framed door style Rough Opening 26" x 76-1/2"

All KITS INCLUDE:
Vapour Barrier:

Foil vapour barrier. Adds insulation value because of heat reflective qualities.

Lining:

Knotty
(Saunas up 8' are line horizontally and have no seams. Saunas over 8' line vertically and may require seams.)

Heater:

Includes our Standard model Sauna Craft CWM Model Heater (sized according to room size).
Optional upgrade to any of our Sauna Craft or Tylo brand sauna heaters.

Control:

Built in thermostat & timer.

Light:

Vapour proof marine light fixture.

Heater Guard:

2 x 2 vertical posts with 1 x 3 rails.

Trim:

5/8 x 5/8 Cedar Corner molding for walls and ceiling.

Casing:

1x3 cedar casing for door interior. (Optional additional casing for exterior of door.)

Vent:

Cedar slide vent for outlet.

Fasteners:

Galvanized finishing nails for T&G lining.
Galvanized box nails and treated screws for benches.
---
Notes & Specifications:
Standard sauna height is 83½".
Kits up to 8' x 8' are lined horizontally (unless otherwise noted.)
Unless otherwise specified, the door is located somewhere on the long wall and cedar on the ceiling runs the shortest span.
Standard two tier benches on long, back wall opposite door. Bench depths: Top = 20"; Bottom = 16" (for saunas under 5' deep, bottom bench is 8".)
Note Re: material length:
Cedar lining materials come to you 1/4" below the foot.
For example: a 5' x 7' kit includes boards that are 593/4" and 833/4". You can "stretch" your framing 1", so 61" x 85" is OK. But any longer means you will be short. You either need to go to next size of sauna or strap the walls to reduce slightly.