Building a Sauna from scratch?
GET A CUSTOMIZED MATERIAL KIT QUOTE?
Call Us Today!
1-800-387-7029
or local: 905-738-4017
We accept: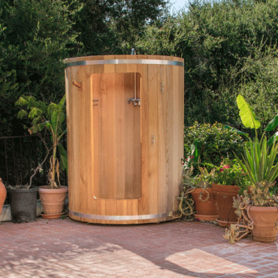 Rainbow Barrel Shower
---
This superb deluxe outdoor cedar barrel shower comes as a prefabricated kit that can be assembled in approximately 2 hours. Great to use after your sauna session or a swim in the lake, ocean or pool to wash away sand, salt or chlorine. The shower can be plumbed for hot and/or cold only. Enjoy showering outdoors where the birds are chirping, the sun is setting across the lake or ambient city sounds quietly surround you in the background!
Size: 60" Diameter
Height: 80"
---