Building a Sauna from scratch?
GET A CUSTOMIZED MATERIAL KIT QUOTE?
Call Us Today!
1-800-387-7029
or local: 905-738-4017
We accept: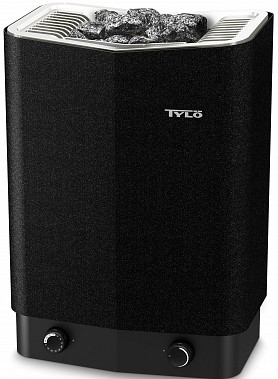 Sense Sport
---
TYLO Sense Sport has a front-mounted control panel.
The integral control panel has a 60-minute timer and thermostat, with dials for setting time and temperature, and a pilot lamp to show when the unit is switched on.
Incorporates all the standard Tylö sauna features, including:
Removable compartment for water and fragrant essences
Deep stainless steel rock compartment
Triple-mantled construction
Thermosafe, velvet-smooth (cool-touch) covering
---
starting at:
$1540.00
customize
Customize your Sense Sport
Heaters
Tylo Sense Sport

Freight - Heaters

Tylo Features

Tylo Specifications
Heater Freight Estimate

CANADA:
Most Heaters are picked up at our factory. Shipping will be about $50.00 to $100.00 depending on destination.

UNITED STATES
Freight will be confirmed before the the order is finalized.
The U.S. heater freight table below is an estimate based your part of the country.
For zones 1 through 5, freight is included for wall hung heaters. There is freight surcharge for zones 6-10
and Large Heaters.
Heater

Sauna Craft
(CM & CW-XR)

Saaku (CP)

Tylo
(Sport & Plus)

Tylo
(Combi)

FM & Pro (Floor Standing)

Zone 1

Freight Included

Freight
Extra

Zone 2

Zone 3

Zone 4

Zone 5

Zone 6

$50.00

Zone 7

$50.00

Zone 8

$75.00

Zone 9

$75.00

Zone 10

$75.00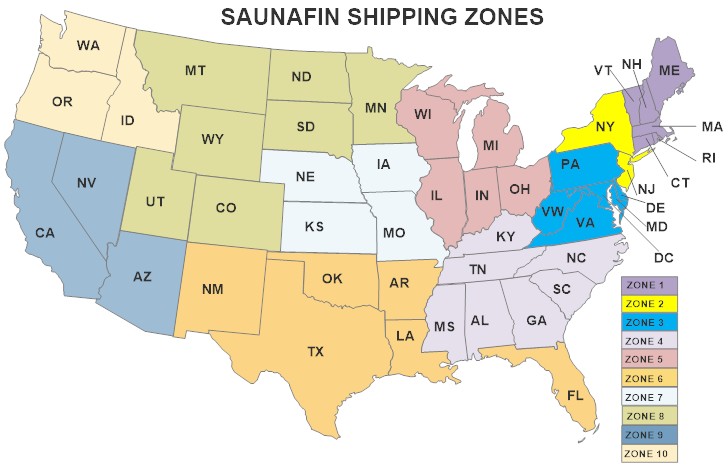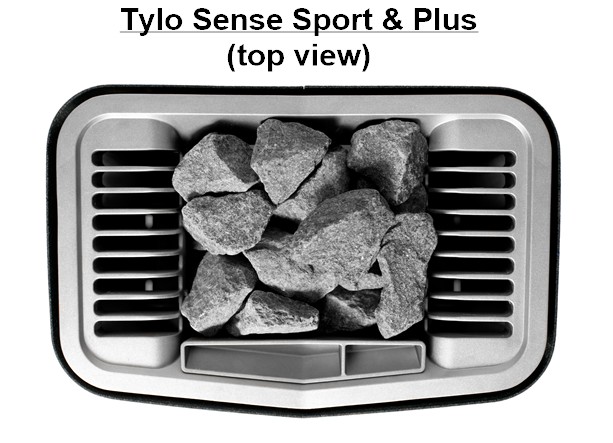 Tylo Sense models.
Sense Sport: Mechanical thermostat and Spring Timer at front bottom of heater.
Sense Plus-Pure: Low voltage separate control with light diodes.
Sense Plus-Elite: Low voltage separate control. Touch pad &WiFi (home network only)
Sense Combi-Pure: Separate steaming reservior.
Low voltage separate control with light diodes.
Sense Combi-Elite: Separate steaming reservoir. Low voltage separate control.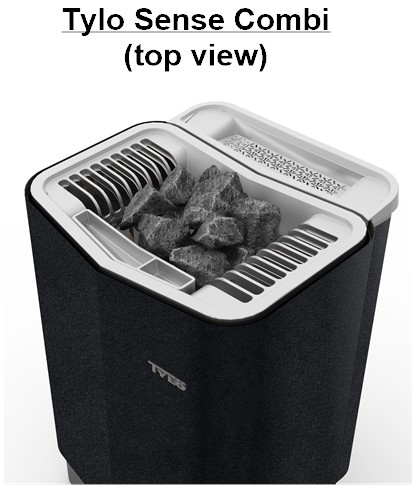 Touch pad &WiFi (home network only)

The heart of every sauna is the sauna heater.
Tylö sauna heaters are widely renowned and greatly respected for their high quality and distinct features - but not everyone knows all the reasons for this. That's why we'd like to take this opportunity to point out some of the most important benefits of the Tylö design and explain what this means for you. Read on to find out why the hottest range of sauna heaters on the market knocks all the others cold.
Safe to touch.
"Thermosafe" velvety covering ensures a low surface temperature - just 40°C on the front and sides of the heater.
Quickest heat-up time.
Twin side chambers maximize the through-flow of air, minimize heat-up time and economize on running costs.
No other sauna heater uses less energy.
The lowest energy consumption.
Test after test confirms that Tylö is the most energy-efficient sauna heater.
The most even bathing temperature.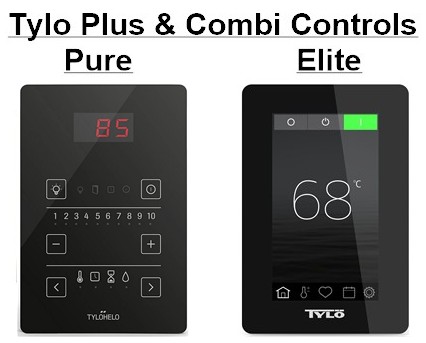 A divided output is the secret behind the constant bathing temperature and lower energy consumption of a Tylö heater. Divided output means the heaters elements cycle in stages. Other heaters go on/off, on/off, etc. causing a temperature swing. Tylo heaters maintain an overall higher and more consistent temperature.
The finest material quality.
Only Tylö has a solid-cast top, inner casing and stainless steel stone compartment.
The best heating elements.
Tylö is the only sauna manufacturer to produce its own heating elements - the very heart of every heater. High quality here is crucial for a long service life, and Tylö elements are widely regarded as unsurpassed.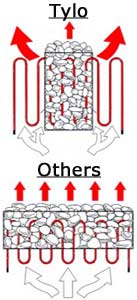 Optimum water sprinkling.
A deep generously proportioned stone compartment, and direct contact between the stones and the heating elements ensure perfect water sprinkling with 100% vaporization.
The right quantity of stones.
Tylö makes sure that the quantity of stones is perfectly matched to the output. Too many stones prolong heating-up times, leading to higher energy consumption and poorer steam generating performance. Tylö heaters are also the only ones on the market that can be used with or without stones.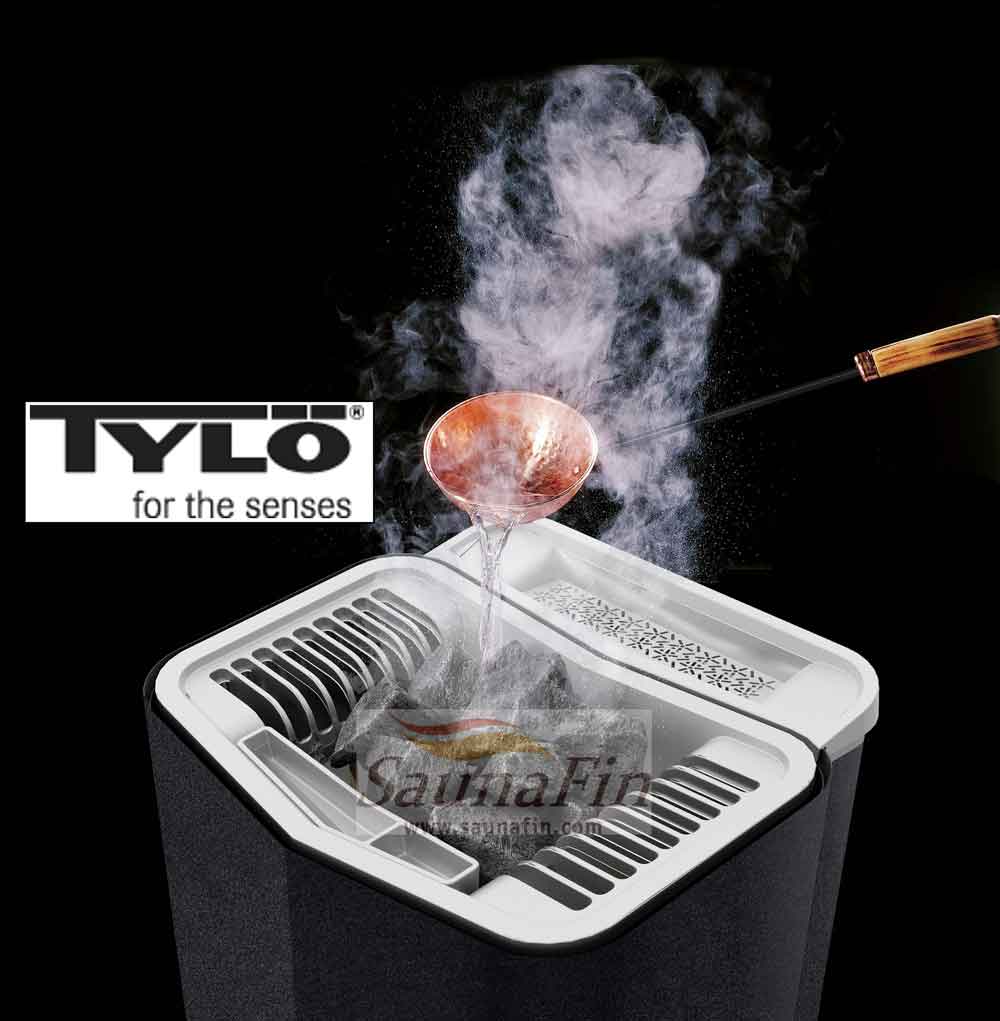 Built-in humidifier.
This unique Tylö feature further enhances your sauna bathing experiences.
Superior performance.
With a Tylö heater, you can enjoy a pleasant sauna, wet or dry, at whatever temperature you choose from 40-90°C (104-194°F).
Best in the test.
Time and time again Tylö has scored top marks in Finnish sauna tests. Tylö was first awarded the coveted 'Best in Test' accolade in competition with seven Finnish heaters in 1982. A test published in a Finnish magazine (Kuluttaja no. 5, 1995) confirmed that Tylö also has the quickest heating-up time and lowest energy consumption. A SEMKO test in April 1999 confirmed this result and also proved that the steam generating performance of Tylö heaters was unrivaled.