Dundalk Leisure Craft Saunas
Choose Modern Luxury With Dundalk Leisure Craft Saunas
When it comes to home saunas in Dundalk, look no further than Dundalk Leisure Craft Saunas. Your home sauna should reflect you and your family and fit seamlessly into your home or backyard. There are plenty of important considerations when choosing your custom home sauna. Here we have answered just a few of these common questions for prospective sauna owners.
Common Questions When Buying A Dundalk Leisure Craft Sauna:
How to Select the Right Size Sauna with the Right Wood Type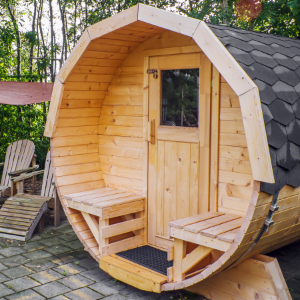 When browsing Dundalk Leisure Craft Saunas, keep in mind the number of people who regularly use the sauna. Even if you have a large family, it is unlikely that you will all use the sauna simultaneously. However, even if you plan on using the sauna alone, it is still a good idea to purchase a spacious sauna to facilitate steam dispersal. Thankfully, there are plenty of available sauna sizes to fit anywhere from 2-12 individuals. It's important to purchase the sauna that best suits your needs and budget.
All Dundalk Leisure Craft Saunas include premium Western red cedar for all parts. Cedar is the ideal type of wood for home saunas. It provides the traditional scent of a sauna and creates a sturdy final product that lasts through unpredictable Canadian weather.
Should you Select an Electric or Wood-Burning Heater for Your Sauna?
Both electric and wood-burning heaters are effective at heating indoor and outdoor saunas in Dundalk. Traditional Scandinavian saunas used wood-burning heaters to generate high internal heat. Many home saunas use wood-burning heaters to honour this tradition and bask in the scent of a wood-burning fire. On the other hand, many sauna owners choose an electric heater for convenience and modernity. You can even remotely operate some electric heaters, and they do not require a source of wood to function.
Do you Need a Porch or a Changeroom for the Sauna?
Although not necessary, a porch or changeroom can elevate the overall sauna experience. Porches or changerooms are especially great for outdoor saunas, where you might not want to trek in a towel from your home to the sauna.
Should You Upgrade to Signature or Lounge Sauna Interior?
There are plenty of choices for seating within the interior of your home sauna. By upgrading to Signature of Lounge Seating, you can invest in the luxurious atmosphere of your home sauna. Elevated seating is an excellent option for anyone looking to add an extra dose of comfort to their home sauna experience.
What Kind of Door? Glass, Small Window, or Solid Wood?
When you design your home sauna in Dundalk, you will have the option to select between glass, small window, or solid wood. The main difference is the amount of natural light that will enter your home sauna.
Dundalk Leisure Craft Saunas are the perfect option for anyone looking for a home sauna in Dundalk and beyond. To learn more about building a custom home sauna kit, contact SaunaFin at 905-738-4017.