Dundalk Leisure Craft Saunas
Choose Modern Luxury With Dundalk Leisure Craft Saunas
When it comes to home saunas in Dundalk, look no further than Dundalk Leisure Craft Saunas. Your home sauna should reflect you and your family and fit seamlessly into your home or backyard. There are plenty of important considerations when choosing your custom home sauna. Here we have answered just a few of these common questions for prospective sauna owners.
Common Questions When Buying A Dundalk Leisure Craft Sauna:
How to Select the Right Size Sauna with the Right Wood Type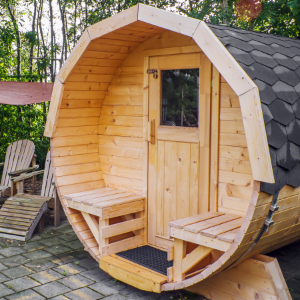 When browsing Dundalk Leisure Craft Saunas, keep in mind the number of people who regularly use the sauna. Even if you have a large family, it is unlikely that you will all use the sauna simultaneously. However, even if you plan on using the sauna alone, it is still a good idea to purchase a spacious sauna to facilitate steam dispersal. Thankfully, there are plenty of available sauna sizes to fit anywhere from 2-12 individuals. It's important to purchase the sauna that best suits your needs and budget.
All Dundalk Leisure Craft Saunas include premium Western red cedar for all parts. Cedar is the ideal type of wood for home saunas. It provides the traditional scent of a sauna and creates a sturdy final product that lasts through unpredictable Canadian weather.
Should you Select an Electric or Wood-Burning Heater for Your Sauna?
Both electric and wood-burning heaters are effective at heating indoor and outdoor saunas in Dundalk. Traditional Scandinavian saunas used wood-burning heaters to generate high internal heat. Many home saunas use wood-burning heaters to honour this tradition and bask in the scent of a wood-burning fire. On the other hand, many sauna owners choose an electric heater for convenience and modernity. You can even remotely operate some electric heaters, and they do not require a source of wood to function.
Do you Need a Porch or a Changeroom for the Sauna?
Although not necessary, a porch or changeroom can elevate the overall sauna experience. Porches or changerooms are especially great for outdoor saunas, where you might not want to trek in a towel from your home to the sauna.
Should You Upgrade to Signature or Lounge Sauna Interior?
There are plenty of choices for seating within the interior of your home sauna. By upgrading to Signature of Lounge Seating, you can invest in the luxurious atmosphere of your home sauna. Elevated seating is an excellent option for anyone looking to add an extra dose of comfort to their home sauna experience.
What Kind of Door? Glass, Small Window, or Solid Wood?
When you design your home sauna in Dundalk, you will have the option to select between glass, small window, or solid wood. The main difference is the amount of natural light that will enter your home sauna.
New Dundalk Leisure Craft Sauna Products 2021
We constantly upgrade our Dundalk Leisure Craft saunas to ensure we provide the most up-to-date designs and technologies to prospective sauna buyers. In 2021, we added several new Dundalk saunas to our ever-growing inventory of home sauna models. The Outdoor CU570 and Outdoor CU580D incorporate recent trends in style to create a one-of-a-kind product perfect for any home or cottage backyard. Are you interested in purchasing a new home sauna? Check out our summary of the latest Dundalk Leisure Craft saunas.
Outdoor CU570
The stunning Pure Cube CU570 outdoor sauna model is an exciting addition to the Dundalk saunas line-up. The ultra-modern design features a full glass door that provides plenty of natural light for sauna users. Large window panels also flank the doorway to provide additional views of your home or cottage backyard. With the option to add a fixed cedar grill on the outside of your windows, you can also offer a degree of privacy for bathers without compromising on natural light. Semi-privacy is a popular choice, especially for home backyards, where you may situate your new sauna poolside.
At SaunaFin, we ship our Pure Cube CU570 outdoor sauna as a pre-assembled sauna material kit. Inside your kit, you will find assembled wall and roof panels as well as pre-built benches. All the kit materials are made with premium Western red cedar for a durable final product with the traditional aroma of a Scandinavian sauna. Several sizes of cube sauna are available to allow you to seat three or more adults comfortably. Your kit will also include the option for an electric or wood-burning heater, depending on your personal preferences.
Outdoor CU580D
If you are looking for a home sauna that is a step above the Pure Cube CU570, look no further than the CU580D model. The CU580D outdoor Pure Cube DUAL model from Dundalk saunas incorporates the latest design trends with a functional home sauna that includes an outdoor shower. A full glass door, double-pane glass windows, and semi-privacy cedar panel options help you create the perfect oasis steps from your home or cottage. You can participate in traditional sauna culture with the built-in outdoor shower, interspersing sauna sessions with a cool shower.
Available as a pre-assembled sauna material kit, the CU580D sauna includes tiered seating and the option for an electric or wood-burning heater. This cube sauna is a no-brainer for home and cottage backyards with seating to comfortably fit three or more adults. The outdoor shower is a valuable addition for anyone with a pool or lake in their backyard, allowing bathers to shower in between sauna sessions or after swimming. Your Pure Cube sauna will be the gift that keeps on giving to the entire family all year long.
2020 Favourites
If you are not sure where to begin when it comes to selecting a home sauna model, why not consider some of our most popular designs? The Canadian Timber Collection from Dundalk Leisure Craft includes a range of stunning home saunas to compliment any backyard. From traditional Scandinavian barrel saunas to ultra-modern Luna saunas, we build all Dundalk saunas with Eastern White Cedar for a gorgeous final product that can make it through any Canadian weather.
The Canadian Timber Collection
Timber Harmony
Handcrafted with Eastern White Cedar, the Timber Harmony CTC22W model features a light-coloured wood with tight knots for a unique aesthetic. Sold as a ready-to-assemble kit, even first-time DIYers can assemble their brand-new home sauna in as little as one day! The traditional barrel design makes it easy to heat the interior rapidly and provides a unique addition to any home or cottage backyard.
Timber Serenity
The Timber Serenity CTC2245W model is a step above the Harmony barrel sauna. With additional outdoor bench seating and a slightly larger design, this is a great option for families and anyone looking to entertain. Constructed with Eastern White Cedar, you will find the barrel design easily heats in no time. When designing your pre-assembled sauna material kit, you can choose either an electric or wood-burning heater. The final product is a stunning Scandinavian barrel sauna with plenty of indoor and outdoor seating for the whole family.
Timber Luna
The Canadian Timber Luna CTC22LU sauna features an ultra-modern design of a cube with gently curved corners. The cube-like design provides additional headspace for any tall bathers and allows for accessible seating with two-tiered benches. The Timber Luna Sauna kit includes all parts made with Eastern White Cedar for a durable, long-lasting final product. Two windows, one in the door and one in the front of the sauna, allow plenty of natural light to enter the sauna for bathers. SaunaFin sells fully customizable Dundalk Leisure Craft saunas that include your heater of choice: electric or wood-burning.
Dundalk Leisure Craft Saunas are the perfect option for anyone looking for a home sauna in Dundalk and beyond. To learn more about building a custom home sauna kit, contact SaunaFin at 905-738-4017.