Pros and Cons of a Steamist Steam Shower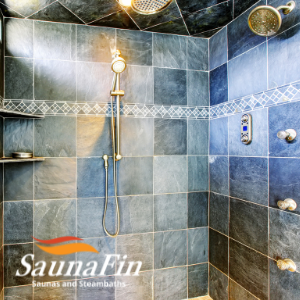 Steam showers in Canada are in popular demand. In 2021, a standard new feature seen in custom home builds is the addition of a Steamist steam shower in the master bedroom. Not only do steam showers function like a regular shower, but they also include a steam generator. Many Canadians see the benefits of adding a steam shower into their custom home to bring a spa relaxation component to the house. If you are thinking of purchasing a Steamist steam shower, read our blog to find the pros and cons.
Imagine relaxing after a long hard day of work in your very own spa oasis. Get in touch with our experts at SaunaFin to find out more about steam showers in Canada.
Pros of a Steam Shower
Great for Healing
Steam showers provide a moist heat that relieves sore muscles and general aches and pains. Those with arthritis or sports injuries might use a steam shower to find tremendous relief from afflictions. Relaxation and rejuvenation are important when talking about the benefits of healing and steam showers. Those suffering from respiratory ailments such as bronchitis, allergies, and asthma can find nightly steam showers beneficial for clearing breathing passageways.
At-Home Spa
Steam showers provide the user with regulated and continued clouds of moist, hot steam. You control the temperature. Relax and unwind in your very own warm oasis. This is especially enjoyable during the harsh cold Canadian winters. Going to a spa can add up quickly, so it is more convenient and budget-conscious to get a Steamist steam shower if you're someone who frequents this.
Space Conscious
Instead of a bathtub, consider getting a Steamist steam shower. If you only use your bathtub a handful of times a year, you might be better off with a steam shower. When relaxing and unwinding, most people find a soak in the tub comparable to a steam shower.
Cons of a Steam Shower
Frequency of Use
While the idea of a steam shower is lovely, be realistic; will you use it regularly enough? If you regularly use the sauna or steam bath at the gym and know what you like about the steam shower, you might be better prepared to purchase a steam shower. If you have not used a steam shower before, it is best to visit spas and gyms to acclimatize to a steam shower. You don't want to add a wasted expense to your home.
Additional Planning
If you are in the market for a steam shower, you will want to plan it reasonably early in your design phase. There is a lot of space, electrical, plumbing, and other trade work involved. Without adequate ventilation, you can acquire quite a lot of moisture. This can lead to mold, leaks, structural rot, and more disaster in your home. A regular bathroom fan is not strong enough to ventilate the area, so ensure you plan.
In summary, there are both pros and cons to steam shower ownership. It really comes down to whether you have the space and whether you'll use your steam shower often. Given the blissful nature of steam showers, you might want to consider adding one to your home. Reach out to our SaunaFin today to find out more about steam showers in Canada.