Guide to Different Types of Sauna Heaters
Posted on 31 October 2022
As the colder weather approaches, having a warm and calming retreat you can call your own makes the cold weather much more bearable. With high-quality heaters from SaunaFin, you can officially have a place to warm up on freezing cold days. When purchasing a home sauna, there are many factors to consider before making the purchase. From backrests to light shades, many accessories can amplify your sauna experience, with one of the most important being the type of sauna heater you want to install.
Need help deciding which heater is best for your sauna? Continue reading to learn more about the different heaters available at SaunaFin.
Different Types of Sauna Heaters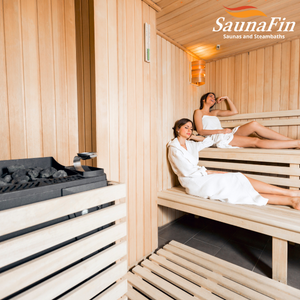 The heart of every sauna is the heater, and when deciding between various sauna heaters, it can be challenging to know which one is the best size, offers the most energy consumption, and is the best quality. Sauna heaters provide evenly distributed heat, raise the temperature faster, and provide lower operating costs, making it necessary for optimal sauna usage.
Tylo
SaunaFin offers Tylo heaters that provide extraordinary benefits for your home sauna, including having even temperatures, top-quality materials, superior heating elements, and optimum water sprkinling. Tylo sauna heaters are widely popular due to their high-quality and distinctive features. Since sauna usage can be pricey, the Tylo heater offers the most energy-efficient heater on the market. Two side chambers optimize airflow, minimizing the heat-up time and saving you significant energy and costs. The heater also includes a built-in humidifier, a cool-touch thermostat for safety, and the perfect amount of stones needed for optimal performance.
SaunaCraft
The Canadian-made SaunaCraft heater provides enhanced airflow for quick heat-up times, saving energy and costs. The heater is precisely engineered with a cool outer shell construction, so it's safe and not hot to the touch. The SaunaCraft heater can be mounted on the wall or placed in the corner, depending on your sauna. Typically, it's recommended that smaller saunas mount their heaters for better temperature distribution. SaunaCraft heaters provide low-watt dentistry heating elements and built-in temperature cut-off to save on costs and protect your safety, making it one of the safest heaters to use. At SaunaFin, we offer detailed guides for the installation process and assistance for those who want their heater professionally installed.
Saaku
The high-quality Saaku heater is manufactured by TyloHelo Inc. and provided exclusively to SaunaFin. The Saaku CP model has built-in controls at the front base, making for easy in-sauna use. Saaku heaters are durable, non-rusting, and have a steel shell and baffles that are galvanized to protect the unit. The Saaku heaters are standard for outdoor and pre-fab cabin saunas, as exterior controls can be exposed to the weather. Not to mention, Saaku heaters have built-in controls that make the wiring for log-style construction of pre-fab saunas much easier.
High-Quality Saunas & Heaters from SaunaFin
As the leading home sauna manufacturer in North America, the experts at SaunaFin know just what it takes to provide you with the ultimate sauna experience. With high-quality and advanced sauna heaters, you can truly enjoy your sauna's benefits.
For more information regarding sauna heaters, contact the professionals at SaunaFin.