Everything You Need to Install Your Home Sauna Kit
After indulging in a sauna several times, you might realize you want to enhance your lifestyle with regular home sauna use. Sauna kits are an excellent option to easily install a beautiful high-quality sauna into your home or cottage. SaunaFin offers versatile sauna kits that include absolutely everything you need for the interior of your sauna, from Western red cedar wood or hemlock wood for lining the walls and ceilings to the sauna heaters. A sauna kit from SaunaFin can completely transform your space and relaxation capabilities.
To learn how you can get started with sauna installation in your home, read on.
What is a Sauna Material Kit?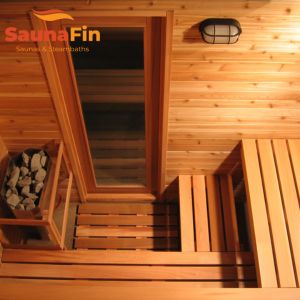 A sauna kit is best described as the "inside skin" of your sauna. Sauna kits are installed in a DIY fashion and are customizable according to the size and/or shape that you need. Sauna Kits are an affordable option to introduce a sauna onto your property.
Sauna kits will come with interior wood, a sauna door, galvanized nails or treated screws, an array of sauna heaters to choose from, and many more materials. The sauna heater provided by SaunaFin is a 100% stainless steel model while offering many other options for you to consider.
Where to Install Saunas?
Saunas are a great home addition because they can be installed in almost any room in the house or in an outdoor structure. The following is a list of places in the home that are popular for saunas:
Bedroom: A sauna in your bedroom may help with relaxation and help facilitate a better night's sleep. This would be helpful for those who struggle falling asleep.
Bathroom: If you want to develop a spa setting in your bathroom. Placing a sauna in your bathroom will allow easy access to a shower or soak in a tub after sauna use for thorough relaxation.
Basement: A basement is a great place to install your sauna kit as it may offer the extra space needed to install the sauna you want to be comfortable in. Basements are a lower trafficked area of the home, so they might provide a more relaxing and peaceful environment to relax in.
Gym: Placing a sauna in a home gym will help your body relax after an intense workout. Saunas are a great place to unwind after exercising.
What You Need for Your Sauna Kit Installation
Everything for the interior of your sauna is included in the sauna kit, so all you need to have is a 2x4 stud framing for walls and a drop ceiling. You'll also need fiberglass insulation, wiring, and an exterior finish which can be drywall, sheetrock, or something similar. You will also need to dedicate about 14-20 hours to installing your sauna kit.
SaunaFin for High-Quality Home Saunas
It might feel daunting to install your home sauna, but rest assured, the SaunaFin team will provide you with excellent support and customer service along the way to make it an easy, stress-free experience. We provide an easy-to-follow instruction kit and drawings with our sauna kits. We have been helping people install home saunas for over 60 years, and we are here to help you achieve your lifestyle goals.