Building a Sauna from scratch?
GET A CUSTOMIZED MATERIAL KIT QUOTE?
Call Us Today!
1-800-387-7029
or local: 905-738-4017
We accept:

Clear Western Red Cedar Barrel Saunas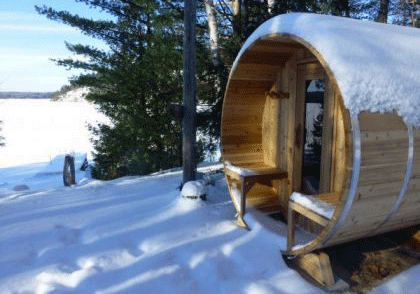 The barrel sauna concept is the ideal outdoor sauna. Simple, practical and beautiful. Barrel saunas have 1-1/2" thick walls for natural insulation and the barrel design gives you a much smaller heating area than a rectangular sauna, with plenty of room for bathers. Ideal by the pool or at the cottage. A healthy and enjoyable space that generations will enjoy.

Clear Barrel saunas are available with an optional porch and change room.
Scroll down page for Barrel sauna Sizes.
Then click to customize.
See also information tabs for details on installation, dimensions, tips and freight estimate
---