Indoor Saunas Versus Outdoor Saunas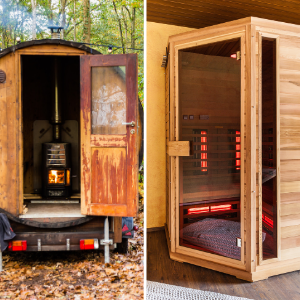 Many homeowners are interested in purchasing a custom home sauna but aren't sure where to begin when it comes to picking between different models and styles. One of the most important first decisions to make when purchasing a home sauna is whether you want an indoor or outdoor sauna. An indoor cabin sauna is a popular choice for a master bathroom or home gym. However, most people choose to put an outdoor cabin sauna beside or pool or lake in a home or cottage backyard. Here we outline some of the significant differences between indoor and outdoor home saunas.
Indoor versus Outdoor Saunas
Outdoor Saunas - Outdoor saunas are made of either cedar, redwood or vinyl. There are also a variety of paint options as well. These saunas are designed for use year round and are installed outside on decks, patios and backyards. Installation usually takes about one day.
Indoor Saunas - Indoor saunas are usually made out of hemlock, spruce or basswood and come in a variety of different stains and colors. They are designed for use year round as well and can be installed in various places inside the home, such as in the basement, spare bedroom or even the bathroom. Installation usually takes about one day.
Location
Where do you picture your dream sauna? Are you hoping to use it as soon as you wake up from the comfort of your en suite? Or perhaps you are looking forward to a gentle stroll to your outdoor sauna and tons of natural light during your session? Beyond your personal preferences, you'll also need to consider the size requirements for your home sauna. You will need a flat, level space without carpet to install a new indoor cabin sauna. Usually, this would be in a bathroom or basement. With an outdoor cabin sauna, you will be less limited by space. However, you will still need a level space to install the new sauna, even if it's outdoors.
Style and Size
Depending on the style of sauna you are hoping to install, you may be limited to indoor or outdoor spaces. Many beautiful outdoor sauna models are quite large and are difficult to fit into an existing indoor space without major renovations or a custom home builder. With outdoor saunas, you can choose between various styles and sizes, but you will need to keep in mind the exposure of the exterior finish to harsh Canadian weather. The indoor cabin sauna is specifically designed for indoor spaces and can fit into even small en suites and home gyms.
Installation and Maintenance
Indoor saunas are easy to install and maintain as they are usually smaller, and they can hook up directly to your home's existing electrical system. On the other hand, outdoor saunas typically require more work to install, especially if they require an electrical hook-up and will need more maintenance over time on the sauna's exterior.
Personal Preference
Ultimately, you and your family should choose the sauna model that best meets your personal preferences. Whether you are interested in an indoor cabin sauna for your bathroom or an outdoor cabin sauna beside your backyard pool, there are plenty of home sauna options available.
SaunaFin carries a wide range of sauna material kits for indoor and outdoor models of all sizes. Premium Western red cedar in all our saunas creates a durable and aesthetically-pleasing final product. We design our kits with you in mind, and you can easily install your new sauna in as little as one day. To learn more about our cabin saunas or to start organizing the delivery of your new sauna kit, contact the expert SaunaFin team at 905-738-4017.