Saunas For Sale in Ontario
Saunas provide a relaxing and stunning addition to any home or cottage, whether they are built inside or outside. Many people are interested in adding a sauna to their home or backyard, but aren't sure where to begin when it comes to ordering parts and assembling a sauna. At SaunaFin, we sell a variety of kits to help make your at home sauna dreams come true. These kits are easy to assemble and contain all the parts and instructions you require to build your own sauna. We stock kits for every type of sauna, including indoor, outdoor, traditional and infrared designs. Each of our kits are also customizable, allowing you to design a sauna that fits your specific requirements. In this blog post, we will address some of our most popular saunas for sale in Ontario and address frequently asked questions related to at home saunas. If you have any additional questions about saunas for sale in Ontario, or want to learn more about one of our designs, you can also contact our expert and friendly team at 905-738-4017.
Learn about the top saunas for sale in Ontario below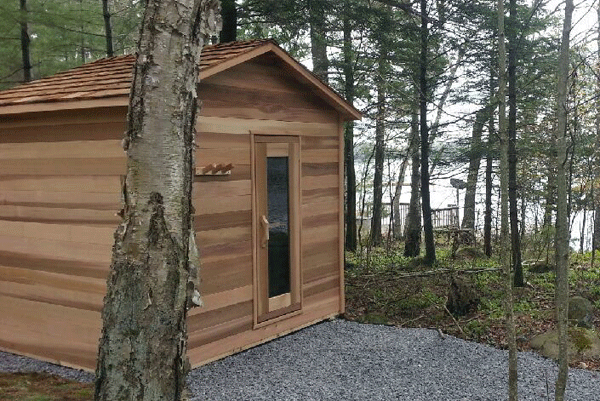 Outdoor and indoor prefab cabin saunas come in a variety of shapes, from small and cozy, to large and spacious. These easy to assemble and affordable saunas are a great addition to any home or cottage, with a traditional square design and two levels of benches for stratified heating. When it comes to saunas for sale in Ontario, these popular designs are an excellent choice for your first at-home sauna experience.
The traditional barrel shaped sauna is simple and beautiful and comes in either Knotty or Clear Western Red Cedar. The barrel design makes it easier to heat efficiently, while still providing plenty of space for bathers to relax and unwind. With two rows of single benches, the barrel sauna has abundant seating and the unique option of adding a wood burning heater.
The panoramic barrel sauna is a step up from the traditional barrel sauna, providing a stunning addition to any backyard space. The panoramic wall allows you to enjoy your beautiful natural surroundings from the comfort of the sauna, creating the ideal environment for relaxation. Perfect for a cottage or vacation home, the panoramic barrel sauna and its acrylic bubble wall offer stunning views from the comfort of your at home sauna.
The pod sauna is a unique addition to any backyard space, with the distinct "raindrop" design. The pod sauna offers additional head space and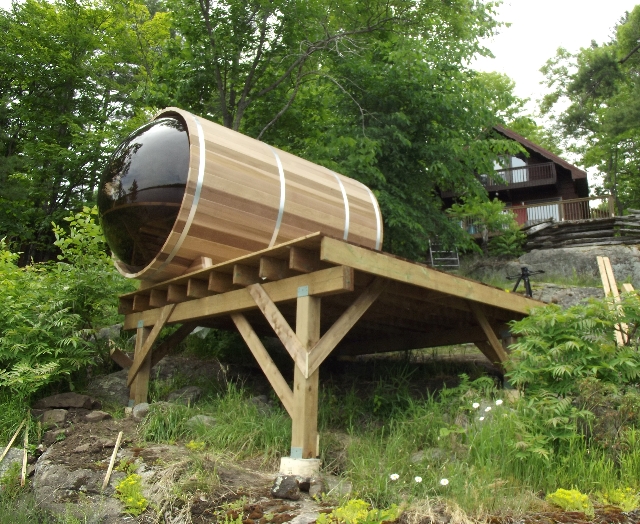 comes in a variety of sizes to fit the needs of anyone looking to add a sauna to their backyard. Plenty of seating is provided by the two rows of single tier benches.
The Luna sauna is a truly unique design, with gently rounded corners that provide extra space in the interior of the sauna. A clear glass front provides optimal viewing of your backyard, and the spacious interior environment is perfect to relax and unwind. The unique architecture of the sauna adds a stunning addition to your outdoor living space.
How much does a sauna cost? How much does an infrared sauna cost?
Depending on the size and style of sauna you are interested in, the cost will vary significantly. Indoor and outdoor saunas for sale in Ontario range in price, as they differ slightly in their building materials. In general, the cheapest saunas, which seat 1-2 individuals, cost just over $2000. The most expensive saunas, which can seat upwards of 6-8 people, can range anywhere from $8000-$12000. The cost will then vary depending on your customization features, including seating, building materials and the type of heating machinery. Infrared saunas for sale in Ontario range in price from approximately $6000 to just over $8000 for the smallest and largest models respectively.
Are there one person saunas for sale?
Yes, the smallest sauna kits available seat 1-2 individuals. Depending on your needs, these models are comfortable and spacious for one individual, but can seat a maximum of two.
Can you buy a steam room?
Yes, you can buy a steam room through SaunaFin. We provide several different sizes of steam shower systems depending on your needs. These kits include the shower, steam controls and can be customized to include lighting and sound systems. Overall, these kits allow you to create a spa-quality steam environment in the comfort of your own home and bathroom.
Why a sauna is a great fit for you?
A sauna is a great fit for any home or backyard as a place to relax and unwind at the end of the day. Many people find that adding a sauna to their personal wellness routine allows them to find peace and tranquility in their home or backyard. Whether you are looking for a tranquil addition to your cottage, vacation home or backyard, a sauna can provide a place to escape your otherwise busy life and unwind in a quiet environment. Many people choose to add a sauna to their home to help improve sleep and overall health and wellbeing. With the variety of sauna kits offered by SaunaFin, we can help you find the perfect size and sauna design to fit your personal needs.
Benefits of a Home Sauna In Ontario
One of the most well-known benefits of saunas is their ability to ease stress and tension. In today's fast-paced world, it's not uncommon to feel overwhelmed and stressed on a daily basis. The heat and relaxation of a sauna can help to take the edge off, leaving you feeling calmer and more relaxed. If you have trouble sleeping due to stress or anxiety, spending some time in the sauna may also help you to sleep better.

Saunas can also be beneficial for your circulation. If you suffer from poor circulation, spending time in a sauna can help to improve it. The heat of the sauna dilates blood vessels, which helps to increase blood flow and improve circulation throughout the body. This can lead to increased energy levels and improved overall health.

Finally, saunas can also be used as a form of therapy for certain conditions such as arthritis or chronic pain. The heat of the sauna can help to reduce inflammation and pain in joints and muscles. Saunas are also sometimes used as part of physical therapy programs for injuries or conditions that cause muscle stiffness or soreness.
Where to buy your sauna in Ontario?
If you are looking for saunas for sale in Ontario, SaunaFin is here to help! Our expert team can help you determine the size and style of sauna that fits your specific needs, then provide you with all information and helpful tips and tricks to build your own at-home sauna. Each of kits is fully customizable, allowing you to choose the heating technology, seating style and overall design that fits your aesthetic goals. We also offer infrared saunas if you are looking for a relaxing experience without the level of heat of traditional sauna stoves. Whether you are looking for extras and accessories, simple and inexpensive designs or a luxurious and stunning addition to your backyard, our team can help get you started.
Contact our team today at our store location in Concord, ON or call us at 905-738-4017 to start your relaxation journey.