White Cedar Canadian Timber Sauna Collection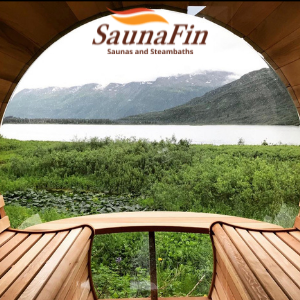 At Saunafin, sell only the best saunas in Canada and USA! We are a significant supplier of Dundalk Leisurecraft Saunas because they always manufacture high-quality Canadian products. When you purchase a home or outdoor Sauna from Saunafin, you also receive the Dundalk Leisurecraft manufacturer warranty.
In the current market where most home sauna manufacturers have been following the "mass production" model for many years, manufacturing saunas out of carbonized or resin-based particle board, Saunafin is happy to be a major supplier of the revolutionary White Cedar Canadian Timber Sauna collection from Dundalk LeisureCraft to North America that is made from 100% genuine, high quality Canadian white cedar, with the highest grade of lumber available.
Who Is Dundalk LeisureCraft
For over 15 years, Dundalk Leisurecraft has been manufacturing Canadian sources, high-quality solid wood indoor and outdoor saunas. The company strives to create new designs focussing on sourcing eco-friendly materials and design new concepts to reduce their ecological footprint.
In May 2020, Dundalk Leisurecraft released its most popular sauna line to date. The Canadian Timber Sauna Collection. Each Canadian Timber Sauna Kit is made with Canadian Easter White Cedar, features tempered glass doors and plenty of additions for you to customize your sauna.
Why Choose White Cedar For Saunas
High-quality Eastern White Cedar has a pleasant yet mild fragrance that many often associate with saunas. Eastern White Cedar is lighter in color and has a well-like unique knotted pattern to it. Properties of cedarwood allow to easy expansion and contraction of the wood, which is why many opt for cedar when building their home sauna.
Eastern White Cedar has natural oils that help protect saunas against mold growth, trapped moisture, or insect infestation. The White Cedar is considered the most 'decay resistant' in North America. Its ability to withstand harsh outdoor conditions makes it the perfect material for the Canadian Timber Sauna Collection.
Features Of The White Cedar Canadian Timber Sauna Collection
All the Canadian white cedar home saunas are pre-engineered to create a total wellness environment and provide the maximum health benefits without exposing our customers to harmful chemicals.

The beautiful white cedar interior is also naturally anti-fungal and bacteria-resistant, making it an ideal material for any indoor or outdoor sauna in Canada and USA.

The collection features a wide range of models that can be easily customized and adapted to meet any family's needs
The New Canadian Timber Sauna Collection
The Canadian Timber Sauna Collection quickly became a bestseller for Dundalk Leisurecraft because of the collection's economical pricing. All models introduced in the Canadian Timber collection feature unique designs. Every sauna from the Canadian Timber Collection are handcrafted by quality craftsmen using the finest Easter White Cedar available in Canada. Prospective buyers can feel confident in their purchase knowing that all Canadian Timber Sauna Kits come with a 3-year warranty.
The Canadian Timber Serenity Sauna
The first model in the Canadian Timber Sauna Collection is the Serenity Barrel Sauna. Its cylinder shape gives the sauna a unique look but also creates proper airflow and makes heating the sauna extremely efficient. Enjoy the tempered glass door, framed with beautiful white cedar and pre-attached for simple installation. This model also features a front porch with built-in benches providing a convenient cooling down area for after your sauna session.
The Canadian Timber Luna Sauna
The Luna Sauna features robust windows and rounded corners. The modern and sleek appearance of the Luna Sauna makes it a popular choice for your home or cottage. Again this model includes 5mm tempered glass in the front door, and the sauna kit includes assembly instructions for two long benches with headrests.
The Canadian Timber Harmony Sauna
The Canadian Timber Harmony Sauna is a beautiful, high-quality barrel sauna that is handcrafted from Eastern White Cedar from Canada. This sauna kit comes with the following features: a 7kw sauna heater, 2 benches, 1 backrest, interior lighting, CD player, and a glass door. It's perfect for homeowners who are looking for a luxurious, spa-like experience in their own home.
The Canadian Timber Tranquility Sauna
The Canadian Timber Tranquility Sauna is a barrel sauna handcrafted with either hemlock & western cedar wood. The combination of these woods create a vibrant and unique appeal when compared to the standard Canadian white cedar. The model also comes with a 45 cm porch, which is perfect for cooling down after a sauna session.
Purchase A Canadian Timber Collection Sauna
The reviews are in, and people love their sauna from the Canadian Timber Collection. The collection uses eco-friendly and weather-resistant Eastern White Cedar and features full-sized doors with bronzed tempered glass and pure cedarwood benches.
Shop Saunafin's online store today to view the Canadian Timber Collection. Give us a call if you need help deciding on the model that best fits your lifestyle!