How to Beat Holiday Stress with a Home Sauna Kit
Posted on 08 November 2023
While undeniably magical, the holiday season often has a fair share of stress and struggle. Whether it's frantic bouts of gift shopping, the chaos of planning gatherings, or the pressure to create the perfect holiday ambiance–it's easy to become overwhelmed. But don't fret because SaunaFin has the ideal solution to help you escape the holiday stressors: The SaunaFin Sauna Kit. Saunas in Toronto have long been celebrated as an oasis of relaxation and rejuvenation. Now, with SaunaFin's home sauna kits and stunning prefab saunas, you can easily bring this luxurious indulgence into your home! Here's a low-down on SaunaFin sauna kits and their sumptuous benefits for unwinding during the holiday season.
The Sauna Kit Advantage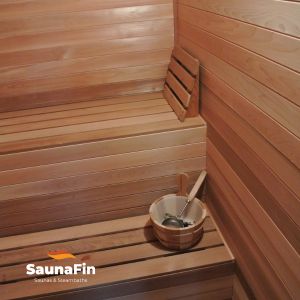 The sauna kit is a pre-packaged, ready-to-assemble set that allows you to build your exclusive home sauna. This versatile kit includes all the necessary components–benches, walls, a heater, and sauna accessories. This makes the assembling process smooth, hassle-free and economical. SaunaFin offers an array of high-quality sauna kits and prefab saunas that cater to different preferences and budgets.
The benefits of having a home sauna in Ontario extend far beyond the holiday season. Saunas have been recognized for their numerous health advantages, which include stress reduction, improved circulation, detoxification, and muscle relaxation. When it comes to the holidays, these benefits become even more valuable.
Sauna Benefits During the Holidays
The Perfect Start: A refreshing sauna bath in the morning is perfect for starting your day. Taking 15-20 minutes to relax and prep for the day can help ground and center yourself. You'll be better prepared to tackle the holiday frenzy and endless chores calmly and collectedly. Adding mood lighting, music, or aromatherapy will take your sauna experience to a sublime level!
The Perfect Gift: Sauna kits make a unique and thoughtful gift for friends and family. It's perfect for loved ones seeking an escape from the daily grind, a personal sanctuary of calm and relaxation. Whether it's therapeutic sauna benefits for your parents, a friend who could use a bit of pampering, or a wellness enthusiast, a sauna kit is a holiday present that will truly stand out.
Practice Mindfulness: Finding precious me-time amid holiday chaos can be a challenging endeavour. Thankfully, SaunaFin's home sauna kits and prefab saunas in Ontario provide a serene haven for daily rejuvenation where you can unwind in peace. Let the soothing heat melt away your worries, and embrace the solitude and tranquillity of your sauna retreat.
Sublime Sauna Accessories: Sauna accessories can enhance and uplift the sauna experience. From thermometers & hygrometers to aroma dispensers, these thoughtful additions can help create the perfect sauna ambiance. Whether it's a festive holiday-themed sauna session or a tranquil escape from the seasonal commotion, accessorize to maximize your sauna benefits.
Entertain & Host Overnight Guests: The holiday season often finds you hosting overnight guests. With SaunaFin's prefab saunas and sauna kits, guests can relish an unforgettable experience. Saunas offer a unique form of entertainment, appealing to relaxation-seekers and adventure enthusiasts alike. So, unwind with family and friends in your sauna oasis for a memorable holiday season.
Crafting Your Dream Sauna with SaunaFin
Beat the holiday stress with convenient sauna kits and prefab saunas from SaunaFin. Building your personal sauna with a sauna kit is a customizable experience to craft a space tailored to your preferences. You can choose the size, style, and sauna accessories to match your unique tastes. Team SaunaFin provides complete guidance and support to ensure your stunning sauna is up and running. This holiday season, leave stress outside the door! Give yourself or a loved one the gift of relaxation and escape the stressors with a home sauna kit.
Your journey to sublime tranquillity and wellness begins with SaunaFin!