The Benefits of a Sauna are More than Skin Deep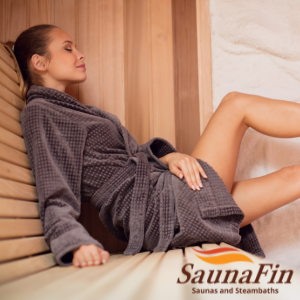 For a lot of people, the name of the skincare game is anti-aging. We want to help people age gracefully. Not only are home saunas great at protecting and treating your skin, they also tackle the tell-tale signs of ageing. Home saunas are a great way to improve your skin health, enveloping you in a warm moisturizer that you'll never want to leave!
In weeks you can look younger than when you first began your journey to brighter skin. A sauna can be a regular part of everyone's healthcare routine! Sauna kits are a great way to get started on the path to fabulous, healthy skin.
Regular use of a home sauna will:
Stimulate collagen, an essential protein
Rejuvenate skin, leaving you with feeling skin
Improve natural glow, leaving you with younger-looking skin
Act as a natural moisturizer, treating your skin to ultimate hydration.
Are you interested in starting to feel the advantages of a home sauna? Check out our anti-aging beauty benefits below, then head over to browse our sauna kits.
Stimulates Collagen
Collagen is a protein that provides strength and elasticity to our organs and tissues. It's what gives our skin some plumpness and bounce. As we age, collagen production slows. The heat created by your sauna will enhance collagen production, strengthening and rejuvenating your complexion. The heat helps your skin rid itself of dead skin cells while promoting the health and growth of new ones.
Inflammation is not good! Your skin might be swollen, hot, or red, and inflammation can lead to long-term conditions. Saunas reduce inflammation naturally and in a very noticeable way!
Saunas can also smooth out scarring and other skin imperfections. Think of your sauna as an opportunity to equip your skin with another tool it can use to reduce scarring and other blemishes.
Rejuvenates Skin
Sweating has a cleansing effect-- heavy sweating induced in your sauna will open pores and glands, flushing out impurities and toxins. Who doesn't want skin that is naturally healthier and less prone to acne, pimples, and blackheads?
Sauna temperatures lead to dramatic increases in blood circulation. This will give your skin a healthy, dewy appearance as if you've just come in from a cold Canadian winter.
Applying heat from a sauna will change the composition of the body at a cellular level. This means your cells become more robust, more resistant to heat, and healthier. Your skin will look vibrant and healthy because it is vibrant and healthy! Some people have seen reversed UV damage. The appearance of burns, fading, and signs of ageing caused by UV damage will be significantly reduced.
Improves Natural Glow
Often, our skin can look old and dull because of the buildup of dead skin cells. A sauna can help remove old, dead skin and give you a brighter, more youthful complexion. After your sauna, give your skin a good sloughing. The sweating and heat soften dry, dead skin and helps you shed these layers. You'll be rewarded with baby-soft skin and a bright complexion!
Your skin is an organ, and like other organs, works on a system. A sauna works to help your body work at peak operation. How you ask? Regular use of a sauna helps organ systems to function more effectively. Regular sauna use creates skin that functions and breathes, allowing you to keep your youthful glow naturally.
Natural Moisturizer
Many people have combination skin-- this means that some parts of the skin might be dry, some might be naturally more oily. A sauna surrounds you with a natural moisturizer and gently cleanses your skin. This method of moisturizing is more gentle than an actual moisturizer! The heat and sweating stimulate sebaceous glands in the skin. The function of sebaceous glands is to keep skin moisturized. By producing sebum, saunas help keep your skin in great shape.
Saunas moisturize the skin from the inside out. Saunas are an all-natural, chemical-free way to treat your skin in maximum moisture, comfort, and relaxation.
Imagine coming in from the cold outdoors to relax in your very own sauna. The blissful comfort and multiple health benefits are innumerable. Relax, knowing you are doing some productive self-care. You'll feel the benefits to your mind, body, and soul with a SaunaFin sauna kit.
Whether you're looking for comfort, warmth, anti-aging benefits, or more, contact SaunaFin to get you started on your journey to wellness. If you have questions about saunas or the health benefits of saunas, SaunaFin's team is on hand to help. Find out how you could be benefitting from a home sauna!