6 Reasons To Use A Home Sauna In The Summer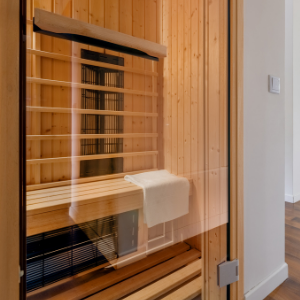 Unlike in the wintertime, most people do not picture spending time in a sauna during the hot summer months. However, a home sauna provides a wide range of health benefits year-round. Whether you are using your Luna sauna in the winter or the summer, your mental and physical health will significantly improve with regular sessions. Still not convinced you should use a home sauna from SaunaFin this summer? Check out these six health benefits you can gain by using your sauna over the next few months.
Pain Relief
Many home sauna owners rave about the benefits of regular sauna use on chronic pain. For back pain, arthritis, or other physical ailments, regular sauna sessions can help to relieve pain and tension. If you experience a sore back from regular desk work or struggle with arthritis symptoms, a daily sauna session can help transform your life and your everyday pain management.
Improves Skin
The summer can wreak havoc on the skin thanks to constant sweating and sun exposure. The high temperatures of a sauna work to naturally open pores to flush out dirt, oil, and make-up. Many sauna owners compare it to a natural facial or exfoliator, helping to stimulate flushed, dewy skin that looks bright and rejuvenated.
Mood Booster
Daily sessions in a SaunaFin Luna sauna help to boost your mood and improve your overall mental health. If you struggle with anxiety or depression or simply lead a stressful life, your sauna is the perfect place to escape and reset. Make the most of this summer by managing your work and family stress with the help of a daily sauna session.
Reduce Bloating
The summer months usually mean spending more time in bikinis and bathing suits. A great way to manage bloating and even kickstart weight loss is to integrate a Luna sauna session into your workout routine. The high heat of a sauna helps increase your heart rate, stimulate sweating, increase metabolism, and decrease bloating.
Heat Acclimation
For Canadians, the transition from spring to summer can come as a shock. After a cold winter and unpredictable spring, it can be hard to handle the onslaught of hot, humid days. With a home sauna, you can acclimate to high heat and help your body manage even the warmest of summer days.
Boost Immunity
As restrictions begin to lift in Canada and beyond, our immune systems will start to experience challenges again as we interact with friends and family. A daily sauna session can help to naturally boost your immune system to fight off any cold and flu germs you may encounter.
At SaunaFin, we construct our range of home sauna models with Western red cedar for a stunning and durable final product. Our wide selection of models includes everything from ultra-modern Luna saunas to classic cabin saunas and beyond. The summer months are the perfect time to install a new backyard sauna. Contact the SaunaFin team today to get started purchasing and installing a new home sauna.