A Guide to Designing your Home Sauna
When leading an always-on-the-go life with work and kids, finding relaxation is crucial. Optimize ease with a home sauna. With endless customizable options, create the sauna of your dreams. At Saunafin, choose from a prefab sauna or a custom sauna kit. We have been providing saunas in Toronto to homeowners for over 60 years. Explore the customizable features that you can choose to fit your needs best.
Choosing the Right Wood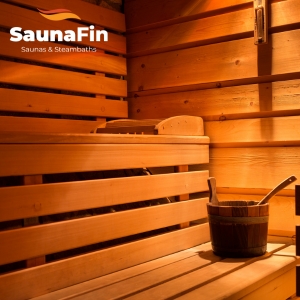 At Saunafin, we have three types of wood to choose from when curating your sauna kits:
Clear Cedar: there are three types of cedar to choose from (LK Plus, LK Floating, and LK Premium). You can achieve a darker look with clear cedar. A cedar kit comes complete with all components. Of the three, LK Plus is the most popular as it was the first style of sauna kit we started with over 50 years ago.
Knotty Cedar: this is best if you work with a tight budget, as it is our most cost-saving material. It achieves a more rustic look if that's what you aim for your sauna to be. This kit comes with a heater with built-in controls, which is also cheaper than other heaters.
Hemlock: this wood is most commonly used in residential saunas. It's a lighter colour and more uniform, with all the panels being fundamentally the same colour. Hemlock is considered a "hard" softwood. Note that no doors come with the Hemlock kit, so the option for glass doors or sourcing your own is best advised.
Prefab saunas are available in Cedar and Knotty Cedar.
Pick a Location
Customize your sauna experience based on the location. For convenience, you may use a sauna kit to fill an empty room in your home or install an indoor sauna cabin. This eliminates the hassle of walking outside, especially in winter, to enjoy your sauna in Toronto. However, if you want that drastic change in weather, an outdoor sauna is absolutely for you. With an outdoor sauna, you have the option to create a lookout point. It's great to take advantage of this if you have a nice view from your backyard or cottage property.
Factoring in the desired size is also helpful. If you want to enjoy it with friends and family or do yoga in your sauna, you may choose a bigger space to locate your home sauna.
The Functionality of Your Sauna
The ideal intention of having a sauna is to have optimal relaxation. You can add dimension to your sauna to customize your experience. As mentioned above, you can use this space to do yoga to help your muscles relax and practice breathing. This will determine if you need a bigger space to perform the specific exercises.
Benches are vital in optimizing relaxation to have a space to sit and enjoy the detox. Depending how many people you intend on sharing your sauna space with will determine how many benches you need.
Customized Saunas with Saunafin
Saunafin offers an extensive selection of saunas to fit your needs best. Please consult one of our professionals to start planning your sauna and your journey to relaxation at its finest. We have served homeowners nationwide for over 60 years with competitive prices. Call now.