DIY Sauna: Everything You Need in a Pre-Fabricated Sauna
Posted on 29 September 2017
In Toronto, and throughout the GTA, Saunafin offers DIY sauna kits to suit practically every need. Saunafin specializes in factory-direct DIY sauna kits, including pre-fabricated saunas, sauna material kits, steam generators, and infrared saunas. Saunafin has it all – for those who want to install a built-in sauna; for those who want a prefabricated DIY sauna kit; and for those who want a more portable sauna. Finally, there are also steam generators and steam showers. Well-established in the region, Saunafin is now one of the biggest sauna companies, offering high quality products and committed customer service. At Saunafin, prices are published online, and every sauna can be fully customized – from options, to upgrades, to layouts, to materials. What's most important, however, is to understand the basic differences between a pre-fab sauna and a DIY Sauna Material Kit. Both have their advantages.
Pre-fabricated saunas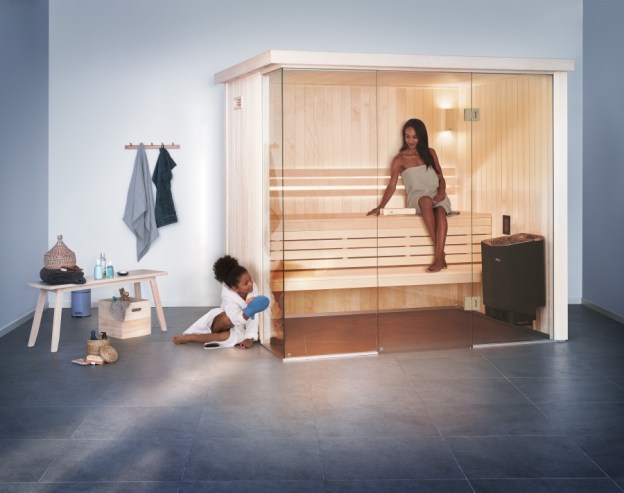 also referred to as pre-built or modular
the entire sauna is fully pre-fabricated
these can be assembled in 2 to 3 hours
pre-fab saunas have no additional insulation
walls are self-supporting
specially designed for quick assembly
there is no need for any special tools
saunas can be dismantled if need be
DIY Sauna Material Kits
known as DIY sauna Interior Material Kits
kit refers to the inside "skin" of the sauna
walls must be framed, insulated, finished
sauna kits include materials for inside the sauna
vapour barrier, cedar lining, heater
wooden benches, door and molding
full assembly and installation is required
At Saunafin, modular pre-fabricated saunas are constructed of solid 2x6 clear Western red cedar boards. Boards simply slide together. Benches are pre-assembled and the door is pre-hung on channeled jamb. For the benefit of customization, various sizes and design features are available. DIY sauna kits from the specialists at Saunafin DIY sauna kits have become quite popular over the years. Today, these kits are very easy to install and very easy on the budget. And at Saunafin, choosing, building, and installing is made easy. Kits comes in a variety of sizes, with many options and upgrades, and with all the necessary components. Saunafin also sells the heaters, steam generators, and a host of sauna accessories. Saunafin services the Greater Toronto Area, as well as the surrounding communities of the Golden Horseshoe. Whatever the specific need, Saunafin has something to suit – from built-in units, to prefabricated kits, to portable saunas. Saunafin is both a "brick and mortar" company and an online reseller. What's more, practically 80% of the products are manufactured in-house. To find out more about Saunafin kits, products, and accessories, call the company toll-free at 1-800-387-7029, or visit the company website at http://www.saunafin.com .