Do You Need to Ventilate Your Home Sauna?
Posted on 13 October 2022
As the weather starts to turn in Canada, more and more people are considering installing a home sauna. Imagine having a warm oasis where you can unwind all year round, especially during a harsh winter or after a busy work day. The Luna Sauna from SaunaFin might be the right fit if you're looking for a sleek design and ample room for relaxation.
It's not hard to fall in love with a Luna Sauna or any home sauna for that matter. With proper care, you can keep your sauna operating, bringing you a combination of calm and relaxation for many years to come. One consideration that is important for sauna users is ventilation and excess moisture.
With help from the experts at SaunaFin, you can learn how to optimize your sauna usage for maximum longevity and comfortable sessions.
Saunas and Ventilation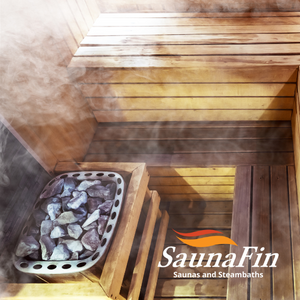 When many homeowners think of ventilation, they think of a shower or bathroom fan, which whisks excess moisture and humidity from your home to prevent mold and moisture buildup. Without proper ventilation, your home can become humid and wet, leading to discomfort and costly repairs. Saunas are a naturally dry environment with an average humidity level of 10%, while your home's indoor humidity level should hover around 40-50%. In your sauna, humidity spikes occasionally when water is dropped on the rocks. The purpose of sauna ventilation is to move the air from the heater to the seating area, producing an even distribution of airflow circulation.
Should I Put a Vent in my Sauna?
Though vents are not required for proper sauna function, the option brings added comfort to your sauna routine by evenly distributing airflow. Proper venting ensures that you have fresh oxygen and that warmth from your sauna distributes evenly throughout the structure. You can even vent your sauna back into your home to recirculate the warm air! Saunas have a very dry heat, so there is a low risk of condensation, and the Luna Sauna's Canadian Western Red Cedar is aromatic and long-lasting.
Benefits of Ventilation:
Even airflow and heat distribution (no one wants a cold or stuffy sauna!)
Lower risk of moisture which can ultimately lead to water damage
Improves longevity of sauna by eliminating moisture and circulating oxygen
Recirculating heat into your home– lowering your heating bills!
All of these benefits can help you acheive the ultimate sauna experience.
You do not have to keep your vents open for them to be functional. Saunas are made from soft wood, which is chosen because of its breathability. With correct installation, there is no risk of moisture escaping into your home.
Installing Your Home Sauna
Installing a vent from SaunaFin helps improve your experience and get the most out of your sauna. As the leading manufacturer and supplier of saunas and steam baths in Canada, our team of experts knows how important it is to have a high-quality sauna. SaunaFin uses only premium materials to ensure your sauna can be enjoyed for years.
Contact the team at SaunaFin today! We are ready to answer your questions about all things sauna related.