Home Sauna Maintenance Tips
Posted on 05 February 2020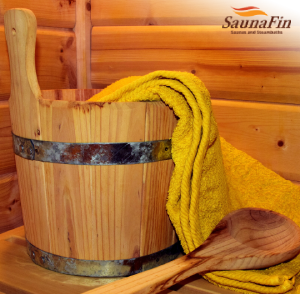 The luxury of an at-home sauna is easier than ever to achieve with the increased accessibility of pre-fab sauna kits. With the expert assistance of companies like SaunaFin, you can purchase, customize and install an indoor or outdoor sauna for your home or cottage. However, purchasing a sauna is a big investment and many homeowners want to make sure their sauna will last through years of regular use.
We're sharing some helpful tips and tricks for maintaining and cleaning your home sauna. With proper maintenance and care, you'll be able to enjoy your sauna for years to come.
Home Sauna Maintenance Tips
1.Treating or Varnishing Wood
We recommend that you do not treat, varnish, stain or paint the interior walls of your sauna. For your sauna to function, the wood needs to be able to absorb and slowly release moisture to help maintain the heat and humidity. However, door handles and floorboards can be treated with a high-quality wood sealant as they will experience the most wear and tear.
2.Brushing the Sauna
One of the easiest ways to ensure your sauna remains in great condition is to brush water over the benches and walls after every use. The last person to use the sauna should use a hand brush to dip in the water bucket and scrub the benches and walls before leaving the sauna. This process should not take more than a minute or two to complete.
3.Leave the Door Open
After using your sauna, leave the door open to help ensure the interior walls, benches and rocks can completely dry between uses.
4.Use Towels
To help reduce the amount of dirt and sweat in the sauna, we recommend sauna users use towels on benches. This can also help reduce the amount of sweat stains on benches that will require additional cleaning.
Home Sauna Cleaning Tips
The best way to keep your sauna clean is to brush the benches and walls with water from the water bucket after each use. However, dirt and sweat can build up in the sauna overtime. If this is the case, we recommend gently scrubbing the interior of the sauna with water and a mild detergent approximately once a month. Once per year, you can also lightly sand benches to lighten them to their original finish. Always ensure that anytime you are cleaning the sauna it is turned off and not at elevated temperature.
With careful consideration, cleaning and maintaining your home sauna can be a simple and efficient process. By ensuring people using your sauna have easy access to clean cotton towels and a hand brush for scrubbing benches and walls, you can ensure your sauna will remain in good condition. If you have any additional questions about home sauna care, cleaning or maintenance, the expert team at SaunaFin is here to help. We are experienced when it comes to home saunas and can help with any issue you may be experiencing. For more information, contact us today at 905-738-4017.