Home Saunas: the Latest Trend in Home Improvement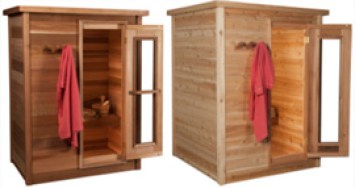 In recent years, more and more North Americans have been installing saunas in their basements, backyards, and even in their closets. Whatever the sauna type, and whatever the specific purpose, there are certainly many practical benefits to having a home sauna. Retail prices have moderated significantly over the years, installations have become far simpler, and many sauna "kits" allow the do-it-yourself enthusiast to install and enjoy, while maintaining a specific project budget. Saunas actually came to North America with Finnish immigrants who introduced the new concept to the local population. By definition, a sauna is a contained space (could be a room or a building) that's designed to experience the benefits of heat (dry or wet). The heat and resulting steam make the body perspire. Today, there are a great many sauna types that homeowners can enjoy - indoor and outdoor saunas; dry and wet saunas; even prefabricated DIY sauna kits.
Pre-Fabricated Saunas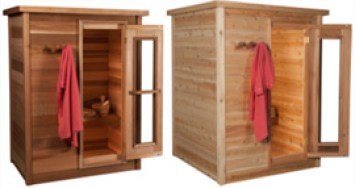 Pre-fabricated saunas are constructed from pre-finished panels that sit on a secure base track. Insulation materials and a foil barrier are pre-installed in the panels, along with "conduit" to run electrical wire. With a variety of sizes and design features to choose from, pre-fab saunas offer a lot of flexibility. Once assembled, exterior walls can be finished to suit one's décor and taste.
Outdoor Saunas
Although similar in operation to an indoor sauna, the outdoor sauna is designed to better weather the elements. Once the outside structure has been constructed, the inside materials would include the vapour barrier, cedar lining, benches and doorway, as well as the heater. With outdoor saunas, a wood-burning heater is one of the options, or the standard electric heater.
Sauna Heaters
Needless to say, the "heart" of a sauna is the heater. Like every appliance, high quality means distinct features and superior performance. A quality sauna heater will have quick heat-up time, optimal airflow, and a high level of energy efficiency. For the homeowner, this makes for a high performance sauna experience, low energy consumption, and of course, lower utility bills.
Steam Baths/Shower
Offering a multitude of health benefits, a steam bath or steam shower can be located in virtually any part of the home. A good steam generator unit requires little or no maintenance, and uses very little electricity and very little water. Best of all, once installed, a steam bath or steam shower will add additional real estate value to the home (one of the best home improvements).
Sauna Material Kits
Sauna Material Kits provide all of the components needed to construct a sauna – everything from specific cedar lengths, to cedar molding, to the door casing. Customizing is easy, even when the sauna is part of a more involved home renovation. With a sauna material kit, it's very easy to incorporate the sauna into the available space. The finishing touches can match the home décor. In the Greater Toronto Area, and throughout the Golden Horseshoe, Saunafin offers factory direct sales of saunas, material kits, heaters, steam generators, and accessories. From built-in units, to prefab kits, to portable saunas, Saunafin has something to suit. Find out more by calling 1-800-387-7029 or visiting the company at http://www.saunafin.com .