How to Customize Your Home Sauna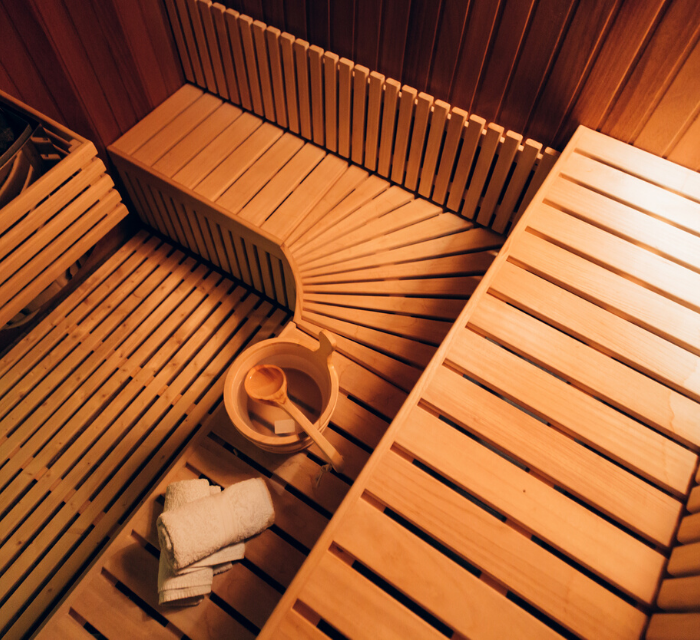 Home saunas are growing in both accessibility and popularity. Many homes and cottages now have either an indoor or outdoor sauna. So how can you make your home sauna one-of-a-kind? Your sauna is just like any other element of your home; you want it to reflect your personal design style. Thankfully, there are many ways to customize your sauna to match the interior or exterior design of your home. You can choose its location, style, size, and material in addition to installing a range of accessories. Here are a few ways to customize your home sauna to make it truly unique.
Location, Location, Location
One of the best parts of an at-home sauna is its versatility. Home saunas can be indoors or outdoors, small, or large, self-contained, or built into the infrastructure of your home. Some homeowners choose to install a sauna into their home gym or master bathroom. Others choose to install a sauna poolside. With home sauna kits it is now easier than ever to build a sauna anywhere on your property. Current models range in size and design, allowing you to take full advantage of the stunning views of your home or cottage backyard. No matter what your preference, home sauna kits can help you bring your vision to life.
Temperature
Many people think that a sauna is stuck at a specific temperature: hot. The good news is that most home saunas can be adjusted to a temperature that suits your individual needs. Usually, saunas are heated between 150°F and 195°F, but there are options to keep it at a cooler or hotter range depending on your preference. With home sauna kits, you also get the opportunity to select your model of heater. Examples include the traditional wood-burning or stone-and-coal heaters, energy-efficient gas or electric heaters, or even infrared heaters. Each heating system comes with its own pros and cons, so consider reading up on the different options before selecting the heater for your new home sauna.
Build Materials
Home saunas can be built from a variety of materials depending on their location and whether they are built directly into your home. Traditionally, saunas are made from cedar wood as it does not retain heat as well as tile or other materials. This allows you to sit back and relax against wooden benches and backrests without it being uncomfortably hot. Apart from the actual construction of the sauna, there are also options to customize the material of your doors and windows. Many home sauna kits now include options to upgrade to an all-glass door or to add an acrylic bubble back wall that provides panoramic views of your surroundings. By customizing the look and build, you will be able to personalize the overall style and amount of natural light entering your new sauna.
Indoor Versus Outdoor
A big decision for homeowners is deciding to build their sauna indoors or outdoors. Depending on the size of your home, cottage, or backyard, your decision will vary significantly. An outdoor sauna is a great idea for a poolside retreat or a relaxing escape from the lake. With options to add additional windows, outdoor saunas can take advantage of the stunning views from your backyard or cottage. Indoor saunas can be just as useful, especially during the winter months. With an indoor sauna in your home gym or master bathroom, you will be able to easily use the sauna right after a workout or long day at work.
Both indoor and outdoor saunas add great value to your home and can be customized to fit your interior design or backyard landscaping. Although outdoor barrel saunas are the traditional Scandinavian way, indoor saunas are just as popular for their convenience and comfort.
Instill Your Personal Style
There are endless ways to customize the interior and exterior of your new home sauna. Interior designers and architects have created a variety of stunning saunas to help inspire your new home model. If you are working with a small space, aim for light colours and ample heat-resistant lights to ensure your sauna is bright and inviting. With a larger space, why not design an outdoor lounge area to facilitate a cool down between sauna sessions? Many homeowners incorporate their outdoor sauna into their entire landscape design, seamlessly blending their sauna, patio, and pool together. No matter where your sauna is located, a nearby shower is essential. Whether it is a steam room, steam shower, or outdoor shower, your sauna will be able to stay clean and fresh if users are able to rinse off before and after their session.
Get Your Home Sauna Kit with SaunaFin
If you are not sure where to begin with the design of your sauna, home sauna kits are a great place to start. They conveniently package all the materials you will need to build an indoor or outdoor sauna. With a range of available models, you will be able to select the size and overall style that inspires you. That may be a traditional barrel sauna, a classic cabin sauna, or a more unique design like a tear-drop shaped Pod sauna or the gently curved edges of a Luna sauna. From there, you can customize the design with accessories, exterior finishes, and surrounding landscaping.
At SaunaFin, we sell a range of home sauna kits that fit every size and budget requirement. Our sauna models range from cozy designs that seat 2-4 to large, open designs that seat upwards of 10! Home sauna kits make it easier than ever to build the sauna of your dreams in your home or backyard. With the ongoing pandemic, our showroom is now open by appointment only for you to view our stunning designs in person. Then, we can help organize your kit for delivery or curbside pick-up. For more information on any of our home sauna kits or to organize a viewing of the showroom, contact the SaunaFin team today at 905-738-4017.