The Common Mistakes Made When Buying a Home Sauna
Posted on 07 January 2022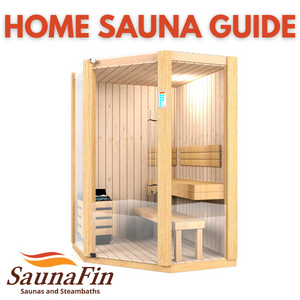 Purchasing a home sauna is a big decision. It can be a daunting and confusing process as you don't want to make an expensive mistake with your purchase. But buying a Dundalk LeisureCraft sauna doesn't have to be complicated. It can be a breeze with the right amount of research and assistance! Often, Canadians looking to buy a home sauna make common mistakes that can leave them in hot water. Our experts at Saunafin list some of the most common mistakes people make when purchasing a home sauna, so you can be sure to stay clear of them!
1. Not Working Out Your Budget
Budgeting for your Dundalk LeisureCraft sauna is a crucial decision to make. Home sauna prices can vary—the type of sauna, quality of wood, unit size, heating, accessories, and extra features all affect the final pricing. Determine your budget with a list of 'good to have' and 'must have' features. Factor in assembly and installation costs to avoid unpleasant surprises. It is also a misconception that a home sauna is terribly expensive. DIY sauna kits can be an affordable, low-budget option, while a custom-built premium sauna will obviously cost more, so plan accordingly. That said, cost shouldn't be the main factor while shopping for a sauna. Your sauna is an investment; quality and durability matter. Less expensive can also mean more trouble, so choose wisely!
2. Not Doing Proper Research
Yes, we know you have surfed the net looking up everything about home saunas. But don't miss out on researching the sauna company itself! Apart from the basics about types of saunas, the timber used, and the type of heaters, it is equally important to read about the sauna company. Read online reviews, the company background, experience, materials used, and know precisely what you're getting. Look for a reputable company like SaunaFin, which has been in the market for decades and has a proven track record of providing quality saunas backed with excellent customer service.
3. Not Planning Your Purchase or Identifying the Right Space
Another common mistake first-time sauna buyers make is not planning for the sauna. Think about the size you need and how many people will use it regularly. A small sauna may be uncomfortable to use, while a too big sauna will be a waste and take up too much space. The next step is to identify the right area or location. This will help you decide on the size too. The wrong location or impractical size can put a damper on your dream sauna escape. You certainly don't want to end up buying a sauna that is too large or small for your identified space. Make sure you take correct measurements of the place you are planning to put the sauna. Consider factors like ease of access, view from inside, availability of electrical outlets, and adequate ventilation & drainage. In fact, not estimating the electrical requirements is one of the top sauna buying mistakes. If you're considering a large sauna, speak to the company about the power requirements and check with your local electrician about the feasibility.
4. Not Reading the Fine Print
Whether you buy online or offline, make sure to find out about return policy, warranties, and replacements. Your home sauna is a prized investment; make sure you get your money's worth! Always buy from a trustworthy company that provides extensive warranties. An ideal warranty should cover the sauna cabin, heating system, electrical components, and control panel.
Need More Info to Avoid Home Sauna Mistakes?
We hope our blog will help you avoid making these common mistakes when buying a home sauna. At SaunaFin, we're committed to empowering you with genuine & reliable information about home saunas. If you need further advice on buying the perfect Dundalk LeisureCraft sauna, get in touch with the pros at SaunaFin. Our expert team is always available to answer all your questions about purchasing the best sauna for your unique taste and needs.