Pros and Cons of In-Home Saunas
Posted on 09 November 2022
When you get the chance to design, purchase, or build your own home sauna, there are many opportunities to incorporate customizations from start to finish. Between light shades, backrests, and LED lighting, every detail of your sauna can be personalized to your preferences and within your budget. If you want to create a personal spa retreat in your home, home saunas in Toronto are the perfect way to do it. If you're unsure if you should follow through with getting a sauna for your home, the team at SaunaFin has compiled a list of pros and cons for in-home saunas to help with decision-making.
Below is a list of the pros and cons of in-home saunas to help you decide whether this luxurious feature is ideal for your home.
Pros of In-Home Saunas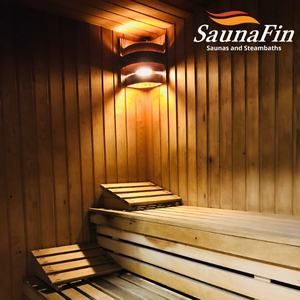 Luxury Relaxation at Your Fingertips: One of the greatest benefits of in-home saunas is having a luxury spa at your fingertips. On days when stress is high, your body reacts - sometimes knowingly or unknowingly. With premium at-home saunas, you can relax and ease muscle tension within minutes, meaning you no longer have to compromise your privacy and transport to your nearest public sauna. With saunas from SaunaFin, you can enjoy a calming, stress-free experience whenever needed.
Increases Property Value: Even if you're not planning on selling your home anytime soon, it's good to know that a built-in home sauna can significantly increase your property value. Sauna kits and infrared saunas can be built into any area of your home's renovations or new construction, such as the bathroom, bedroom, or basement. When or if you decide to put your house on the market, you can feel confident knowing that the value of your home is increased with premium saunas from SaunaFin.
Provides Many Health Benefits: Besides having an easily accessible sauna, a significant benefit is its many mental and physical health benefits. Just by sitting in your sauna daily, you can drastically increase your circulation and relax tense muscles. Relaxing and relieving stress provide many benefits and can be directly connected to improved cardiovascular health and sleep.
Cons of In-Home Saunas
Requires Maintenance: Important items like your car, home, and property need regular maintenance, and the same goes for saunas. At SaunaFin, we highly recommend proper care to prevent bacteria and mold from growing, keep the environment clean, and ensure an excellent experience for each use. Although maintenance is minimal and easy to do, you may want to stick to a steam shower or bath if you dread chores.
They Take up Space: Before purchasing a sauna, you'll want to ensure enough space. Indoor saunas take up space, and if you don't have extra room, it can deter you from purchasing. At SaunaFin, we know space is vulnerable, so we offer smaller-sized in-home saunas for your convenience.
It's an Investment: Saunas are an investment, and upfront costs can make some homeowners turn their heads. Although prices can deter people, purchasing an in-home sauna can save you money in the long run, especially for regular sauna users. Rather than spending money on a membership to share a sauna with others, you can purchase your own and have seclusion, lifetime usage, and a return on investment.
Premium In-Home Saunas from SaunaFin
If you're considering purchasing an in-home sauna, SaunaFin is your top choice. As the leading manufacturer and supplier of saunas and steam baths in North America, you can trust that you're getting high-quality materials at a cost-effective price.