What Time of the Day Should I Use My Sauna?
Posted on 01 September 2020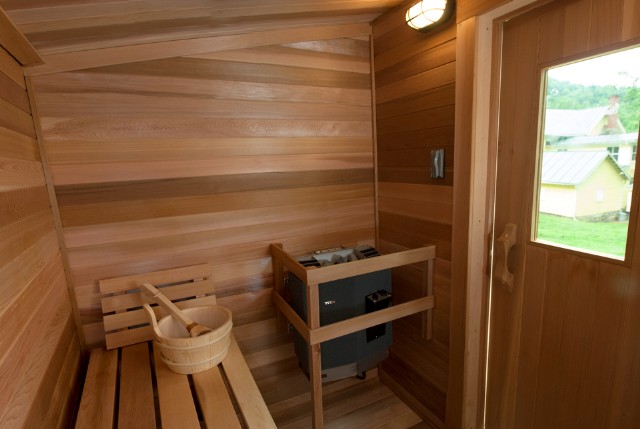 Recently, we have all been spending a little extra time at home. Many people are finding this time is a great excuse to update their home or backyard. Why not make your space a beautiful place to call home? Now, you can access spa-quality experiences from the comfort of your home with a new indoor or outdoor sauna. Home saunas make it easy to access all the health benefits of regular sauna use from your home or backyard. With the flexibility of an at-home sauna, you might wonder if there is an optimal time of day for use. Is it best to use your sauna in the morning? In the evening? The good news is that the answer is ultimately up to you. Let your personal preferences guide your home sauna use. In this blog post, we have helped suggest some of the best times of day to make the most of your home sauna.
Before You Exercise
An at-home sauna can be easily integrated into your exercise routine. Using your sauna before your workout can provide a range of benefits to your health and training. Whether you choose to workout in the morning or evening, using your sauna beforehand can help to kickstart your circulation and relax the muscles. It is a great chance to do some dynamic stretching and allow your muscles to prepare for the workout ahead. It can also help you to focus your mind and envision your workout. Many athletes find it helpful to set goals and visualize their workout while relaxing the mind and body in their home sauna.
After You Exercise
Similar to using a sauna before you exercise, using a home sauna after a workout can provide many health benefits. Athletes find that regular home sauna use can improve both recovery and endurance. Using a sauna after a workout naturally increases blood flow by elevating the heart rate, helping to flush lactic acid from the system, and reduce muscle inflammation. This increased blood flow can reduce muscle aches and pains and help alleviate the symptoms associated with arthritis, back pain, and other ailments. The high temperature also induces sweating to help extend your workout. Many athletes find that regular sauna use can improve their endurance and shorten recovery times. Just remember to drink plenty of water before and after your workout and sauna session to ensure you stay hydrated.
Part of Your Morning Routine
Regular sauna use is an important part of any wellness routine. The warm, relaxing environment of a sauna creates an oasis to escape the hustle and bustle of everyday life. Regular sauna use is shown to reduce stress and anxiety. By incorporating a sauna session into your morning routine, you can designate a space and time in your morning all to yourself. Whether you use that time to reflect, to meditate or to simply relax, you will be able to leave the sauna feeling rejuvenated and ready to tackle the day.
While Entertaining
An at-home sauna can also be a great space to entertain family and friends. When combined with a pool or hot tub, your home sauna can be a warm space to relax and unwind with guests. If you have a large outdoor sauna, you can reconnect with your loved ones while enjoying all the amenities your home or cottage backyard has to offer.
Before Bed
Many people find the warm environment of a sauna to be relaxing. It can help you unwind and clear your mind after a long day at the office. Before bed, a sauna session can help to relax the mind and muscles and prepare the body for sleep. We recommend combining your evening sauna sessions with gentle stretching or meditation to help rid the body of any pent-up stress from the day. You may even consider combining your sauna session with aromatherapy to help deepen your relaxation experience.
Be Creative
Although we have outlined a few of the many ways to use your home sauna, the sky is truly the limit! With an at-home sauna, you will have the flexibility to use your sauna whenever you prefer. Whether it is first thing in the morning, right before bed, or with family and friends, your new home sauna will make it easier than ever to relax, unwind and recharge. Consider purchasing some sauna accessories or updating your outdoor living space to create an immersive oasis that you can escape to any time of day. Have you transitioned to working from home? Are you kids staying home from school this year? Home saunas are the perfect space for you to find some alone time for yourself.
Home Saunas
It is now easier than ever to build a brand-new home sauna with home sauna kits. These kits conveniently package all the materials you need to build a custom indoor or outdoor home sauna. Whether you are an experienced DIYer or are looking for a new home project, home sauna kits help make the process easy and straightforward. By packaging all the necessary materials, your kit will save you time and money while designing and building your new sauna.
A variety of are available through SaunaFin. A company with over 50 years of experience in the sauna industry, SaunaFin sells a range of kits to fit every cottage or home. SaunaFin currently sells both prefabricated sauna kits and sauna material kits for indoor and outdoor models. We sell a range of designs and sizes to suit any budget or backyard. Our expert team can help guide you through the buying process to select the perfect home sauna for you and your family. Our showroom is now open by appointment and you can come browse our wide range of at-home sauna models. For more information on any of our home sauna kits or to purchase yours today, contact the SaunaFin team at 905-738-4017. With the help of SaunaFin, bring the spa home with you in a brand-new indoor or outdoor sauna.