What To Look For When Buying A Home Sauna In Canada
Posted on 03 January 2022
While finding any home saunas in Canada online is easy, selecting the perfect sauna for you is sometimes a challenge. There are many different home sauna kits available, each with its own advantages. At Saunafin, we have a passion for saunas and would like to help you make an informed decision about which sauna is the best for your needs and budget.
Choosing the best sauna comes down to asking the right questions and tapping into your needs. Read on for tips and questions to guide you on your Sauna journey. Please note, you should always contact your local building authority before purchasing home saunas in Canada to ensure that it has passed all relevant building codes.
Do Your Research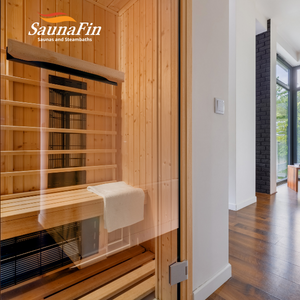 The decision to buy a home sauna can be a rather personal one. Every sauna enthusiast has their own needs, and what is satisfying for one person might not be for another. Those already experienced with sauna have their own preferences and rules that they have learned throughout the years. For those of you who do not have much experience with saunas, it is only normal to feel overwhelmed when you set out to select one for your home. The best way to approach this process is to prepare yourself as much as possible and then make your final decision.
At SaunaFin, we are aware that there are a variety of choices when it comes to home sauna kits. Visit our comprehensive product pages, where you can learn about the benefits and features of individual home saunas in Canada to facilitate your decision-making. Here at SaunaFin, we are committed to providing only high-quality products and services to each of our customers.
You can find everything you need at Saunafin - one of the biggest sauna companies in North America, specializing in factory direct sales of high-quality indoor & outdoor saunas, sauna material kits, sauna heaters, sauna accessories and steam bath generators.
Establish a Budget
Buying a sauna can be daunting because it is a significant purchase. One of the best things about buying a home sauna kit is that you actually save money even if you have to install it yourself, since the cost of materials is bundled into the cost of the sauna itself. The price of home saunas typically range anywhere from $3,000 to as much as $40,000 for custom versions that fit into spaces like an existing wet bar or shower. A basic sauna will cost about $4,500 to $5,500, while the middle range of home saunas will cost about $10,000 to $15,000.
Prefabrication or a DIY Home Sauna Kit: Which is Best?
Prefabrication means the company takes your measurements and designs a sauna specifically for your space to ensure proper fit. Many manufacturers use this method because they can deliver and install it in one day. Others offer home sauna kits that you can customize to suit your needs.
Consider This When Buying A Sauna
The first thing to consider is the space you have to install the sauna. Saunas come in various styles, so if you have a small space, a wall-mount unit may be better than a freestanding or traditional sauna. A traditional sauna can be very expensive and monopolize a significant amount of space. On the other hand, a freestanding sauna can cost less and is portable, making it ideal for people who are renting or do not have adequate space in their homes.
The Type Of Sauna You Want
There are many choices, from traditional steam saunas, electric saunas and infrared saunas to prefabricated or portable home saunas. Each version has its upside and downside, depending largely on its intended use.
Steam Saunas
Steam saunas are the traditional style of sauna. As the name suggests, they get their heat from steam that comes from water in a hot furnace or stove. The steam is vented through the ceiling. With a steam sauna, you have the option of adding aromatic oils to the moisture to make your sauna more soothing and relaxing. But, it is essential to realize that steam can be hard on your lungs, especially if you're older or have asthma.
A steam sauna is a great way to enjoy the benefits of a sauna without the high cost or effort of installing a traditional sauna. Although a steam sauna is smaller than traditional wood or electric alternatives, it provides a powerful and efficient way to reduce muscle pain, boost the immune system and improve circulation.
Electric Saunas
Electrical saunas heat up coils that are installed into the ceiling above your head. Many models also put out incandescent bulbs to make your sauna more comfortable. Some electrical saunas also have a drywall ceiling with small holes drilled in them to allow the heat through. These holes also allow the steam to get out. Electrical saunas are very easy to operate and can make a great addition to any home.
Infrared Saunas
Infrared saunas are becoming increasingly popular among sauna enthusiasts. The heaters emit infrared rays absorbed by the body and converted into heat energy. The ambient temperatures are between 185 and 195 degrees. Infrared saunas also benefit from emitting both visible and invisible light waves that penetrate deep into the body, compared to conventional dry heat saunas, which emit only visible light waves.
It is good to know that infrared saunas emit only infrared light waves, feeling like gentle warmth. Infrared saunas are a favourite because they are considered the best sauna for skin comfort and detoxification. This type of sauna is easy to install and is well-suited for a quick, soothing session.
Infrared saunas work by using infrared heaters to supply radiant heat to your body. As you sit comfortably in front of these heaters, infrared rays penetrate your skin and muscles for a soothing effect. You do not sit in a pool of water or in front of a stove or fireplace because that would produce convection heat and not infrared heat. As a result, you feel more energetic after such a session.
Type Of Sauna Heater
Three Types Of Sauna Heaters ​
Kerosene Heater
Electric Heaters
Infrared Heaters
Kerosene heaters are one of the most popular choices because they're easy to use, portable, and affordable. At SaunaFin, we stock two types of kerosene heaters: the Pure Vision Sauna Heater and the Luna Sauna Heater. Both powerful heaters provide a strong airflow thanks to their powerful fans and ceramic baffles that dissipate heat effectively throughout the sauna room. The Pure Vision Sauna Heater is specifically designed for indoor use, while the Luna Sauna Heater performs well, both indoors and outdoors.
What Type Of Sauna Timber
You have a number of options when it comes to selecting the type of sauna wood. Oak, cedar and many others such as birch and red pine are available. Some come with assembly home sauna kits, while others must be professionally installed. One of the greatest advantages of buying a home sauna kit is that you actually save money even if you have to install it yourself because the cost of materials is bundled into the price of the sauna itself. The main difference between cedar and red oak is that Red Oak is treated with a special fire-resistant resin. The resin makes the wood much more durable in extreme heat, which translates into not needing to replace the wood when the sauna is heated to over 250 degrees (F).
Final Thoughts
Purchasing a sauna is a big decision. Often it's more of an investment than common household appliances like refrigerators or TVs. Designed to last for decades, home saunas in Canada are something you can pass down generationally. The impact of a high-quality sauna can make all the difference. That's why it's important to do your research and visit a trusted provider of home sauna kits and home saunas in Canada.
Homeowners looking to enjoy the sauna benefits of feeling relaxed and renewed are more likely to do so if they experience a positive sauna shopping experience. After all, the whole idea of being indoors in a warm, dry and safe space is to escape reality and relax. Purchasing a new sauna can be fun and exciting. Fortunately, finding the right home sauna isn't too difficult when you know exactly what to look for.
If you still need help deciding, contact Saunafin today! One of our team members will be happy to help narrow down your search for your perfect home sauna.