Why Choose SaunaFin as Your Sauna Company
Posted on 15 January 2021
Choosing to build a custom home sauna is a big decision. Not only does it add value to your home or cottage, but it provides you and your family with years of spa-quality experiences from the comfort of your own home. Once you have decided to purchase a home sauna, it's essential to choose your business's right. At SaunaFin, we are a second-generation, family-run sauna company with over 60 years of experience providing top-quality saunas to customers in Canada and the USA. Here is why you should choose SaunaFin for your custom home sauna.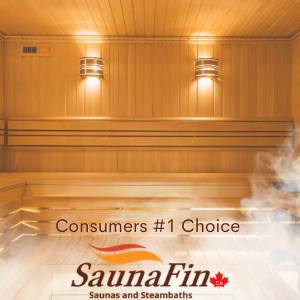 SaunaFin's Values
For years, homeowners have made SaunaFin their number one choice for purchasing a sauna in the USA and Canada. With over 60 years of experience, we pride ourselves on our saunas' quality and dedication to customer satisfaction. Our years of experience help us work closely with our customers to design custom sauna kits to fit their home sauna vision. Let us help you and your family build the sauna of your dreams!
Customize Your Sauna
When it comes to home saunas, SaunaFin knows how important it is to have a sauna that fits with your family and lifestyle. We currently sell prefabricated sauna material kits that are fully customizable and can be installed in as little as one day. These kits make it almost as easy as 1,2,3 to build a custom indoor or outdoor home sauna. We have years of experience working with homeowners, renovators, and custom home builders to design and install saunas of all shapes, sizes, and designs. Whatever your home sauna vision, we can help make it a reality.
Rated #1 Sauna Company
SaunaFin is the largest retailer of saunas in Canada and is one of the largest sauna companies in North America. We are the number one rated sauna company in Canada and have experience with both residential and commercial saunas. In addition to our thousands of residential sauna installations, SaunaFin is a specialized contractor with the YMCA and LA Fitness and has supplied saunas and steam baths for hotels and stadiums across North America. The SaunaFin team are indeed experts when it comes to designing and installing custom home saunas. We even manufacture our own sauna heater, sold under the Sauna Craft brand.
If you are interested in purchasing a custom home sauna in the USA or Canada, look no further than SaunaFin.
Our sauna material packages have literally everything you need to build a custom indoor or outdoor sauna at your house or cabin. As the number one sauna company in Canada, SaunaFin prides itself on providing exceptional service and high-quality saunas to our valued customers. Each of our sauna kits is fully customizable. You can choose the size, design, and heater of your choice. All our kits are designed to be installed in as little as one day with little to no building experience. Want more information? Are you interested in purchasing your sauna kit today? Call the SaunaFin team now, the number is 905-738-4017.