Why You Should Start Using a Sauna in 2023
Posted on 11 January 2023
New year, new you. At the beginning of a new year, it is common to set intentions, resolutions, or new goals to achieve. For each person, new year's resolutions and goals will differ but virtually everyone is looking for a way to make this year better than the last. Whether you're looking to make improvements mentally, socially, or physically, a home sauna is a great addition to help you get closer to the person you want to be. At SaunaFin, we supply premium indoor and outdoor saunas throughout North America so you can take on your goals for 2023.
Reach out to our team of specialists at SaunaFin to find out everything you need to know to begin researching the type of outdoor sauna best suited for your needs. Give yourself some self-care in 2023; you deserve it!
Read on to learn more about why 2023 is the right time to start using a home sauna.
Muscle Recovery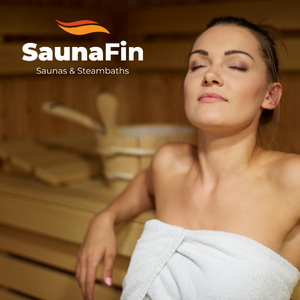 Nothing beats adding a sauna session to the end of your workout routine. Studies have found that regular sauna use will increase your blood flow, decreasing pressure on aching joints. If you've started working out more or engaging in more physical activities, a home sauna can facilitate muscle recovery and encourage you to keep going to the gym. Let the soothing heat of the sauna release muscle tension and pain.
Stress Relief
Work, family, and social pressure only seems to increase as you age. But as stress increases it can have damaging health implications, affecting us mentally and physically, altering our mood and appearance. An indoor or outdoor sauna from SaunaFin helps set aside time and space where you can escape everyday stressors and relieve some pressure. By leaving electronics and distractions outside of your home sauna, you can take a momentary step away from the world and decompress after a long day with the help of steam therapy, relaxing your muscles
You must leave your electronics and other distractions out of the equation to enjoy your sauna, forcing you to decompress after a long day. For an extra special treat, try enhancing your sauna experience with essential oils like lavender, which is said to reduce anxiety.
Better Sleep
Rest plays a significant role in your overall health. Researchers continue to study the impact of sleep deprivation and the repercussions can be devastating. Unfortunately, many North Americans struggle to fall asleep or stay asleep. If that sounds like you, then a home sauna may be an effective and natural way to regulate your sleep patterns. From feeling very warm to gradually cooling down, your body experiences a slow decline in endorphins, which readies you for a good night's sleep.
Start 2023 with a Home Sauna
Whatever your reasoning for wanting a sauna, it is clear that the benefits of sauna ownership are plenty. Whatever your goals are for 2023, prioritize self-care and health by putting yourself first.
Considering a sauna but not sure where to start?
Contact our team of specialists at SaunaFin today to learn more about sauna ownership. Get started on your path to relaxation and wellness, muscle recovery, stress relief, better sleep, glowing skin, and blood pressure health. Be your best self this year with a little help from SaunaFin. Shop beautiful prefab saunas or customizable DIY home sauna kits.