Can You Use A Wood Stove For A Sauna?
Posted on 13 January 2021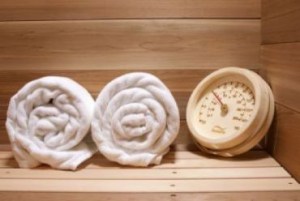 Home saunas are now easier than ever to purchase and install thanks to sauna material kits. These kits combine everything you need to build a custom sauna in as little as one day. The kit includes construction materials, heater, doors, windows, and controls. When it comes to choosing a heater, a sauna wood stove will provide a traditional, wood-burning scent to your home sauna. A sauna wood burning stove was a traditional heating source for Scandinavian saunas. In this blog post, we have answered some of the most frequently asked questions about sauna wood stoves.
How Does a Wood Stove Work?
As their name implies, a sauna wood burning stove utilizes wood to create the high temperature of the interior of the sauna. These heaters are designed to burn very efficiently to generate minimal ash. Several models are also available with a water tank to generate steam for a wet sauna session. Constructed with heavy-duty steel and a cast iron grate, a sauna wood stove is designed to withstand high temperatures and last through years of sauna use.
Can You Use a Wood Stove In A Sauna?
Some homeowners worry about using a wood-burning stove in a sauna, thinking that it may pose a fire risk. However, a sauna wood burning stove is both a safe and traditional choice for heating your sauna. Wood burning heaters are popular for outdoor saunas, where it is easy to ventilate the fire. Most sauna material kits can be customized to include a wood-burning stove. One of the benefits of a wood-burning stove is that it does not require any electricity to operate. If you are planning on building an outdoor sauna at your home or cottage, it may make construction easier if you do not require an electrical outlet.
What Kind of Saunas Use a Wood Stove?
Sauna materials kits can be completely customized to feature the heater of your choice. Almost any outdoor sauna can be designed to include a sauna wood burning stove. When purchasing your sauna material kit, simply choose to include a wood-burning stove either with or without Firebrick. Mikka Wood Burning Sauna Heaters, available through SaunaFin, are made in Canada to last through years of sauna use.
At SaunaFin, we sell sauna material kits to suit any space and budget. We have both indoor and outdoor sauna models that can be easily installed in any home or cottage. Our kits include everything you need to build a custom sauna in as little as one day. With a sauna wood burning stove, you can achieve the traditional scent and heat of Scandinavian saunas. With a water tray, you can enjoy either a dry or wet sauna experience. For more information on wood burning heaters, or to purchase an outdoor sauna kit today, contact SaunaFin at 905-738-4017.