5 Outdoor Sauna Mistakes To Avoid
Once you decide to purchase an outdoor sauna kit, there are still plenty of important decisions to make. Home saunas can be a fantastic addition to any backyard, but they can cause hassle over time if not thoughtfully installed. Sauna kits make the installation process easy and streamlined, and it is up to you to consider some of the most common mistakes with outdoor sauna sizing, placement, and design. Check out our helpful list of common outdoor sauna mistakes to keep in mind as your purchase and install your new custom home sauna.
The Right Placement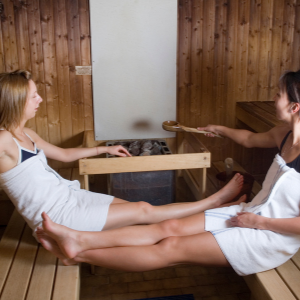 At SaunaFin, we design our sauna kits for installation in as little as one day. Even with little to no construction experience, you can quickly install a brand-new sauna. With such a simple process, it can be easy to get excited and start building as soon as your kit arrives. Instead, take your time to consider the placement of your new outdoor sauna carefully. If you want your sauna beside a lake or pool, consider how people will access the sauna and how close you will want it to the water. If you are placing it in your backyard, remember that sauna heaters require minimal clearance from surrounding combustibles. Before building your new sauna, make sure you measure your yard and consider the size of the building.
How The Sauna Door Swings
Many people do not think about doors when it comes to home saunas. However, the placement of your door can make a big difference in an emergency or even for everyday use. In general, you will want your door to open out of the sauna to ensure that bathers can leave quickly in an emergency. If you have frequent sauna traffic, it might be a good idea to install a door with a window to avoid traffic jams and injuries.
What Is The Best Size?
One common mistake with home saunas is not choosing the right size for you and your family. Many people purchase a sauna that is too big and end up spending extra money heating a space that is never fully used. Unfortunately, some people buy a sauna that is too small and end up having to constantly rotate in and out of the sauna to give everyone a chance inside. Carefully consider who will regularly use your home sauna and how often you plan on entertaining before deciding on the final size for your new outdoor home sauna.
Choose The Best Lighting
With an outdoor sauna, you get the unique opportunity to maximize natural light and stunning views. As you are deciding where to install your new sauna in your backyard, consider sunrise and sunset. Can you place the building so that you can maximize natural light and allow bathers to enjoy beautiful views from the comfort of your new outdoor sauna? Take your time deciding the perfect spot in your backyard before you begin the installation process.
Finishes and Flooring
You should never overlook flooring and wood finishes with outdoor sauna kits. Over time, wooden benches, backrests, and flooring can stain from sweat and water build-up. We recommend sealing your wood with a water-based natural sauna sealer that dries clear to protect the interior of your sauna.
At SaunaFin, we carry a range of outdoor home saunas made with premium Western red cedar. With many available sizes and styles, you and your family can find the perfect sauna to fit in your home or cottage backyard. By avoiding common outdoor sauna mistakes, you can ensure you make the most of your new home sauna. To get started ordering sauna kits, contact the SaunaFin team online or at 905-738-4017.