FAQs About Outdoor Saunas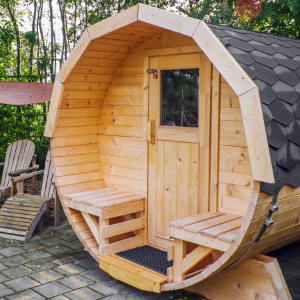 Outdoor saunas are a popular choice for home and cottage backyards. Whether you are looking for a sauna to complement your pool or a lake, an outdoor sauna will provide easy access to spa-quality experiences year-round. Sauna companies like SaunaFin now make it easier than ever to purchase and build custom outdoor saunas with a sauna material kit. Before buying an outdoor sauna, here are answers to some of the most frequently asked questions about custom home saunas.
Do I Need a Permit for an Outdoor Sauna?
In many areas of North America, an outdoor sauna that is less than 120 square feet will not require a permit. It is always a good idea to double-check with your municipal permit department before beginning any construction on your property.
What is the Best Temperature for an Outdoor Sauna?
The most common temperature for outdoor saunas is between 160 and 190°F. The temperature you select is ultimately up to your preferences. In general, aim to use lower temperatures for longer sauna sessions and only use the sauna for a short period at its maximum temperature.
How do I Prepare the Base for my Outdoor Sauna?
The base of outdoor saunas can be a variety of materials. The most popular are concrete slabs, flattened gravel with patio stones on top, or a vinyl layer on top of an existing deck.
What Insulation Should be Used in a Home Sauna?
A sauna's exterior walls with 2x6 studs should use R19 insulation, and ceiling insulation should be R26. Remember that a sauna foil vapour barrier should protect all studs to keep heat inside the sauna and protect the walls from moisture build-up.
What Maintenance Does my Outdoor Sauna Need?
Believe it or not, outdoor saunas require very little regular maintenance. In general, you can keep your sauna in good condition by avoiding sweat build-up and staining of your benches and backrests. Easily protect the interior of your sauna by having bathers sit on clean cotton towels during their sauna session. Occasionally, you can also clean the benches, backrests, and floor with water and a mild detergent. Another great way to extend your sauna's longevity is to use a traditional scrub brush and bucket to wipe down benches and backrests with water after every use. For the outside of your sauna, you can simply hose it off to remove dirt and debris.
SaunaFin is one of the leading sauna companies in North America. Our wide range of outdoor saunas makes the perfect addition to any home or cottage backyard. With one of our sauna material kits, you can build a custom outdoor sauna in as little as one day. All our kits are designed to be built with little to no construction experience and include all the instructions you need. This summer, make the most of your outdoor living space with a new sauna to help you relax and unwind. Get started purchasing your new sauna by calling 905-738-4017.