Curious About the Luna Sauna? What You Need to Know
Posted on 10 February 2020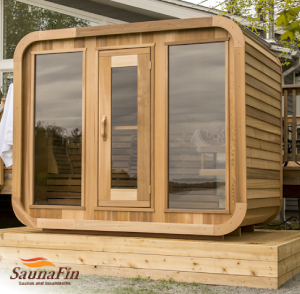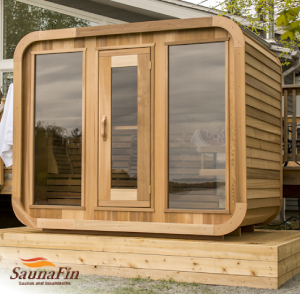 Canadian winters are long, cold and dreary. After a long day at the office, many people want an easy way to relax and unwind from the comfort of their own home. This winter, a new indoor or outdoor sauna could be a great addition to your home or cottage. If you're interested in purchasing an at-home sauna, you may be unsure where to begin. With the wide variety of available models and sizes, how can you determine which sauna is the best fit for your home and family? In this blog post, we'll discuss one of our popular saunas that truly stands out amongst the crowd. The Luna sauna features a unique, non-traditional design that offers all the luxury of an at-home sauna wrapped in a gorgeous piece of architecture.
Luna Sauna Specifications
The Luna sauna features gently rounded corners to create additional space in the interior. The front of the sauna includes floor to ceiling windows that flank the door, which creates an additional large window. The overall design maximizes sunlight to allow you to enjoy fantastic views from the comfort of the inside of the sauna. The sauna is constructed with Canadian Western red cedar for a long-lasting product perfect for a home or cottage backyard. The sauna comes in a wide range of sizes to seat anywhere from 2-12 individuals. Two tiers of benching allow sauna goers to customize their level of heating and several designs additionally include outdoor seating.
Features of the Luna Sauna
Compared to other sauna designs, building a Luna sauna provides a wide variety of benefits to you and your family. The Luna sauna truly maximizes outdoor viewing. With floor to ceiling windows, you'll be able to take in stunning views from your home or backyard while relaxing in your new at-home sauna. These windows are perfect for viewing nature all year round, adding an extra level of rest and relaxation to the sauna experience. The Luna sauna was also designed to maximize interior space. With ample, tiered seating, the gently sloped edges of the sauna create additional headspace and allow anyone enjoying the spacious sauna to feel fully relaxed. With exceptionally fast heating, the Luna sauna allows you to set the temperature and enjoy the sauna quickly, wasting no time while you wait for the perfect sauna environment.
With an elegant design and simple assembly, the Luna sauna is easy to build in any backyard. The design comes in a wide range of sizes to seat you and your significant other or the entire family. Easily select a model that can fit in your small city backyard or a large model for a stunning addition to your cottage.
The Luna Sauna is available at SaunaFin
At SaunaFin, we can help you select the size that fits your lifestyle and assist with delivery and installation of your new Luna sauna. SaunaFin can deliver throughout Ontario and ships throughout Canada and the USA. For more information on the Luna sauna or to get started purchasing your own model, contact the SaunaFin team today at 905-738-4017.