Outdoor Vs Indoor Sauna: Which Should You Get?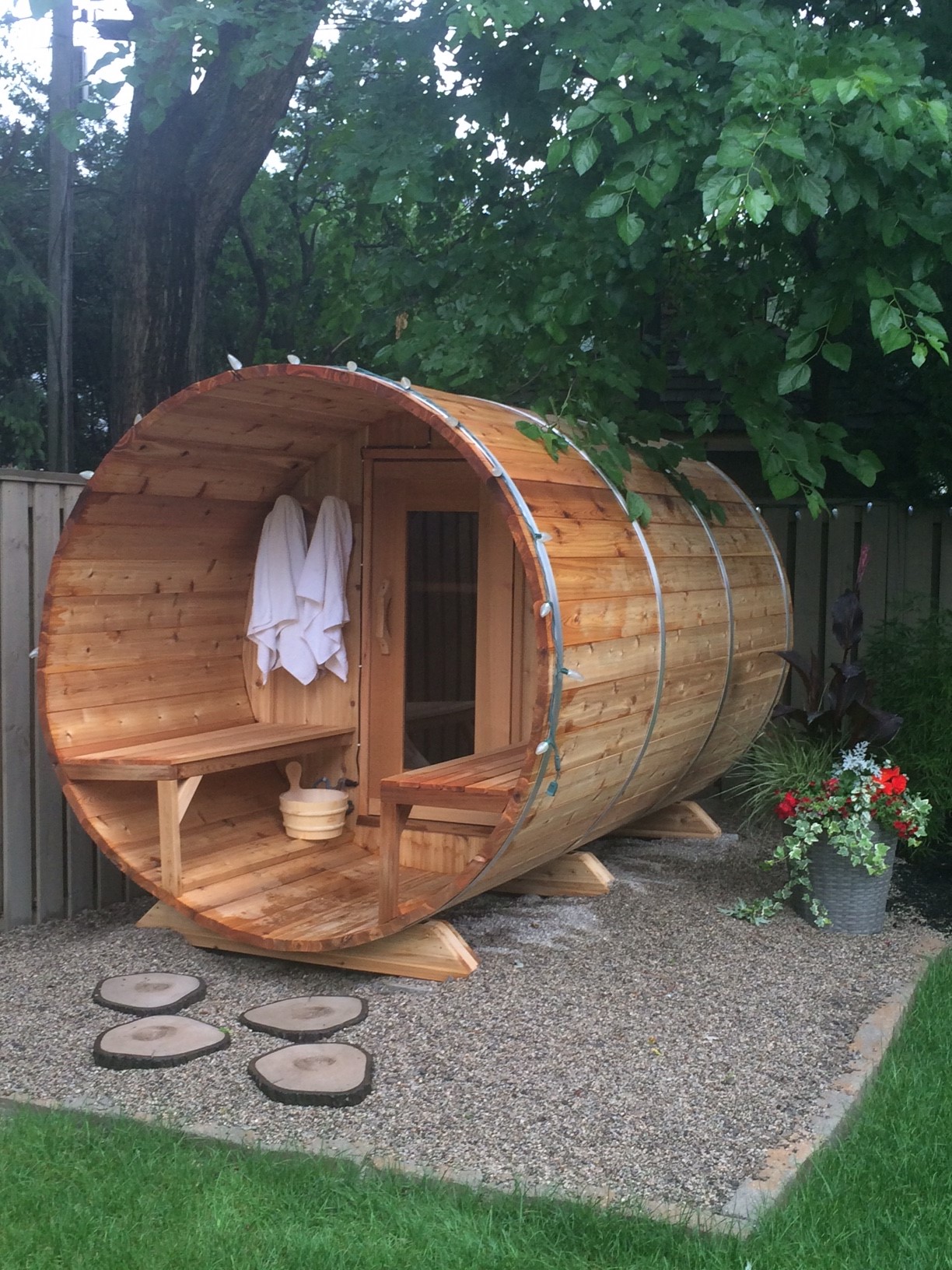 When it comes to a home sauna, there are no wrong choices. Just like your home, backyard, and even dinner plans, it all comes down to personal preference. With a home sauna, there are many ways to customize the final design. From building materials to shape and design, a home sauna can reflect your personal style. One of the biggest choices a homeowner will make is whether they want an indoor or outdoor home sauna. In this blog post, we have put together a guide to help you design the home sauna of your dreams.
What is the Difference Between an Indoor and Outdoor Sauna?
There are many similarities and differences between indoor and outdoor saunas. As their name implies, the main difference is their location.
Indoor saunas are usually built free-standing or directly into the infrastructure of your home. They are frequently placed in home gyms, master bathrooms, basements, or spas. During renovations or the building of a new home, many people choose to build a custom sauna directly into their house. Free-standing indoor saunas are equally convenient in their flexibility and ability to move between homes and can be installed at any time.
On the other hand, outdoor saunas are usually built in backyards, usually by a pool or lake. Without the limit of indoor space and easy access to proper ventilation, there are lots of options for customizing an outdoor sauna. Current models range in building material, design, and size. With an outdoor sauna, you can integrate your pool, landscape design, and sauna into a backyard oasis. Unlike indoor models, outdoor saunas are not limited in their size and can be designed to take advantage of the views from your home or cottage backyard. Outdoor models can be barrel-shaped, raindrop-shaped, cabin-shaped, and more. They can also be designed with windows, acrylic bubble backs, or glass doors that let in the maximum amount of natural light.
Benefits of Indoor Saunas
Indoor saunas are a great way to utilize unused space in your basement or bathroom. With an indoor sauna, you can add a touch of luxury to your home that is easily accessible anytime and in any weather. Indoor saunas are also easier to install, without the need for a foundation and with easy access to electricity and water. Many indoor sauna models can be installed free-standing, allowing you to take them with you if you ever move. Indoor saunas provide additional privacy and security, allowing you and your loved ones to enjoy the tranquility of your home sauna from the comfort of the indoors. Especially if you have a small backyard, an indoor sauna will let you bask in the luxury of your home sauna without the hassle of an outdoor build.
Types of Indoor Saunas
Indoor saunas can be designed from scratch and built directly into your home during a new build or renovation. However, the most popular indoor sauna models are prefabricated kits. With a PreFab indoor sauna kit, it is easier than ever to build a sauna in your basement, home gym, or master bathroom. Over the course of an afternoon, you will be able to build a brand-new indoor sauna with the convenient packaging of the PreFab kit. Two available options are the PreFab cabin or a PreFab Pure Vision model with an all-glass front. Both provide a stunning addition to any home interior while providing an easily accessible, luxury oasis.
Benefits of Outdoor Saunas
With outdoor saunas, proper ventilation is easy to achieve and you will not have any space restrictions. You can build a unique sauna without the restrictions of a roof or walls. Although you will need to build a foundation for stability, it can be fun to build your own custom sauna. Just like an indoor sauna, outdoor saunas can be used anytime, and, in any weather. The only downside is that you might have to brave the wind, rain, or snow to access your outdoor sauna. Thankfully, nothing compares to the potential views of an outdoor sauna. Imagine relaxing and unwinding in your new home sauna while taking in the views of the lake or pool in your backyard. With additional windows or an acrylic bubble back, you will be able to relax in the natural surroundings of your own backyard.
Types of Outdoor Saunas
Without space and ventilation restrictions of the indoors, outdoor saunas come in all shapes and sizes. Some examples of outdoor saunas include the traditional barrel model that is popular in Scandinavia. It can also be upgraded to include an acrylic bubble back for panoramic views of your backyard. Other popular options include the classic cabin sauna, the raindrop-shaped Pod sauna, or the gently rounded edges of the Luna sauna. Many outdoor saunas can be customized with tiered seating, outer cooling seats, glass doors, and exterior finishes.
Which Sauna is Right for You?
When it comes to indoor versus outdoor saunas, the right sauna will always be the one that feels right for you. Both indoor and outdoor saunas can be customized to fit your personal preferences.
At SaunaFin, we sell a variety of prefabricated and sauna material kits that make it easier than ever to build a custom sauna. With a PreFab kit, you can build an indoor sauna in your home with little to no building experience. Our sauna material kits conveniently package all the materials necessary to make a custom outdoor sauna. For more experienced DIYers, a sauna material kit provides you with all the materials to build a one-of-a-kind sauna in your home or cottage backyard.
Due to the ongoing pandemic, the SaunaFin showroom is open by appointment only. Once you have visited and decided on your sauna model, we can organize shipping or curbside pick-up for your PreFab or sauna material kit. SaunaFin has over 30 years of experience providing sauna kits made of premium Western red cedar to the Greater Toronto Area. For more information on any of our sauna kits or to compare indoor and outdoor sauna models, contact the SaunaFin team today at 905-738-4017.