The Different Types of Outdoor Saunas
Posted on 20 December 2021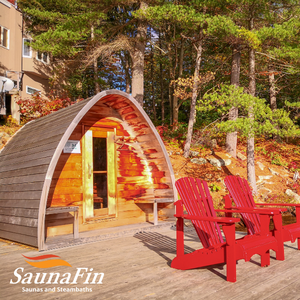 Outdoor home saunas are the ultimate indulgence, a relaxing escape from the stress and grind of everyday life. Imagine luxuriating in your own personal oasis, soaking in the beauty of nature with all the health benefits of a traditional sauna! Gorgeous looks, ease of installation, and the lower cost of outdoor saunas make them a popular choice. No wonder outdoor saunas are high on the wish list of most Canadians. If you're looking to buy an outdoor sauna, the plethora of styles, heating options, and sizes can be confusing. Let the experts at Saunafin make it easier for you with a low-down on the different types of outdoor saunas.
Outdoor Sauna Kits
DIY outdoor sauna kits can be assembled and installed virtually anywhere in your home. Whether you want it as a centrepiece in your backyard or place it on the patio or deck, sauna kits from Saunafin are the most versatile and affordable option for outdoor saunas. Eye-catching designs and big windows with a view make outdoor saunas the choice of sauna lovers who love to entertain & spend quality time with family & friends.
Choosing Your Outdoor Sauna
While there may seem to be a lot of different saunas in the market, most homeowners aren't aware of the variety of options and what factors affect each choice. Just picking an outdoor sauna that looks nice and fits your backyard isn't enough! Choosing the style comes at a later stage; the main factors that one should consider first are the choice of wood and the source of heating.
Type Of Wood
When it comes to outdoor home saunas, the type of wood can make a world of difference to your overall sauna experience. The wood should be sturdy enough to withstand the harsh weather conditions outside while providing a traditional sauna's authentic look and feel. The wood choice for a sauna will affect the style, longevity, durability, and even the ambience of your sauna session. Different wood types can be used to build a sauna—cedar or spruce wood, basswood, and eucalyptus are premium softwood alternatives for long-lasting outdoor saunas. Make sure that the wood of your outdoor sauna is:
Heat resistant
Moisture resistant
Durable & sturdy
Will not warp or decay
That is why all SaunaFin and Dundalk Leisure Craft saunas are crafted to perfection in beautiful cedarwood. The western red cedarwood is perfect for saunas due to its durability, dimensional stability, and decay resistance. Apart from the earthy, rich hues of red cedarwood, the wonderful aroma of warm cedar adds another dimension to your sauna experience. The Dundalk Canadian Timber collection offers an affordable version of home saunas. Constructed with Eastern White cedar, the range has tight knots and is lighter in colour.
Source of Heating
The ancient Finnish saunas have evolved into modern-day saunas with advanced sauna heating technology and stunning designs. Based on the heating source, the outdoor saunas can be broadly categorized into:
Wood Burning Saunas: If you're a sauna purist looking for the traditional, rustic sauna experience, wood-burning saunas stoves are still a hot favourite! The wood-burning stoves use firewood to heat up the rocks. Though they do not require additional wiring, wood-burning stoves need a functional chimney for venting. SaunaFin wood-burning heaters are available in firebrick and non-firebrick options.
Electrically Heated Saunas: These saunas are the most popular choice for heating that uses electric heaters to heat the sauna. The heaters come in a wide variety of configurations and sizes and have options for both wet and dry sauna. They can heat the sauna quickly for warm, ambient heat and provide simple to sophisticated temperature control options. SaunaFin has a complete range of electric sauna heaters from the Canadian-made Sauna Craft heaters, Saaku sauna heaters by TyloHelo Inc., to the Swedish Tylo Brand of heaters to suit every taste and home!
Infrared Sauna Heaters: A relatively newer technique, infrared sauna heaters are not considered authentic saunas by sauna traditionalists. These heaters use infrared light waves to heat up the body rather than the air. They are also an expensive option.
Frankly, along with logistical considerations, the choice of heating is entirely a personal preference.
Sauna Solutions from SaunaFin
Saunas are an investment in your health and wellness; when making a choice, consider all aspects for a sublime sauna experience. Need help? More questions? Contact the experts at SaunaFin for the sauna that fits your style and budget. With more than 60 years of industry experience, you know you can trust SaunaFin for the perfect sauna retreat!