Why Cedar is the Perfect Outdoor Sauna Material
Posted on 14 November 2023
Outdoor saunas are a highly-sought after property addition because of the many feel-good benefits it offers for the mind, body, and soul. When you shop SaunaFin for your perfect home sauna, you'll find that we offer a vast selection of sauna models that are customizable to your taste. The barrel sauna is a popular outdoor sauna because of its beautiful sleek appearance, traditional design, and efficient heating. While there are many elements you can change, customize, and upgrade in your outdoor barrel sauna, one feature you will find in all our outdoor saunas is that it is made with high-quality cedar: knotty, clear, or European.
For more insight on why we offer cedar saunas are the way to go for outdoor saunas, read on.
Naturally Resilient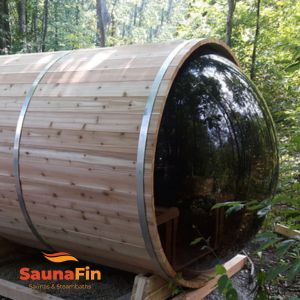 Cedar is a leading choice for outdoor sauna because of its innate properties that make it resilient to decay. High-quality cedar is laden with natural oils and resins which protect it from rot and pest infestations, which enhances its durability and longevity. As a result, when you opt for a cedar barrel sauna or any other outdoor sauna from SaunaFin, you can be confident that it will withstand the harshest weather conditions, without compromising its structural integrity or beauty over time.
Effective Insulator
The whole purpose of a home sauna is to keep the warmth in. When installing an outdoor sauna, a strong barrier between the inside area and the elements is crucial. Because of its structure cedar saunas are perfect for the outdoors because it is able to retain heat efficiently which minimizes heat loss during your sauna sessions offering a more usable and comfortable saunas experience, especially in colder climates.
Unbeatable Aroma
One of the primary reasons that people opt for outdoor saunas is to be immersed in nature and feel the bliss offered by the surrounding environment. Not only does cedar sauna add a beautiful aesthetic that compliments a wide range of landscape, cedar used in outdoor saunas emits a sweet and subtle woody aroma that elevates your sauna time.
Modern Sleek Design
Cedar wood is one of the reasons that barrel saunas boast a beautiful aesthetic. The visual allure of its distinct warm hue fits seamlessly into the surrounding landscape. At SaunaFin, you can choose from 3 types of cedar for your outdoor sauna: knotting, clear, or European cedar. Each of these offer distinct features. The choice between knotty and clear cedar depends totally on your personal preference. Knotty cedar offers a more rustic look that is preferred in cottages and similar spaces, whereas clear cedar is a more modern aesthetic that is used across various property types especially in backyards. When you choose SaunaFin for your home sauna, you have the choice of either.
Pick Your Outdoor Sauna with SaunaFin
When you install your home sauna, it should be just right. Explore our outdoor prefab saunas including barrel saunas, the Luna sauna, cabin sauna, Pure Cube Sauna, Raindrop sauna and more, and learn how you can customize it.